* A story about an alleged "vote-buying" scheme in the 43rd Ward has been picking up steam…
Beers for votes — that's the charge Ald. Vi Daley is leveling against challenger Michele Smith in the race for the tony 43rd Ward.

A flier circulated by Smith's campaign for a party last Saturday at a West Armitage tavern advertised a $5 drink special for attendees holding early voting receipts.

That constitutes vote-buying, a felony, said Daley, who has filed a complaint with the Cook County state's attorney's office.

Not so fast, said Smith, a former federal prosecutor. While she admits it was a screw-up on the part of a well-intentioned young staffer, she insists she caught the mistake before anything illegal happened. The party went on, but no one was asked to show their voting stubs to buy drinks, she said.
Not exactly the worst dirty trick ever, but whatever floats your campaign's boat, I suppose.
* But now, Chicagoist has found a similar scheme in the 21st Ward…
But the most important business leader to help Howard Brookins so far is Phil Douglas, franchisee of two McDonald's locations in the 21st Ward (even though his business offices are located 1951 Bernice Rd, in Lansing).

He is generously offering free hotcakes to people that bring in early voting receipts (along with a flier making the rounds in the 21st Ward).

According to the person who spoke with us at the campaign headquarters (who refused to give a name) this is a "campaign contribution" from a business leader in the community who supports Brookins. Calls to the business office went unreturned.
That might be problemmatic. Here's the flier [click to see a larger image]…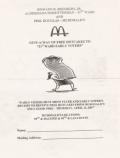 * Meanwhile, Alderman Brookins has a new mailer claiming that "union bosses" are "trying to buy the 21st Ward aldermanic election."
The Brookins mailer includes photos of the homes of Chicago Federation of Labor President Dennis Gannon, and SEIU honcho Tom Balanoff. Click the pics…
* I'll bet the house owned by Brookins' megabucks contributor is much nicer than either of those guys' abodes. [Thanks to a commenter for making the connection.]
* Switching now to the 32nd Ward, Fox Chicago had a piece this week about the ever-increasing nastiness in that race…
There's a new campaign controversy in Chicago's 32nd Ward which features a run-off election between Alderman Ted Matlak and newcomer Scott Waguespack. The challenger is crying foul after Matlak's campaign website got linked to his official aldermanic page on the City of Chicago website.
* A follow-up story is here.
* Ald. Matlak sent out a recent mailer slamming Waguespack for making it appear as if he is a lawyer when, according to the mailer Waguespack "failed the Illinois Bar exam"…

* Waguespack responds…
* More local stories…
* Meet the international investor behind council candidates [12th, 16th and 21st Wards]

* Schakowsky endorses Dolar over Stone [50th Ward]

* Bananas for Gordon [49th Ward]

* A true champion [49th Ward]

* Crosscurrents [49th Ward]
* And, finally, we have the Carbondale mayor's race, where the Southern Illinoisan had a story today about Mayor Brad Cole complaining that Sheila Simon is being endorsed by major players like US Sen. Dick Durbin.
"When you're a small-town mayor and you have the number two United States senator coming at you, it tells me there is either more at play here or some people are nervous," Cole said. "And they are not talking about a record; they are talking about politics, partisan politics."
Nowhere in the story, however, was any mention of Cole's campaign contributions from major Illinois GOP players, including $6,000 from the Illinois Republican Party. Democratic blogger ArchPundit has that angle.
Simon is running a grassroots campaign against the leaders of the Illinois Republican Party–that Dick Durbin sent out a nice message for her for low dollar donations is hardly a big deal compared to what Cole is bringing in. That the Southern didn't bother to point out this difference while giving Cole the time to make those charges is ludicrous.
Find Cole's full financial disclosure reports here.
25 Comments










































































Sorry, comments for this post are now closed.