* 5:43 pm - Read the proclamation by clicking here.
The proclamation refers to ethics reform legislation, pension reform, a constitutional amendment for recall (which the Senate never got around to finishing last month), a capital bill and legislation to enable "the state to have sufficient resources to meet its financial obligations."
The session is next Tuesday at 2 pm.
- Posted by Rich Miller 21 Comments


* 4:14 pm - From Crain's…
In a major political surprise, Cook County Commissioner Forrest Claypool has decided not to run for County Board president in next year's election.

Mr. Claypool was not available for comment and his office declined comment. But multiple political sources say that Mr. Claypool in the past 24 hours has informed them that he will take a private-sector job in health care.
Hinz says Larry Suffredin is now considering the run and putting together an exploratory committee.
* 5:17 pm - Carol Marin's Twitter page…
Exclusive interview with Forrest Claypool on NBC5 at 6P and in the Chicago Sun-Times online.
* 5:35 pm - Claypool to the Sun-Times…
"I don't believe that Todd Stroger's going to be re-elected. I think it is going to be very, very difficult if not impossible for him to be re-elected."
* 6:06 pm - He's not running for reelection, either. From a press release…
It has been the most difficult decision of my life, but I have decided not to be a candidate again for Cook County board president. Nor will I be a candidate for a third term on the board.

My June 30 fundraiser at Hop Haus, my first since the 2006 primary, is cancelled and I will be returning all checks (or in the case of credit cards, ensuring there is no debit to your account).

I am so grateful to you for your support, your encouragement and your friendship during the last two campaigns and my nearly seven years of service. It means so much to me, and made the decision so much harder.

In January, I joined my longtime friend, Care Pages founder Eric Langshur, in founding a new company, Rise Health. In the ensuing six months we have developed a mixture of services and technology which we believe can improve access, lower costs and improve quality in health care.

President Obama is poised to finally pass national health care reform. But to achieve the goal of universal access, quality and affordability, it will take both government reform and private sector innovation. I have come to believe so much in the potential of our ideas that I have chosen to remain in my role as chief operating officer, and begin a new and challenging journey to help improve our national health care system.

Many of you know that I first ran for the board presidency largely because of the dysfunction in the Health Bureau, which not only robbed taxpayers but effectively rationed care to the neediest and most vulnerable in our society. I wrote a detailed plan to improve access to preventive and primary care and restructure the system.

Because of the administration's gross incompetence and neglect, the Health Bureau is now under the jurisdiction of an independent board. The independent board recently hired a CEO, who is beginning to make systemic changes. The jury is out, but we all hope for its success.

I hope that all of you who supported me will stay involved, and support candidates willing to challenge the old ways.

Thank you again for having given me the opportunity to serve. I will be eternally grateful.

Sincerely,

Forrest Claypool
*** 9:01 pm *** From WBEZ's Twitter page…
CC Sheriff Tom Dart's political director: now that Claypool's out of the race, Dart is "very interested in looking into" board prez run.
- Posted by Rich Miller 42 Comments


* 2:44 pm - President Obama's press secretary Robert Gibbs denied today that Obama is trying to nudge Lisa Madigan into the US Senate race…
"The president is not going to pick a candidate in the Illinois Senate race," Gibbs told reporters during today's White House briefing.

"The president has a very long relationship with the attorney general, dating back to their time in the state Senate," he said. "She'd be a terrific candidate, but we are not going to get involved in picking a candidate in Illinois." […]

Gibbs said he didn't know whether Madigan was called to the White House or came in of her own accord to discuss the Senate seat now held by Sen. Roland Burris. […]

"I don't control the DSCC," Gibbs said. "We're not picking a candidate. We're not going to endorse in this race."
* 3:18 pm - Speaking of politics…
Alderman Toni Preckwinkle (Hyde Park) has launched a website in support of her campaign for Cook County Board President.
* 4:10 pm - Quote of the day goes to Lou..
One Democratic lawmaker, who appeared at an event highlighting possible cuts to the state's foster care program, said Quinn's repeated forays before microphones and TV cameras at the offices of social service providers are rallying the wrong set of troops.

"What the governor has been doing lately is preaching to the choir," said Rep. Lou Lang of Skokie, who was one of 42 Democrats out of a possible 70 to vote for the tax hike. "The choir has to now tell him go talk to someone else in that other church who doesn't get it."
- Posted by Rich Miller 19 Comments


* The Flubs got drubbed yesterday, but the series continues today. Play-by-play is available on your iPhone, or at MLB.com, the Daily Herald and the Trib.
Feel free to heckle each other in comments.
Also, Ozzie wore this shirt to the rained-out game yesterday…
Discuss…
- Posted by Rich Miller 31 Comments


* 12:10 pm - We've topped ten percent unemployment. From an IDES press release…
The Illinois seasonally adjusted statewide unemployment rate for May reached 10.1 percent, an increase of +0.7 percent over April, according to figures released today by the Illinois Department of Employment Security. Unemployment in Illinois and nationwide has reached 25-year highs.

Total non-farm payroll in Illinois declined by 17,400 jobs in May. Although the pace of job loss lessened compared to the previous six months, Illinois recorded its eighth consecutive month of job losses. The number of unemployed people reached 671,400, the highest since June 1983. […]

The Manufacturing sector lost -9,500 workers in May, and has suffered the largest job loss of any sector in four of the last five months. Job loss leaders also include trade, transport and utilities as well as the construction sector. With summer approaching, job growth was reported in the Leisure and Hospitality sector.

Nationally, the May unemployment rate climbed to its highest level in more than 25 years to reach 9.4 percent and the total number of unemployed workers reached 14.5 million.
* 12:17 pm - You can read the entire opinion by clicking here. AP has a brief bit online…
The Illinois Supreme Court has thrown out a law setting a mandatory retirement age for state judges.

Until now, Illinois had required judges to step down at the end of the term in which they turn 75. A Chicago judge challenged the law.

The Supreme Court didn't entirely reject the idea of mandatory retirement, but it found that the law was written in a way that created constitutional problems.

For instance, a sitting judge couldn't run for re-election after age 75, but someone who had never been a judge before could run, no matter how old.

* 12:31 pm - There's a protest against the budget cuts at the Thompson Center today. Here's a pic and OneMan is live-Tweeting the event…
Clark now blocked with protesters…

Police clearing Clark
* 12:56 pm - Henry has posted a couple more pics from the protest here and here… and here and here. Sample…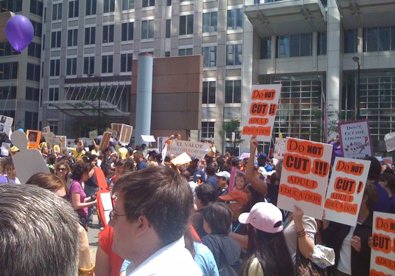 - Posted by Rich Miller 45 Comments