* I've been informed that JB Pritzker has definitely decided not to run for state treasurer. So, for now at least, Robin Kelly still has a free ride through the Democratic primary.
* Republican gubernatorial candidate Kirk Dillard laid out his ethics reform plan today. At the top of his list was a pledge not to raise any campaign money during the first two years of his term in office.
I guess that's OK, but it could just mean that a Gov. Dillard would have to focus that much more on fundraising in the second half of his term.
Also, Dillard reported raising just over $50,000 during the first six months of the year, while claiming privately that he'd file with a million bucks. So this new "no fundraising" pledge leaves him wide open to severe snark.
But, besides all that, take a look at Dillard's blog. Dude, not even a link to your campaign site? Huh?
* Speaking of snark and the Internet, somebody has created fake Twitter accounts for several US Senate candidates.
There's Fake David Hoffman…
The #1 question I get is "who are you again?" That question, I must admit, is slightly less exciting.
[Special interests] should be regulated to middle child status in our politics–ignored, bitter, and forced to dye their hair purple to gain attention
omg!!! sun tyms 4gets I xist… they dnt c me, they dnt hear me. but im blesd anywy & wil b the nxt Sen frm IL
And Fake Mark Kirk…
I know I can be stuffy & wooden sometimes, but no, I'm not a ventriloquist and no, I didn't throw my voice in Rep. Wilson's direction.
* And speaking of Twitter, Congressman Don Manzullo is using the site to ask for help circulating his nominating petitions. He added several hashtags to attract notice, including #sgp, which, I'm told means "Smart Girl Politics."
I don't get it.
* And whilst we're on the subject of the Intertubes, I was searching Google News for stories on Mark Kirk's US Senate race this morning and noticed these Google ads on the right side of the page…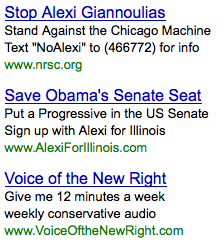 The NRSC Google ad has been up for a while now, but Giannoulias is now countering with his own. That "Voice of the New Right" ad appears to be new.
So, then I searched Google News for Alexi Giannoulias…

Just one ad there, for now.
Cheryle Robinson Jackson? Not much…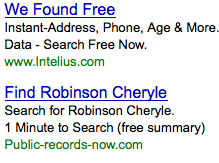 Conservative US Senate candidate Patrick Hughes? Nothing much of note there, either…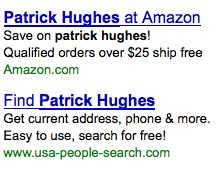 However, new Democratic US Senate entrant David Hoffman is spending a bit more on Google ads. Search for his name and his ad appears above the actual results…

One of my Hoffman searches produced a Giannoulias ad on the right, so he's doing some counter-programming on Hoffman as well.
Keep in mind that not all searches will yield the same ad results since the Google ad program is a bit weird and complicated. But I did a few searches for each name and got essentially the same results, except for Hoffman.
* I'm starting to get lots of campaign press releases that consist of pdf attachments again. I hate that. We've discussed this before. Please just paste your release into the body of the e-mail. Why should I have to download this, for instance?…
Robert Dold will formally announce his candidacy for the Republican nomination for Congress in the 10th District on Monday, September 14th. Dold will make the announcement at Rose Pest Solutions, a family-owned business he runs.
* And, finally, after announcing that huge SEIU endorsement with a strictly embargoed and breathless e-mail late last night, Gov. Pat Quinn's campaign sent out another embargoed press release this morning announcing a long list of liberal endorsees headed by Congresscritter Jan Schakowsky. Others include Sens. Iris Martinez and Heather Steans, Reps. Will Burns and Harry Osterman, Commissioner Larry Suffreding and Alds. Joe Moore, Mary and Smith and Tom Tunney, and William Marovitz.
The strict embargo ended at 10 o'clock. It's now 11:30 as I write this and nobody has picked up the story yet. I wonder why.
31 Comments




























































































Sorry, comments for this post are now closed.