* If Bill Brady (or Kirk Dillard) is elected in November and something happens to him, this is the man who would be our governor…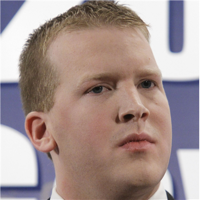 Striking, no?
WBEZ takes a look at 27 year-old GOP lt. governor nominee Jason Plummer…
PLUMMER: Experience in state government, sometimes it's great, sometimes it's not so great. And I think right now people really want that outsider perspective.

And Plummer says he'd be ready to serve as governor if the situation arose, pointing to his experience in the naval reserve and his work as an executive at his family's lumber company.

PLUMMER: You know, I'd gladly match my leadership and my executive experience up to most anybody's.
More from WBEZ…
Plummer is an executive at his family-owned lumber business, and an intelligence office in the naval reserves. Using more than $1.3-million in personal and family money, he won the primary with 34-percent of the vote.

State Representative Dave Winters says he expects Democrats to make an issue of Plummer's lack of government experience, but says he can overcome that. […]

State Senator Matt Murphy, who finished second in the lieutenant governor race, says everything he's seen of Plummer leads him to believe he's qualified.

Another candidate in the primary, Carbondale Mayor Brad Cole, would not directly answer the question of whether Plummer is qualified for the job. But says he congratulates the nominee, and will support the entire GOP ticket.
But how upfront has Plummer been about his "experience"? Justin Kaufmann takes a look…
A quick scan of his bio online give him some notable credits, including work served with Senator Peter Fiztgerald and separately, with the Heritage Foundation. Work served is a weird phrase and it grabbed my attention.

Upon second look (and second Google search), it turns out that Plummer served as an intern for both Fitzgerald and the Heritage Foundation.
From Plummer's bio…
Served under U.S. Senator Peter Fitzgerald and in Washington, DC with the Heritage Foundation — the conservative public policy institute.
Resume inflation? Looks like it. Of course, in comparison to Scott Lee Cohen, it all seems pretty darned minor. The bar has been reset again, campers.
* Political roundup…
* Usual and Unusual in Last Week's Primary Election

* Kirk, Giannoulias already hammering at each other

* Cohen hasn't quit yet

* A history lesson for the `It must be Turner!' crowd

* Some Republicans Embrace Change to Way Lt. Gov. Nominees Picked

* Picture this: An 'only in Illinois' week

* Democrats solve state party problem quickly

* Our View: Change the rules on picking lieutenant governors

* Defeated Moreno laments weaker Democratic machine

* Cook County contractor pays, County Commissioner Moreno gets

* Walsh, local activists center stage at tea party event

* 8th House GOP candidates vow to support Walsh

* 71st District candidates report last-minute funds

* Simon panel breaks down primary results

* Election complaints down for primary

* Move the primary, but to when?

* State Capitol Q&A: Lawmakers question whether primary is too early
150 Comments

































































































































































































































































































































































































































































Sorry, comments for this post are now closed.