* David Ormsby noted something interesting about yesterday's Rasmussen poll. While Rasmussen has found that the number of self-identified tea party movement members is dropping nationally - to 17 percent in early October from 24 percent in April - it's rising fast in Illinois…
According to… a March 8, 2010 Rasmussen Reports survey, 13% of Illinois voters identified themselves as members of the Tea Party movement, in contrast with a new survey on October 26 by the pollster which now identifies 22% of Illinois voters as part of the movement—a 75% increase. […]

In Illinois, only the precipitous drop among the 18-29 age demographic tracks the national numbers. In the March 8 survey, 21% of Illinois 18-29 voters self-identified as Tea Party members, while only 6% did so in the October 26 poll, a 71.4% drop.

However, Illinois women who claimed Tea Party membership spiked from 10% in March to 18% in October, an 80% increase. Self-identified men increased the protest movement's ranks from 17% to 26%, a 52.9% jump.
* According to Public Policy Polling, the likely Illinois electorate is no more Democratic than it was in August, suggesting that there is no Democratic interest surge here…
In a couple of other key states though Democrats aren't showing any increased interest and in some cases could even be sliding backward. The likely electorate in Illinois in August was Obama +9 and when we polled there last weekend it was still Obama +9. Usually for a Republican to win in a blue state like Illinois they would need a massive advantage with independents and to win over a fair number of Democrats. Mark Kirk and Bill Brady are doing neither of those things but still in a position to win because of what's likely to be a massive drop in Democratic turnout in the state.
* The Right is certainly being stirred up here by shows like Fox & Friends, which told at least two blatant lies today…
The story is about how Cook County Jail inmates are suppposedly "taking priority" over soldiers. "Felons vote, soldiers don't… at least, that seems to be the attitude in Cook County, Illinois," said the show's guest, Quinn Hillyer of the Washington Times.
The segment delved into the 2600 ballots that were allegedly delivered to jail inmates, which the show claimed, is the same number of ballots that were sent late to soldiers serving overseas "from that area."
Actually, Cook County and Chicago sent overseas absentee ballots on time. Chicago's board of elections sent the overseas applications two weeks ahead of the federal deadline.
They also claim on the Fox show that the city's board "hand-delivered" ballots to inmates at the county jail. "It's awful," said Hillyer, who also claimed that "inmates don't even have to request the ballots."
Actually, no. From the city's election board…
A ballot is delivered to a detainee only if we receive an absentee application from a valid registered voter who is not yet convicted – under the standard of innocent until proven guilty. If the application is from someone who is convicted between the date they requested the ballot and election day, that sealed ballot, whether or not it's from a registered voter, is not allowed into the count. Through [October 20th], there were 1,373 applications. [Emphasis added.]
So, to sum up: Inmates have to request the ballots. Only those who aren't convicted are sent ballots. And soldiers received their ballots ahead of schedule. Other than that, the show was quite accurate. Except, there was no other than that.
* Speaking of stirring people up, blood always runs hot this time of year. But there's hot and then there's boiling…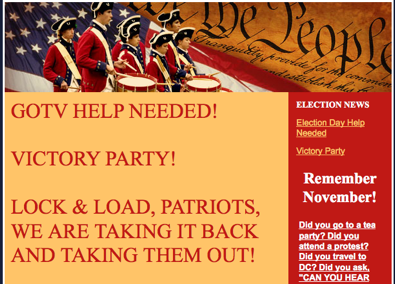 * The organizer's goal is to convince people to work precincts for Bill Brady's campaign…
BILL BRADY NEEDS 400,000-450,000 VOTES Cook County aka Liberal Hell, and if you think the tea party princess is going to magically sprinkle winning tea leaves on him to win, without your help… Well, you are wrong.

Mike Madigan will have 500 foot soldiers out in Worth Township and the 19th Ward protecting his home front this weekend. This. Is. Dangerous.

Plus, that lunatic, Toni Periwinkle, has earmarked $400,000-$450,000 to defeat conservatives on the Southwest Side. She has also promised to round up members of the Purple Army, members of SEIU! I needn't explain that just because these people are not wearing Brown shirts doesn't make them any different than their brothers and sisters from decades ago.

They have been flooding the Southwest Side and we need to defeat them.

If we lose, call the movers because we won't have a prayer.
* Related…
* Green: Where Quinn must get votes to eke out victory over Brady: Quinn must also narrowly win suburban Cook County; get beat by fewer than 125,000 votes in the collar counties, and get trounced by fewer than 200,000 votes Downstate. Key to Quinn losing the collars and Downstate by less than expected margins will likely be the success in these regions of Whitney, who is again running for governor on the Green Party ticket, and independent candidate Scott Lee Cohen.Brady, on the other hand, wins if the Chicago turnout is not robust and he is able to hold Quinn's winning margin there to 375,000 votes, while breaking even in suburban Cook County. But he must also win the collar counties by 150,000 votes and totally demolish Quinn Downstate, with a margin of at least 250,000 votes.And unlike the Quinn scenario, Brady must minimize the vote for Whitney and Cohen in his base — the five collar counties and Downstate.

* Brady receives warm welcome at Tea Party rally

* Governors rally for Brady, Obama stumps for Dems

* Party Like It's 1994

* McQueary: Homer Glen Tea Party should scare Dems

* Rove's group ramping up ad buys in target races

* Abortion rights group attacks Brady in ad

* Sweeny: Durbin predicts Democrats will hold Senate

* Brady, Quinn miles apart on health care overhaul

* Democrats: 'If We're Gonna Lose, Let's Go Down Running Away From Every Legislative Accomplishment We've Made'

* Republican tracker follows Illinois Governor Pat Quinn to Moline

* Which Races Could Latinos Decide on Tuesday?

* At ISU, third-party governor candidates blast two-party system

* Scott Lee Cohen Picks Up Endorsement

* The Conversation: Independents' Impact on 2010 Elections

* Famous dad gives Sheila Simon inroad with elderly Aurorans

* VIDEO: Barbour, Jindal and McDonnell push Brady

* VIDEO: URF President on Fox News

* VIDEO: Colonel North tributes U.S. troops at Illinois Family Institute fundraiser

* VIDEO: Jason Plummer becomes punch line for Leno
22 Comments

































































Sorry, comments for this post are now closed.