* From the Democrats' coordinated campaign…
Across Illinois, over 23,200 people knocked on doors and made phone calls over the final four days, many of them filling multiple volunteer shifts, as part of the IL Democratic Coordinated Campaign. There were 8,000 people on the street on election day alone

We knocked on over 975,000 doors and made over 380,000 phone calls over the last four days.

Over 50 percent of these voter contact efforts were concentrated in Cook County. These efforts resulted in higher than expected voter turnout within Chicago (over 50%). African American turnout was up from 2006 in many south side neighborhoods and southern Cook County townships.

ROBO CALLS IN FINAL FOUR DAYS:

80k VPOTUS
240k POTUS- "Vote tomorrow"
240k POTUS- "Vote today"
There are a lot of Democrats in this state, and when they vote (and they almost always do) they make a big difference. From the exit polling…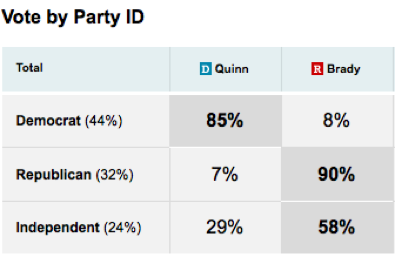 That's a two-point drop in Democratic representation from 2006, and that led to some problems everywhere. But it could've been much worse. The ground game certainly helped keep this from being a total, complete Democratic disaster.
Illinois election day voters also had a far higher opinion of the Democratic Party than they did the Republican Party…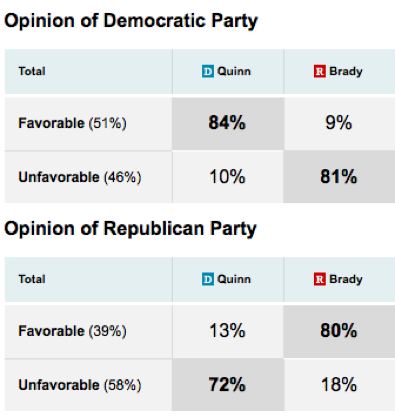 A 58 percent unfavorable for the GOP? Not great branding. And considering the beating the Democratic Party has taken in the media here, a 51 percent favorable is downright astounding. The result is also another indication that the Democratic Party did a better job of getting its people to the polls. And while David Miller probably didn't have a chance against Topinka, the numbers suggest that he and Robin Kelly could've benefited from some coordinated campaign and/or state party help…
David Miller believes state Democratic Party leaders and unions failed him Tuesday. Miller is a dentist, a state representative since 2001 and a resident of Lynwood.

On Tuesday, he was badly defeated in his campaign for state comptroller by Republican Judy Baar Topinka (52.9 percent to 40.6 percent of the vote).

"I think African-American political leaders are going to have to take a look at these races and ask what happened," Miller said, referring to his defeat and that of Matteson resident Robin Kelly, who's also black and was beaten by a Republican in the state treasurer's race.
It would've also helped if Miller and Kelly had put together better campaigns on their own, of course. Nothing attracts campaign assistance like success.
* And don't forget the unions…
Quinn also latched onto organized labor. The Illinois Education Association alone scared the pants off suburban educators, convincing them Brady would decimate public education and pensions. The e-mails that circulated among teachers in the final weeks of the campaign pushed swing voters and women to vote against Brady.

Service Employees International Union, Teamsters, American Federation of State, County and Municipal Employees and dozens of other groups dumped gobs of money and resources into Quinn's campaign.

"The unions pulled out all the stops because (Quinn) has been very kind to them," said Andy Shaw, a veteran political reporter and now executive director of the Better Government Association. "It proves (that) in a 'blue' state unions still matter."
Quinn didn't win a super-gigantic percentage of the union household vote, but it was enough…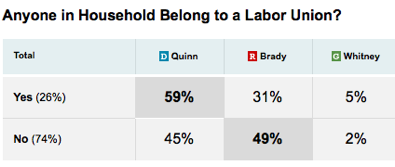 Unfortunately for the Democrats, however, union households are dropping. 32 percent told exit pollsters they lived in a union household four years ago. Still, if it wasn't for that money the unions spent and the effort they put into the campaign, it would've been a much worse day for the Democrats.
* Election day voters seemed more liberal than recent polls have suggested. For instance, every poll taken before the election had pluralities or even majorities of likely Illinois voters favoring repeal of the federal health care legislation. Not on election day…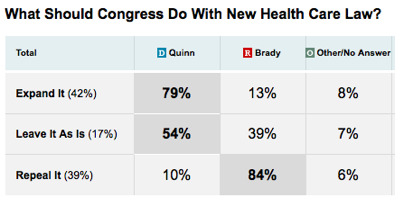 * Related…
* SJ-R: State needs timely election resolution

* Cook County tallies votes that could decide governor's race

* Officials Doubt Brady Can Top Quinn's Lead

* Quinn mum but reportedly optimistic

* Obama calls Quinn to offer congrats

* Simon: Outcome "Looking Good" for Democrats

* Simon, like everyone, waits out a nail-biter

* Schoenburg: Simon 'brand,' creationism might have aided Quinn

* If Brady needs a shoulder to cry on, he should call Kirk Dillard

* Brady's mom knows the pain of politics, many times over
40 Comments























































































































Sorry, comments for this post are now closed.