* The Daily Herald surveyed 132 Republicans who were elected to or picked for the national party convention this month and received 49 responses. Here's the first of the stories from the DH survey…
Of the responses, 42.9 percent preferred Rubio. Another 12.2 percent selected Portman. Christie and Ryan received 10 percent of votes, respectively. Former Secretary of State Condoleezza Rice was fifth, with 8.2 percent of votes.

State Rep. Dennis Reboletti of Elmhurst, a delegate, called each of the potential picks "outstanding individuals." Reboletti described Christie and Ryan as "likable and genuine people," but noted he feels the 41-year-old Rubio, the son of Cuban immigrants, "will be the choice because he can help carry Florida, reach out to the Latino community and court the younger vote. His story and upbringing are compelling."

But delegate Bill Cadigan, of Winnetka, says he's hoping for Chris Christie, because he thinks the boisterous governor "offers a personality contrast to Mitt Romney while embodying the fiscal conservative principles."

Steve Kim, 10th District Romney delegate from Northbrook, said he's curious to see what Romney does, adding that the question has been lobbed back and forth in most of his casual political discussions in recent weeks.
* Chart…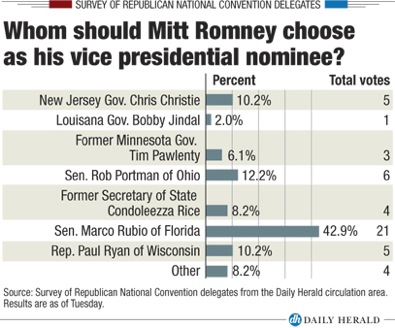 I'm told questions were also asked about the upcoming Republican gubernatorial primary (including potential candidates Sen. Matt Murphy, Sen. Dan Duffy Duffy, Treasurer Dan Rutherford, Sen. Kirk Dillard, and Congressman Aaron Schock), pension reform and gay marriage. Stay tuned.
33 Comments


































































































Sorry, comments for this post are now closed.