* From AFSCME Council 31's Facebook page…
In late September, Gov. Quinn took a six-day junket to meet with CEOs and politicians in Brazil. Public employees and labor leaders there were waiting with their own "Pat Quinn Truth Squad"! The signs in Portuguese read, "Governor Quinn, Bad for Workers". In this photo: Graca Costa (left), president of the National Confederation of Municipal Workers (CONFETAM), and Vagner Freitas (right), vice president of the Unified Workers Central (CUT).
Photo…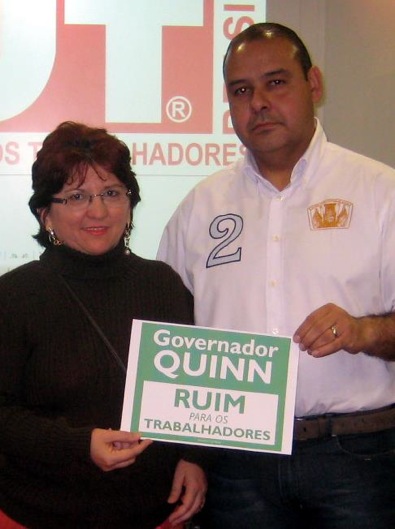 Here are a couple more…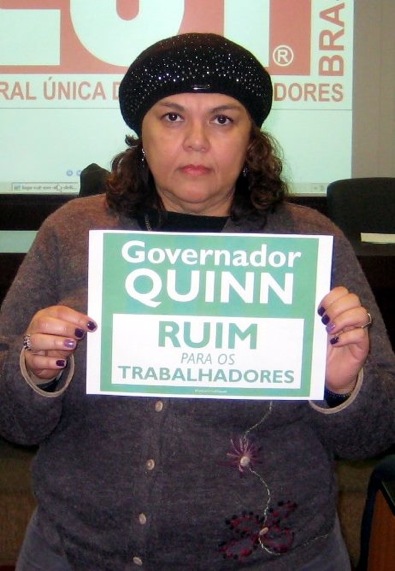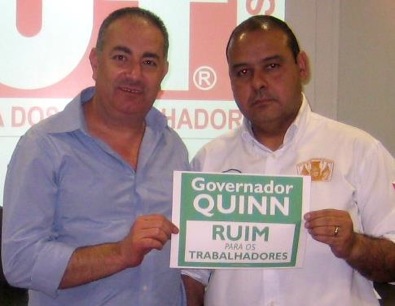 - Posted by Rich Miller 13 Comments


* From a press release…
The U.S. Chamber of Commerce today launched a new voter education and grassroots campaign in Illinois' 10th congressional district, highlighting Brad Schneider's support for policies that will hurt Illinois job creators. The new ad features Darlene Miller, the U.S. Chamber's 2008 Small Business of the Year winner, urging Chicago voters to know where their candidates stand on policies that will advance job growth and investment. This launch is part of the Chamber's largest voter education campaign in its 100-year history to elect pro-business candidates to Congress.

"Voters need to know where their candidates stand on issues that promote free enterprise," said Rob Engstrom, the U.S. Chamber's senior vice president and national political director. "Unfortunately, Brad Schneider instead supports policies that will stifle growth and job creation in Illinois' 10th district and across the country. He supports government-mandated health care that will raise taxes and hurt job growth. With small businesses facing prolonged uncertainty, tax hikes are last thing they can afford, let alone elected officials who support them."
* Rate the ad…
* Meanwhile, the Daily Herald caught Schneider in a big flip-flop…
Despite his claims to the contrary, congressional candidate Brad Schneider's public stance on extending the Bush-era tax cuts has changed since the Democratic primary.

In a recent Daily Herald candidate questionnaire, Schneider — who's running against incumbent Republican Robert Dold for the suburban 10th District seat — said he supports extending at least some of those tax cuts.

"I have continuously said that, at the very minimum, the Bush tax cuts for income under $250,000 should be extended," Schneider, of Deerfield, said.

Except he hasn't.

When the Daily Herald asked Schneider about the tax cuts ahead of the March primary, he said nothing about extending them.
* Related…
* Is Israel a wild card in 10th Congressional race?: For the first time since Lauren Beth Gash lost by 2 percentage points to Kirk in 2000, the Republican incumbent — Congressman Bob Dold of Kenilworth — faces an opponent who has deep ties to the local Jewish community. Brad Schneider, of Deerfield, boasts "more trips to Israel than he can count" and past work in a kibbutz as he challenges Dold in a newly drawn, mAore Democratic-leaning 10th District. Dold, who has molded himself in the image of Kirk, is well-respected for his work on behalf of Israel over his 20 months in office, including pushing for tougher Iran sanctions and calling for fully funding the nation's security commitment to Israel.
- Posted by Rich Miller 13 Comments


* Gov. Pat Quinn is to _____, as AFSCME Council 31 Executive Director Henry Bayer is to _____?
- Posted by Rich Miller 8 Comments