* From the Illinois Teachers' Retirement System…
The Teachers' Retirement System Board of Trustees today approved revisions to a number of assumptions contained in its actuarial model, including a reduction in the System's long-term assumed rate of return on its $36 billion investment portfolio from 8.5 percent to 8 percent.

The major effect of the new assumed rate of return will be to increase the System's long-term unfunded liability ratio from the current 54.8 percent to 57.6 percent. The lower rate of return also will increase the state's required annual contribution to TRS in fiscal year 2014 and after. This contribution covers the annual cost of pensions as they are earned as well as the unfunded liability that has accumulated over time. The state contribution in FY 2014 is expected to rise from $3.07 billion with an 8.5 percent rate of return to $3.37 billion with an 8 percent rate of return. […]

In August, the System's actuaries, Buck Consultants of Chicago, recommended reducing the assumed rate of return from 8.5 percent and outlined three options for a revised number – 7.75 percent, 8 percent and 8.25 percent. The Trustees delayed a final decision until September in order to allow further analysis by TRS staff and to ensure that all TRS trustees had a say in the final decision. On September 14 Gov. Pat Quinn named two new trustees to the Board, bringing the number of members to 13 for the first time in more than a year. [Emphasis added.]
That $300 million is a big jump for such a small decrease.
A chart…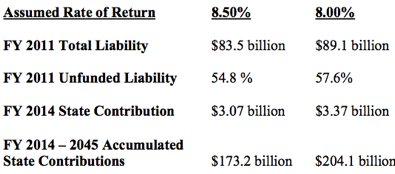 * React from the Republican leaders…
"The Teachers Retirement System's board decision today to adjust its estimated rates of return will drive our pension unfunded liability up by billions of dollars and the state's obligation to pay into the systems each year by hundreds of millions. This is yet another reason that comprehensive pension reform has to be addressed now. We are disappointed in the Governor and democrat leaders for taking a pass on pension reform until January. We believe that is irresponsible. The more time they delay–the harder it will be to put together a comprehensive plan that tackles our crisis in a meaningful way. Today's board action underlines the fact that our pension systems' realities keep getting worse, not better. Even though TRS lowered its average rate of return to 8 percent, some financial groups such as Moody's believe the rate should have been lowered even further to match current market conditions, which would have an even more detrimental effect on our state's finances."
*** UPDATE *** Senate President John Cullerton's office responds to the Republican statement…
The last thing we need right now is more press releases and posturing on pensions. Until the political rhetoric and blame is replaced with a commitment and compromise from both parties, pension costs will continue to crowd out essential state services. A constitutional template for reform has already been put in place by the Senate. So when Republicans are ready to return to Springfield to vote on plan that reforms the system and addresses fairness, we will not delay to schedule a vote.
8 Comments























Sorry, comments for this post are now closed.