* A Reuters lede…
Illinois House Speaker Michael Madigan lit a fire under the state's tepid public pension reform efforts on Wednesday, introducing measures that would mean harsh changes for public sector workers.
One of Madigan's amendments, which would've raised the retirement age to 67, received just a single vote today. Another amendment which would've increased employee contributions by five percentage points, received three votes. A proposal to eliminate COLAs until the pension funds are 80 percent funded got five votes.
* The Question: Tomorrow's lede?
And, to be clear, I'm not trying to pick on Reuters here. They do good work. We're just having a little fun, OK? Thanks.
- Posted by Rich Miller 48 Comments


* The Tribune totals up Mayor Bloomberg's spending in the 2nd Congressional District special primary…
Independence USA's overall spending, which also included some direct-mail pieces, was equivalent to about $72.23 for each vote Kelly received, based on unofficial vote totals in the low-turnout election.

By comparison, a CNN analysis found that Obama and his allies spent the equivalent of $25.33 per vote to win the battleground state of Ohio last year, while Republican nominee Mitt Romney and his allies spent $30.60 per vote in that state.
Thoughts?
- Posted by Rich Miller 20 Comments


* I've already told subscribers about likely Republican gubernatorial candidate Bruce Rauner's stump speech, which is pretty much the same things he told John Kass…
"I think I'm going to be very dangerous to the people in Springfield," he said. "I think they're going to be scared. They should be. Because I can't be bribed, influenced, intimidated, threatened. I just want the state fixed and I just want to do the right thing for the taxpayers. You're right, I've done well in business. I'm very proud of it. I've got the resources to do whatever it takes to win, and to do what it takes to help fix the state. … And the powers down there that like the status quo, they should be very scared." -
I highly doubt that the powers that be will be scared of him, no matter what he does. The governor has a lot of constitutional power, but that has prompted the General Assembly to manufacture its own powers via tradition, rules and statutes.
* Back to Kass…
For weeks Rauner, the retired chairman of the private equity firm GTCR, has been meeting privately with Republican governors from Wisconsin's Scott Walker to Louisiana's Bobby Jindal to New Jersey's Chris Christie, as well as former Indiana Gov. Mitch Daniels. He's been traveling across Illinois, speaking at Lincoln Day dinners and so on, and is putting a team together.
He has indeed been riding the circuit. So much so that I'm wondering why he hasn't yet filed any campaign finance reports, which kick in at $5,000.
* Kass…
Republican consultants circle him, and the common wisdom is that they view him like a side of beef, eager to carve him up for dinner.

"These political consultants love business guys who've never been in politics to try and take advantage of them. I get that. What I'm going to do is try and study from the smartest governors. I'm a pretty disciplined investor and pretty disciplined buyer. I do my due diligence. I do my homework. I don't waste money."
You can do all the due diligence you want, but amateurs aren't pros, and way more often than not end up being fleeced. We'll see.
Discuss.
- Posted by Rich Miller 41 Comments


* From the DEA, we have a map of all calendar year 2012 "meth clandestine laboratory incidents," including labs, dumpsites, etc. Click the pic for the national map…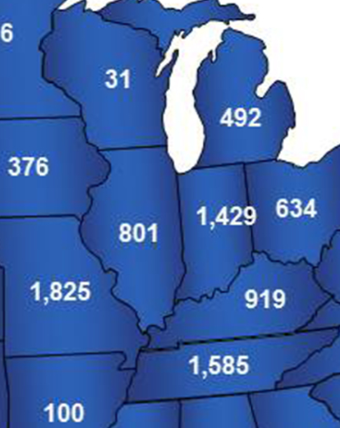 Looks like Indiana and Missouri are out-doing us again.
/snark
- Posted by Rich Miller 55 Comments


* As I told you yesterday, House Speaker Michael Madigan is holding yet another "weekly order of business" today, but this time on pension reform. He has four amendments, two each to HB1154 and HB1165.
Keep a close eye on our live session coverage post for updates.
The SJ-R summarizes the Madigan amendments…
* End cost-of-living adjustments to pension benefits for anyone hired before Jan. 1, 2011. Retirees now receive a 3 percent compounded COLA annually. Other pension proposals have called for limiting COLAs, but not eliminating them.

* Stipulate that COLAs would be eliminated until the pension systems achieve an 80 percent funding level. The five state-funded pension systems now have a funding level of about 39 percent.

* Raise the retirement age at which a person could collect full pension benefits to 67.

* Increase working employees' contributions to their pensions by 5 percent of salary, in addition to what employees already pay into the system. Other pension plans have called for higher employee contributions, but in the range of 2 percent or 3 percent.
* AP…
They include elimination of pension cost-of-living increases, an apparently extreme measure that Madigan put forth as a serious potential remedy because "there's a huge problem," spokesman Steve Brown said.

"Everything's serious," said Brown, "and it's just, keep working on the issue until we can find a majority of the Legislature willing to pass a bill and send it to the governor."
* Meanwhile, as we've already discussed, Rep. Elaine Nekritz and House GOP Leader Tom Cross have introduced a retooled pension reform plan…
But don't expect any immediate budget savings…
Cross and Nekritz said their legislation could save the state $2 billion a year. But it wouldn't take hold immediately and help lawmakers with the budget they're working to craft now.

"We still have enormous fiscal pressures," Nekritz said.
* Senate President Cullerton is OK with the new language, but still wants his own plan to be part of the solution…
Illinois Senate President John Cullerton is on board with the newest Illinois House pension solution plan.

Spokeswoman Rikeesha Phelon says the Chicago Democrat plans to amend his proposed pension fix with language from a bipartisan House plan announced Wednesday. But Cullerton would retain other provisions he says would ensure the plan's constitutionality.
* Related…
* Speaker gears up test votes on pension proposals

* New pension reform plan surfaces in Springfield

* House GOP OK with new cost-shift on pensions

* Editorial: Illinois stands to run off road
- Posted by Rich Miller 40 Comments