* I was in Madison County Saturday night, but chose to attend Worden Mayor Frank Dickerson's "Hillbilly Ball" at the Worden American Legion instead of the county Republicans' Lincoln Day Dinner. I wore a tuxedo jacket and pants, with a camouflage Jim Beam t-shirt, a bright orange hunting vest and a camo cap with "headlights." It was a lot of fun. Proceeds benefited the Worden Frisbee Golf Course, believe it or not.
I'm told that state Sen. Bill Brady said at the GOP event that he'll be formally announcing his gubernatorial campaign in June.
Both Congressman Rodney Davis and failed congressional candidate Jason Plummer attended the Lincoln Day Dinner. Brady, who ran with Plummer in 2010, is in the background of this pic that was posted to Facebook…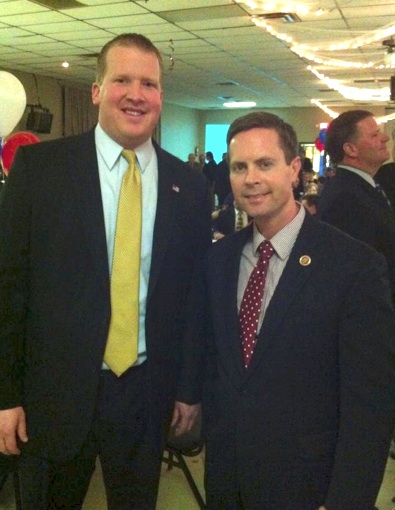 * A longtime reader graciously donated two $25 gift certificates to Springfield's legendary restaurant Magic Kitchen last week. Funniest comment wins one of those certificates.
Our previous winner is Arthur Andersen.
91 Comments
















































































































































































































































































Sorry, comments for this post are now closed.