* A little too Rutherfordesque, perhaps?…
No need for our usual @DairyQueen stop: folks at Decatur Fence Company served up delicious deer sausage at our town hall event earlier today

— Bruce Rauner (@BruceRauner) July 31, 2013
I didn't realize that deer sausage was a substitute for ice cream.
- Posted by Rich Miller 54 Comments


* Twitters…
No immediate action likely on Madigan/Cullerton's pay lawsuit. Judge handling the case is out this week, and 1st scheduled hearing is 11/27.

— Dave McKinney (@davemckinney123) July 31, 2013
* Let's look at some stuff in the major media reporting that we didn't have here yesterday. The Tribune writes about something that was first suggested here by a commenter on the day of the veto…
Beyond the legal rhetoric, Madigan and Cullerton allege that while Quinn vetoed out specific budget lines for the base salary of each lawmaker, he left intact in the budget bill the lump sum of $11.7 million for individual salaries. They also contend that while Quinn vetoed out individual budget lines for additional pay for party leaders and ranking committee members, he left untouched another line for the lump sum of $2.1 million in spending for those titles.

Because budget items that Quinn did not reduce or veto automatically become law, Madigan and Cullerton argue the $13.8 million in lump sums provide the spending authority for the court to order Republican Comptroller Topinka to issue legislative paychecks. Last week, Topinka said Attorney General Lisa Madigan's office advised her not to process lawmakers' pay.
I doubt that'll work. There's a long history and an attorney general opinion on how the "total" lines don't mean anything substantive. But one never knows.
* Sun-Times…
Attorney General Lisa Madigan's office is reviewing the newly-filed lawsuit and has not yet determined whether she personally will represent the governor and comptroller in the case brought by her father and Cullerton, an aide to the three-term attorney general told the Chicago Sun-Times.

"Obviously, it's just been filed. We're reviewing it right now, and we'll work out the legal representation between the governor and comptroller's office," Madigan spokeswoman Natalie Bauer said.

In an interview with the Chicago Sun-Times, Cross said any involvement by the attorney general could pose a conflict of interest given that her father is a plaintiff in the case.

"You can't continue to have issues where there's a conflict, and this could be – and I'm not saying it is – one of those where she's not able to handle this because of the alleged conflict. And that's not good," said Cross, who at one point was mulling a 2014 run for attorney general but no longer is interested.
Another manufactured controversy. She'll do what she'll do, and it won't be because of her father. Move on already.
* ABC7…
"When you get into the weeds about the law and constitution you lose people. Voters are going to remember that they went into court to sue to get their money when they weren't getting anything done in Springfield," said Laura Washington, ABC7 political analyst.
That's quite true. But it doesn't mean the media has to abdicate its responsibility and settle for those sorts of explanations.
- Posted by Rich Miller 20 Comments


* State Sen. Mike Frerichs is busily campaigning for Illinois treasurer. And he's having quite a bit of success on the ground…
Excited to announce that I have 63 #Democratic County Chairman standing with me as co-hosts for my 8/13 event. #twill pic.twitter.com/BODytSPBwE

— Mike Frerichs (@MikeforIllinois) July 30, 2013
* He's obviously traveling to Cook County a lot…
1 of my favorite pics from last week. Rarely do I get to practice #Mandrin on the campaign trail. #Chinatown #twill pic.twitter.com/ebg4USdGFL

— Mike Frerichs (@MikeforIllinois) July 30, 2013
* But in a rather unusual move to generate publicity, Frerichs has lately taken up the banner of climate change…
From the #Bloomington presser where I called on #Congress to #ActOnClimate NOW. #climatechange #globalwarming #twill pic.twitter.com/dWxSa0Z0Db

— Mike Frerichs (@MikeforIllinois) July 30, 2013
* More…
Champaign State Senator Mike Frerichs says central Illinois and McLean County in particular, should be extra mindful of how climate change impacts two key business sectors, agriculture and insurance.

"A lot of people in the insurance industry or agriculture, who might traditionally be Republicans, are going to see that if we don't do something to affect this, it's going to have adverse effects on their livelihood and our economy."

Frerichs says recent wild swings in weather patterns have made it hard for farmers, and insurance companies wind up paying high claim amounts. The only farmer in attendance at the news conference was U of I research engineer Eric Thorsland, a Democrat who chairs the Champaign County Zoning Board. Renner says there is now broad support among conservatives to do something about climate change and cites remarks made by United Kingdom Conservative Party Foreign Secretary William Hague. Illinois' State Climatologist Jim Angel, who also attended, says it's likely the last two extreme weather patterns–last year's drought and this year's wet spring–were both due to human causes and natural variables.
Alexi Giannoulias campaigned on abortion rights in his primary bid for treasurer, warning that his pro-life Democratic opponent might somehow hold up state checks to Planned Parenthood, etc. At least that had a tangential connection.
But, whatever. It's early. All positive publicity is good publicity, I suppose.
- Posted by Rich Miller 45 Comments


* Our regular commenter OneMan is at Sheila Simon's big campaign announcement today. He just sent me an e-mail with the subject line: "Well the mystery is answered." Attached was a photo of Simon's backdrop…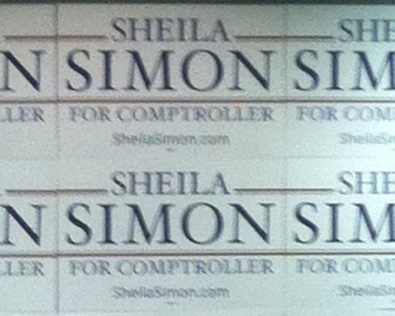 And this info…
I may be the only member of the public here.
* He followed up by saying there were only ten chairs set up at the event. I asked for a crowd pic. From the back of the room…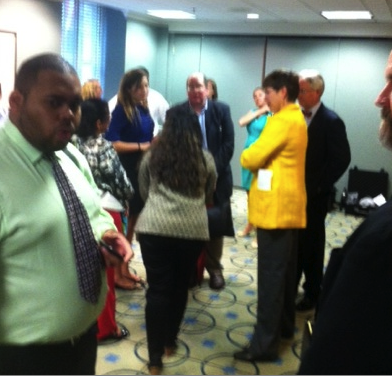 From the front of the room…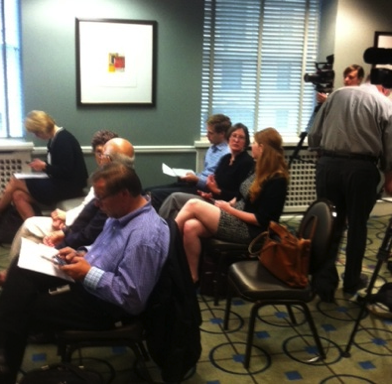 Discuss.
*** UPDATE 1 *** From the Twitters…
Comptroller Candidate Sheila Simon won't say if she endorses #ILGov2014 Pat Quinn

— Mary Ann Ahern (@MaryAnnAhernNBC) July 31, 2013
Comptroller candidate Sheila Simon is asked "have u ever taken Acctg 101?" Answer:no, defends her legal bkgd #IL2014

— Mary Ann Ahern (@MaryAnnAhernNBC) July 31, 2013
Not going well.
*** UPDATE 2 *** Also via OneMan, some not-so-stirring opening remarks…
*** UPDATE 3 *** Simon's announcement e-mail seems to address the "Accounting 101″ question…
We need a comptroller that brings accountability to Illinois - not just accounting.
- Posted by Rich Miller 124 Comments