* I can't believe I forgot to post this. My niece Rosalee's county 4-H project won her a trip to the big show last Saturday. She did really well…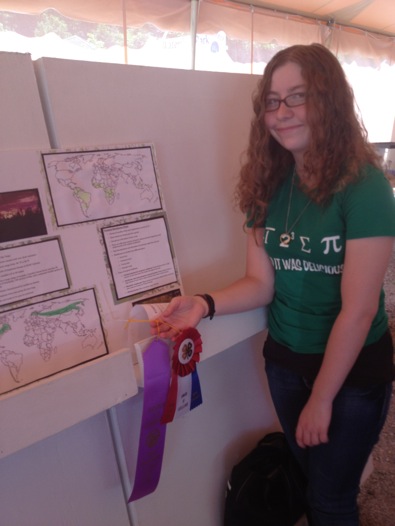 * I don't want to complain too much because I enjoy riding in the annual "celebrity" harness horse race, but my horse this year was not quite up to par. The first thing my driver said to me after we got onto the track was, "Oh, my God, look at that horse!" Huh? "Do you see all the snot coming out of its nose? He's sick!"
Steve Brown, who won the race, somehow managed to "draw" a horse that was as big as a Clydesdale. So, I get a horse on his last legs and Brown gets a monster.
Anyway, here's a quick video I took of my horse before the race…
* Click the pick for a larger image to see all the red cups on the track after the Toby Keith concert…

* One of Oscar the Puppy's favorite things to do is ride in my truck. Every day when it was time to go to the fair, Oscar headed straight for the garage, believing he was going with me. He was bummed out when he had to go to his room instead. Here's Oscar in his favorite spot, on the front truck seat…
* I gave Oscar some extra treats this week because he missed out on all the State Fair fun…
* If you haven't made it to the State Fair yet, there's still plenty of time and lots and lots of stuff to do.
…Adding… My brain may have been fried by too much State Fair, if that's possible. Initially, the whole reason for this post was this Kankakee Daily Journal story…
Fourteen-year-old Dylan Hummel, of Cabery, sold his grand champion meat goat for $11,050 at the Illinois State Fair Governor's Sale of Champions Tuesday, shattering the previous record price of $6,900 in 2009.

Seven records were broken and one tied, pushing the sale total to $222,750 — nearly $67,000 higher than the previous record, said Jeff Squibb, state fair spokesman.

The young exhibitors get 80 percent with 20 percent split by the 4-H and FFA organizations of Illinois.

Gov. Pat Quinn and Agriculture Director Bob Flider encouraged bidders from the floor and many others had worked behind the scenes to bring support for exhibitors of grand champion livestock in the junior show and Illinois bred and raised "Land of Lincoln" show.

Another local connection was the record price set for the Land of Lincoln grand champion meat goat shown by Carlee Critchelow, of Chanderville. It brought $3,750 — 50 percent above the previous record of $2,500. That goat was from the herd of Rodney and Lori Meyer's Hillside Stock Farm, west of Chebanse.
Wow.
Glad to see the ag sector doing so well.
20 Comments



























































Sorry, comments for this post are now closed.