* The setup…
As expected, the Illinois Supreme Court Thursday named Justice Rita Garman to become the court's next chief justice, making her the second woman to head the state's high court.

The Danville Republican will take over from Chief Justice Thomas Kilbride after his term concludes Oct. 25. Garman will serve as the state's top jurist for a three-year term.

Garman, who was chosen for the slot by a unanimous vote of the justices, was appointed to the court in 2001 to fill the vacancy left by former Justice Ben Miller, who retired. Garman was elected to a 10-year term on the court in 2002 and retained by voters for a second full term last year.

"I am honored and humbled to have been chosen by my colleagues to serve as chief justice," Garman said in a prepared statement. "The office has been held by many great jurists, several of whom I have served with and count among my friends.
* A recent photo…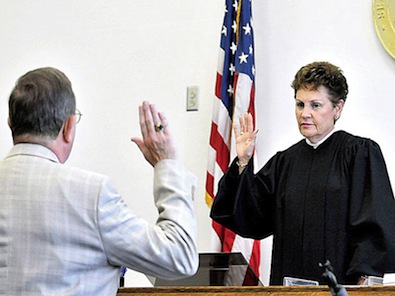 * The Question: At the risk of destroying myself if I ever end up in front of her… Caption?
47 Comments












































































































































Sorry, comments for this post are now closed.