* Once again, the Tribune editorial board acts as a mindless propaganda mouthpiece for those who want to reduce pension benefits. This time, it's a completely one-sided "argument" against the lawsuit over Gov. Pat Quinn's veto of legislative pay…
Madigan and Cullerton could have promptly called lawmakers into session for an override vote after Quinn's veto July 10. That would have been two paychecks ago. An override vote is their constitutionally granted check on the executive branch.

But that would have looked bad — lawmakers racing back to Springfield to reinstate their own pay. […]

No one argues that Quinn lacks the authority to reduce budget spending. He has done it regularly and without getting sued by legislative leaders. Two years ago he used his veto pen to cut $11 million for regional school superintendents, $276 million for Medicaid and $89 million for school transportation funding. The legislative leaders are asking Judge Cohen to block Quinn this time because they believe Quinn had improper motives for acting. And if the governor had winked and simply said he needed to reduce spending everywhere he could because the state had a big pension tab due?

Madigan and Cullerton also argue that their members' salaries are constitutionally protected by a clause that says their pay cannot be changed in midterm. But Quinn argues, convincingly, that the purpose of that clause is to prohibit lawmakers from raising their own pay in the middle of their term. At any rate, he was upfront in his intent: It wasn't to reduce their pay scale, but to delay their paychecks until they act on pension reform. The lawmakers almost certainly will get back pay, possibly (argh) with interest.
Yeah, it would've looked bad. It would've looked so bad that they might not be able to muster the three-fifths vote in both chambers to override. And then what? No pay all year, or until another bill approving the salaries was passed. Governors should not have this power.
The Tribune refuses to even consider the fact that if governors are allowed to get away with this sort of thing then it will almost surely happen again and again - and maybe next time the Trib will be on the other side of the issue.
Also, an override attempt would've meant no court challenge, and this ought to be challenged. According to the lawsuit, salaries are an individual right, and an individual legislator has no power on his or her own to access those salaries once the veto was issued. Maybe that's the Tribune's real problem here. The Madigan-Cullerton lawsuit looks a little too much like a pension reform lawsuit may look in the future.
And, by the way, the Constitution says "change," not "increase."
* So far, there've been two responses to the Trib's rant today. First, Madigan's spokesman left a comment below the editorial…
It is always entertaining when the Tribbies demonstrate how they are bamboozled. Considering an override would make the legislature participants in the Governor's folly. Hence no vote. BTW many members of the General Assembly await the governor's list of "yes" votes
Then, an even snarkier one from the Senate Democrats via Twitter, which has since been deleted…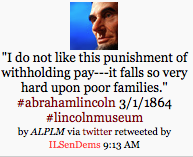 I rather liked that one. Too bad they took it down. Context is here.
68 Comments











































































































































































































Sorry, comments for this post are now closed.