* Gov. Pat Quinn addressed the Illinois Environmental Council in Chicago late last month. From the IEC's Facebook page…
The Governor spoke about new green water infrastructure efforts, recreation liability, and all the green work that the state is doing under his leadership.
* A tweet from an attendee…
.@GovernorQuinn addressing @ILenviro Council annual dinner. Always a strong advocate for clean energy in #Illinois! pic.twitter.com/ddNday5ugr

— Kevin Borgia (@IllinoisWind) September 20, 2013
* But the speech angered Will Reynolds, who pointed out that Quinn talks up green advances in the Chicago area, but just the opposite in southern Illinois….
Environmentalists celebrated when Quinn vetoed a bill to provide rate increases for a coal-to-gas plant Leucadia Corp proposed in a heavily polluted area of southeastern Chicago.

But for southern Illinois, Quinn signed a bill to subsidize a similar coal-to-gas plant proposed near Mt. Vernon. When signing the bill Quinn claimed, "This important project will help revive the coal industry in southern Illinois." The project eventually failed after plunging natural gas prices made it difficult for the company to find investors. […]

At an event in Springfield, not long after becoming Governor, Quinn encouragingly called climate change the great challenge of our time.

Yet, earlier this year, Quinn bragged about setting a record for coal exports that made Illinois the fifth highest coal producing state. The release from Quinn's office highlights efforts by his administration to build more coal export infrastructure and promote coal in foreign markets including, "supporting trade missions to the markets which represent the best prospects for Illinois coal, and potentially encouraging foreign investment in Illinois coal properties." That will often mean nations with weak or non-existent pollution standards.

The Governor signed several bills to boost coal mining, including one to allow a surface mining operation in a state park, and another to ease the permitting process for strip mines. No, that's not a joke. He actually leased 160 acres of a state park in southern Illinois for a strip mine. […]

A recent report on green job growth included a graphic showing that all clean energy jobs created so far this year were in the northern half of the state. That didn't happen by accident. Illinois' economic development agency, DCEO, does good work promoting clean energy jobs in some areas. But, their agenda in southern Illinois is dominated by the Office of Coal Development (OCD).
* Here's that graphic mentioned above…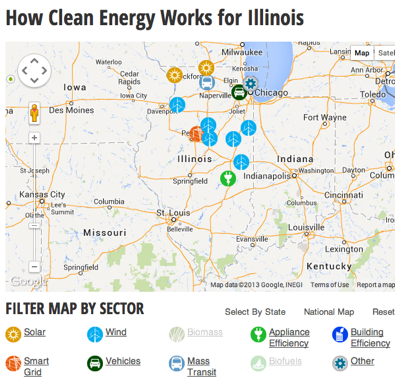 * None of this is new. Illinois politicians have talked up coal in southern Illinois and the environment in the Chicago media market for as long as I can remember. Quinn may have elevated it to an art form, however.
Discuss.
35 Comments








































































































Sorry, comments for this post are now closed.