* Ron Gidwitz finally comes clean to the Tribune about how he tried to convince state Sen. Jim Oberweis to run for US Senate…
Chicago businessman Ron Gidwitz, a social moderate who also unsuccessfully sought the 2006 GOP nomination for governor, acknowledged he "sort of did suggest very strongly on a number of occasions" that Oberweis consider a U.S. Senate bid in 2014.
Sheesh. Was that so difficult?
* Meanwhile, the two GOP legislative leaders ain't all that enthusiastic about an Oberweis bid…
"Jim, while he may no longer believe some of the things he said in the past, it will come back," said Illinois Senate Republican leader Christine Radogno of Lemont, who has discouraged an Oberweis bid. "I don't think that will help the ticket. I encouraged him to think long and hard." […]

Rep. Jim Durkin of Western Springs, the new Illinois House Republican leader, said Oberweis should do some "soul searching." Durkin, who defeated Oberweis for the 2002 GOP U.S. Senate nomination, said Oberweis needs to be aware that a litany of controversial statements "don't wash away after the election" but "will continue on as long as you're in the public eye."
Good advice.
* And here's a recent photo of Sen. Oberweis with one of his "new" Democratic friends, Sen. Martin Sandoval…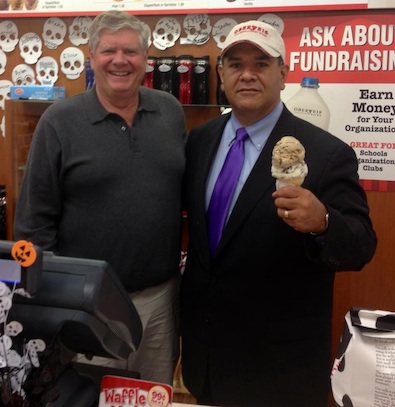 Caption?
38 Comments

















































































































Sorry, comments for this post are now closed.