* I'm gonna let you in on a little secret.
I've all but stopped using Google News. The company broke its news search several months ago and despite my requests for action and promises from friends at the company that something would be done, nothing happened. It's still broken.
* Let me give you just one example. As you might imagine, I spend a good chunk of my blogging days checking for breaking news. I use searches specifically designed to produce the latest results.
Google gives you two basic sorting options on its news search: relevance and by date. I need "by date" so I can find the latest stuff.
Here's a Google News search of "Christine Radogno" sorted by relevance…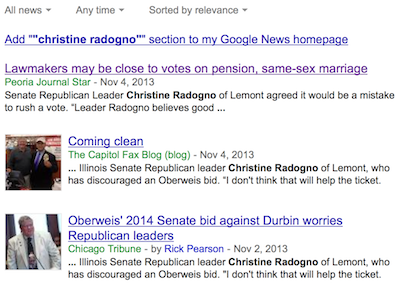 * And here are the same Google News search results by date…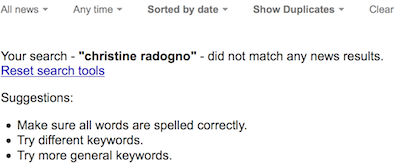 Um, what?
This is just the most extreme example, but the site's problems drove me nuts, which is why I reached out to the company for help. Yet, as you can clearly see above, it's still broken.
* So, I've switched to Bing. I'm a dedicated Mac guy and Google's Chicago office paid big bucks to co-host my election night party last year, so using a Microsoft [shudder] product throughout my day was not an easy pill to swallow.
I still occasionally use Google as a backup because I've seen a couple of holes in Bing's results every now and then. But I'm very nearly a one hundred percent Bing News user now. It works and Google doesn't - at least for my purposes.
* The Question: Have you used Bing's web and/or news searches? If so, how would you rate your experience? Take the poll and then explain your answer in comments, please.
Any suggestions you'd have for improvements to Bing would also be a good thing because I'm meeting with a company representative tomorrow to discuss a few tweaks I'd like them to make.
survey services
32 Comments































































































Sorry, comments for this post are now closed.