[The following is a paid advertisement.]
It has been 133 days and counting since the BEST Coalition – remember it stands for "Better Energy Solutions for Tomorrow" – was first launched. A lot has happened in Illinois since then.
• A new Governor and General Assembly has been sworn into office in Springfield.

• Not 1 but 2 Chicago mayoral elections have been held.

• A State of Illinois report was released which found that the premature closure of three of Illinois' six nuclear plants could result in $1.8 billion annually in lost economic activity, the elimination of nearly 8,000 jobs, and increased air pollution.

• The Low Carbon Portfolio Standard (HB 3296/SB1585), one of the policy solutions identified in the State of Illinois report, was introduced, earned bipartisan and widespread support across Illinois, and passed unanimously out of the Senate Energy & Public Utilities Committee.

• The Chicago Bulls made the 2015 NBA playoffs.

• Wrigley Field reopened in time for MLB Opening Day.

• Patrick Kane's collar bone was broken and is now healed in time to play in the playoffs.
But in all that time the BEST Coalition has yet to propose even a single solution for the problems facing Illinois. Maybe they do things differently where the groups that hide behind the BEST Coalition are from, but in Illinois, we believe in taking action to address Illinois' problems.
Learn more about a solution for Illinois that is here today at www.nuclearpowersillinois.com
- Posted by Advertising Department Comments Off


[The following is a paid advertisement.]
"I never did give them hell. I just told the truth, and they thought it was hell."
- President Harry S. Truman
"A plan to financially reward Exelon Corp. for producing no-carbon energy and potentially save three Illinois nuclear plants from closure would cost ratepayers $1.6 billion over five years and strain budgets for financially strapped businesses and municipal governments, a study released Tuesday found." - Associated Press, 4/21/15
By applying legislative mandates in SB 1585 / HB 3293 to historical data on Illinois electric costs and consumption, the Kestler Energy Consulting study simply calculated how much of a rate hike Exelon's legislation would impose on families, businesses and local governments statewide.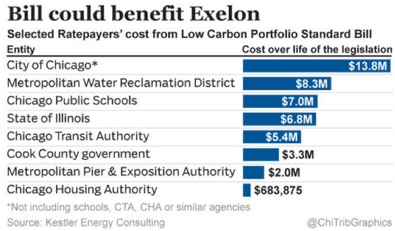 Chicago Tribune: "Exelon-backed legislation could cost ratepayers $1.6B, study says"
Businesses and governments can learn how much the bailout would cost them at www.noexelonbailout.com/calculator.
Just say no to the Exelon bailout. Vote no on SB1585/HB3293.
BEST Coalition is a 501C4 nonprofit group of dozens of business, consumer and government groups, as well as large and small businesses. Visit www.noexelonbailout.com.
- Posted by Advertising Department Comments Off


[The following is a paid advertisement.]
The cable industry is asking lawmakers to place a NEW 5% tax on satellite TV service. The satellite tax is not about fairness, equity or parity – it's a tax increase on the 1.3 million Illinois families and businesses who subscribe to satellite TV.
Satellite Tax Will Hurt Illinois Families and Small Businesses
• Satellite TV subscribers will see their monthly bills go up 5%.
• This tax will impact every bar, restaurant and hotel that subscribes to satellite TV service, which will translate into higher prices, decreased revenues, and fewer jobs.
• Rural Illinois has no choice: In many parts of Illinois, cable refuses to provide TV service to rural communities. Satellite TV is their only option.
Satellite Tax Is Not About Parity or Fairness
• Cable's claim that this discriminatory tax is justified because satellite TV doesn't pay local franchise fees could not be further from the truth. Cable pays those fees to local towns and cities in exchange for the right to bury cables in the public rights of way—a right that cable companies value in the tens of billions of dollars in their SEC filings.
• Satellite companies don't pay franchise fees for one simple reason: We use satellites—unlike cable, we don't need to dig up streets and sidewalks to deliver our TV service.
• Making satellite subscribers pay franchise fees—or, in this case, an equivalent amount in taxes—would be like taxing the air. It's no different than making airline passengers pay a fee for laying railroad tracks. They don't use; they shouldn't have to pay for it.
Tell Your Lawmakers to Stop The Satellite TV Tax
- Posted by Advertising Department Comments Off


[The following is a paid advertisement.]
Nursing homes are big business. An increased emphasis on profits has led to a distressing rise in neglected and abused seniors. With regulatory and legislative bodies unable to cope with a groundswell of neglect and abuse, the civil justice system has stepped into the breach. Attorneys who represent our nation's seniors and their families play a critical role in uncovering abuse and neglect.
Stories of abuse and neglect are all too common in American nursing homes. 14,000 nursing home patients died nationwide of malnutrition and dehydration. Nearly 160,000 residents had at least one pressure ulcer, yet only 35 percent of those with the most severe ulcers received special care for their wounds. As many at 1.5 million seniors are abused every year, and experts believe that for every case of reported abuse, five go unreported because nursing home residents are afraid of repercussions. Trial attorneys have proven to be the most effective advocates of abused and neglected seniors.
The civil justice system is the most effective force to compel corporate nursing homes to fix their conduct. For more information, click here.
- Posted by Advertising Department Comments Off