* Be careful with this analysis. From Nate Silver's FiveThirtyEight blog…
Quinn, of Illinois, looked to be in the most danger of these three incumbents. My polling-based analysis in early summer had him with a 25 percent chance to beat Republican Bruce Rauner. At the time, however, I warned that Quinn probably had a better shot than early polls suggested. Quinn is a Democratic governor in a Democratic state. He won in 2010 despite an approval rating of 40 percent (at best) and with only about 15 percent of voters saying the state was heading in the right direction.

This year, Quinn's approval rating is again between 35 percent and 40 percent. And again, he looks like he may win. His campaign has somewhat successfully painted Rauner as an out-of-touch millionaire. According to a recent Chicago Tribune poll, voters are more likely to say Quinn is in touch with people like them. They also view him as more honest than Rauner, even if they think Rauner can better handle the economy.

The fight between an incumbent people don't approve of and a challenger with his own flaws has resulted in a close race, but one in which Quinn is a favorite. The FiveThirtyEight model gives him a 66 percent chance of winning.
They've got Quinn winning by just 1.3 percentage points.
* Quinn won four years ago 46.79 percent to 45.94 percent - a margin of just 0.85 percent.
Gov. Quinn will probably need to increase his 2010 percentage to win this year because there were three other candidates on the ballot last time who took a combined 7.27 percent of the vote. Unless the Libertarian can reach that number, Quinn has to better his numbers in the face of strong GOP headwinds and a gazillionaire opponent.
Either way, we're talking little bitty numbers here. Tiny fractions of percentage points here and there can win this thing or lose it.
According to 2010 exit polling, Democrats made up 44 percent of the electorate, Republicans were 32 percent and indies were 24 percent. Needless to say, Quinn didn't get many independent votes. He had to scramble like mad.
* There was a big spike over the weekend in Chicago, where early voters, absentee returns and grace period voting totaled 33,625. Lines were long everywhere. I figure another 6,000 more absentees will eventually be mailed in, based on past performance, but that could increase as well. So far, 39,638 more Chicagoans have voted before election day than in 2010.
But also keep in mind that some very GOP-leaning townships in suburban Cook are reporting huge early vote/absentee numbers, as are the collar counties. Downstate remains a question. Anecdotal info abounds. The unions in Madison and Rock Island counties did an extraordinary job with the early vote, for instance.
Again, a million different factors are at play here. FiveThirtyEight predicted Bill Brady would win last time with 51..5 percent of the vote to 44 for Quinn. His model had 86.7 percent confidence in 2010, but 66 percent today.
* Also, Sun-Times…
After delivering a speech to volunteers in Chicago, Durbin spoke of the Democrats' bid to target so-called "drop-off voters" as well as the party's field operation. The party identified 900,000 people who have voted in a presidential election but tend to skip off-year elections. Each of those voters were contacted three times, Durbin said.

Durbin said on Saturday alone, Democrats knocked on 142,000 doors statewide. […]

More than 430,000 people have turned out to vote early in Illinois, breaking a record set in 2010. Both Republicans and Democrats claimed the news was good for their side.

"We feel great. We (knocked on) 90,000 doors yesterday," which is more doors than in 2010, Rauner campaign manager Chip Englander said. "We have the largest grassroots force that has ever been in Illinois. We have over 10,000 volunteers in every corner of the state. I think it's been unmatched by anyone, ever."
Yes, the Democratic program is much bigger than the GOP program, but that's because the GOP program is brand new. It's something they didn't have in 2010.
…Adding… These are not Democratic bastions, to say the least…
In suburban Cook County, more than 169,000 voters have cast early ballots, Cook County Clerk David Orr said.

The busiest early-voting sites in suburban Cook County were Orland Township, with 8,222 voters, followed by Arlington Heights (7,740 voters) and Northbrook (6,289).
- Posted by Rich Miller 53 Comments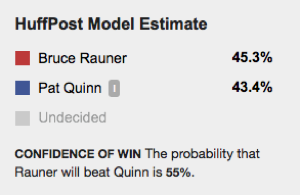 * Bing.com…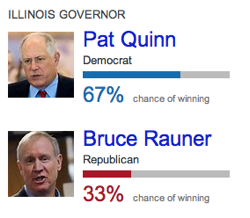 * USA Today…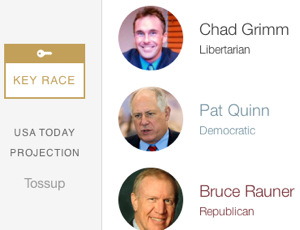 * 270toWin.com…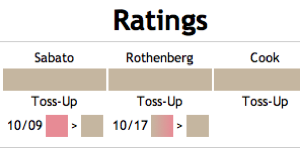 * More from Sabato…
That brings us to the seven Toss-ups. Because we now expect overtime in Georgia, we are calling that race a Toss-up, but at the end of the day it would be surprising if the Democrats ultimately won that seat. Also, and while we are keeping these races as Toss-ups in our ratings, it appears that Govs. John Hickenlooper (D-CO) and Pat Quinn (D-IL) have stabilized their positions, and they seem to have better than even odds to win second, full terms. So that's three of the seven Toss-ups where we think the incumbent party is positioned to hold on, though we have not made picks yet and we reserve the right to change our minds before the end. Sen. Mark Udall's (D-CO) seeming decline, in particular, could really hurt Hickenlooper.
Gut feeling?
- Posted by Rich Miller 163 Comments