Capitol Fax.com - Your Illinois News Radar
---
Latest Post | Last 10 Posts | Archives
---
National Review trashes Quinn
Posted in:
* Writer spends a couple of days in fly-over country, begins his story with a little black kid in East St. Louis who says unkind words, race baits throughout the article, half truths abound, Illinois Policy Institute quoted, DH Brown's is referred to as a "video-gambling establishment," Interstate 55 is described as…
the dyspeptic alimentary canal of Illinois, from the shadows underneath the gloomy turret of the Joliet penitentiary to the stagnation of Normal and Bloomington, across the vast stretches of lightly populated Corn Belt and through the almost-as-empty state capital at Springfield
But along the way he does provide one or two helpful insights. Read it here. You'll need to pay to read the whole thing.
Oh, and it made the cover…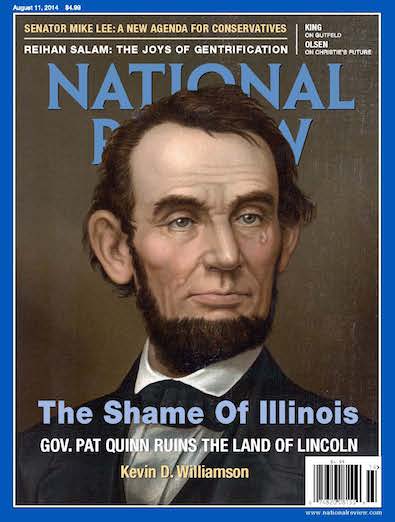 The tear on Lincoln's face is a definite tip-off.
posted by Rich Miller
Thursday, Jul 31, 14 @ 3:50 pm
Comments
Add a comment
---
Last 10 posts:
WordPress Mobile Edition available at alexking.org.
powered by WordPress.