* 5:43 pm - Read the proclamation by clicking here.
The proclamation refers to ethics reform legislation, pension reform, a constitutional amendment for recall (which the Senate never got around to finishing last month), a capital bill and legislation to enable "the state to have sufficient resources to meet its financial obligations."
The session is next Tuesday at 2 pm.
- Posted by Rich Miller 21 Comments


* 4:14 pm - From Crain's…
In a major political surprise, Cook County Commissioner Forrest Claypool has decided not to run for County Board president in next year's election.

Mr. Claypool was not available for comment and his office declined comment. But multiple political sources say that Mr. Claypool in the past 24 hours has informed them that he will take a private-sector job in health care.
Hinz says Larry Suffredin is now considering the run and putting together an exploratory committee.
* 5:17 pm - Carol Marin's Twitter page…
Exclusive interview with Forrest Claypool on NBC5 at 6P and in the Chicago Sun-Times online.
* 5:35 pm - Claypool to the Sun-Times…
"I don't believe that Todd Stroger's going to be re-elected. I think it is going to be very, very difficult if not impossible for him to be re-elected."
* 6:06 pm - He's not running for reelection, either. From a press release…
It has been the most difficult decision of my life, but I have decided not to be a candidate again for Cook County board president. Nor will I be a candidate for a third term on the board.

My June 30 fundraiser at Hop Haus, my first since the 2006 primary, is cancelled and I will be returning all checks (or in the case of credit cards, ensuring there is no debit to your account).

I am so grateful to you for your support, your encouragement and your friendship during the last two campaigns and my nearly seven years of service. It means so much to me, and made the decision so much harder.

In January, I joined my longtime friend, Care Pages founder Eric Langshur, in founding a new company, Rise Health. In the ensuing six months we have developed a mixture of services and technology which we believe can improve access, lower costs and improve quality in health care.

President Obama is poised to finally pass national health care reform. But to achieve the goal of universal access, quality and affordability, it will take both government reform and private sector innovation. I have come to believe so much in the potential of our ideas that I have chosen to remain in my role as chief operating officer, and begin a new and challenging journey to help improve our national health care system.

Many of you know that I first ran for the board presidency largely because of the dysfunction in the Health Bureau, which not only robbed taxpayers but effectively rationed care to the neediest and most vulnerable in our society. I wrote a detailed plan to improve access to preventive and primary care and restructure the system.

Because of the administration's gross incompetence and neglect, the Health Bureau is now under the jurisdiction of an independent board. The independent board recently hired a CEO, who is beginning to make systemic changes. The jury is out, but we all hope for its success.

I hope that all of you who supported me will stay involved, and support candidates willing to challenge the old ways.

Thank you again for having given me the opportunity to serve. I will be eternally grateful.

Sincerely,

Forrest Claypool
*** 9:01 pm *** From WBEZ's Twitter page…
CC Sheriff Tom Dart's political director: now that Claypool's out of the race, Dart is "very interested in looking into" board prez run.
- Posted by Rich Miller 42 Comments


* 2:44 pm - President Obama's press secretary Robert Gibbs denied today that Obama is trying to nudge Lisa Madigan into the US Senate race…
"The president is not going to pick a candidate in the Illinois Senate race," Gibbs told reporters during today's White House briefing.

"The president has a very long relationship with the attorney general, dating back to their time in the state Senate," he said. "She'd be a terrific candidate, but we are not going to get involved in picking a candidate in Illinois." […]

Gibbs said he didn't know whether Madigan was called to the White House or came in of her own accord to discuss the Senate seat now held by Sen. Roland Burris. […]

"I don't control the DSCC," Gibbs said. "We're not picking a candidate. We're not going to endorse in this race."
* 3:18 pm - Speaking of politics…
Alderman Toni Preckwinkle (Hyde Park) has launched a website in support of her campaign for Cook County Board President.
* 4:10 pm - Quote of the day goes to Lou..
One Democratic lawmaker, who appeared at an event highlighting possible cuts to the state's foster care program, said Quinn's repeated forays before microphones and TV cameras at the offices of social service providers are rallying the wrong set of troops.

"What the governor has been doing lately is preaching to the choir," said Rep. Lou Lang of Skokie, who was one of 42 Democrats out of a possible 70 to vote for the tax hike. "The choir has to now tell him go talk to someone else in that other church who doesn't get it."
- Posted by Rich Miller 19 Comments


* The Flubs got drubbed yesterday, but the series continues today. Play-by-play is available on your iPhone, or at MLB.com, the Daily Herald and the Trib.
Feel free to heckle each other in comments.
Also, Ozzie wore this shirt to the rained-out game yesterday…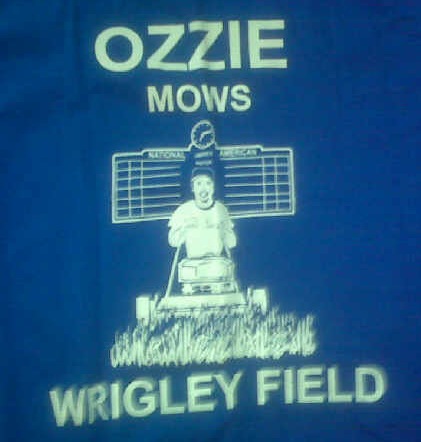 Discuss…
- Posted by Rich Miller 31 Comments


* 12:10 pm - We've topped ten percent unemployment. From an IDES press release…
The Illinois seasonally adjusted statewide unemployment rate for May reached 10.1 percent, an increase of +0.7 percent over April, according to figures released today by the Illinois Department of Employment Security. Unemployment in Illinois and nationwide has reached 25-year highs.

Total non-farm payroll in Illinois declined by 17,400 jobs in May. Although the pace of job loss lessened compared to the previous six months, Illinois recorded its eighth consecutive month of job losses. The number of unemployed people reached 671,400, the highest since June 1983. […]

The Manufacturing sector lost -9,500 workers in May, and has suffered the largest job loss of any sector in four of the last five months. Job loss leaders also include trade, transport and utilities as well as the construction sector. With summer approaching, job growth was reported in the Leisure and Hospitality sector.

Nationally, the May unemployment rate climbed to its highest level in more than 25 years to reach 9.4 percent and the total number of unemployed workers reached 14.5 million.
* 12:17 pm - You can read the entire opinion by clicking here. AP has a brief bit online…
The Illinois Supreme Court has thrown out a law setting a mandatory retirement age for state judges.

Until now, Illinois had required judges to step down at the end of the term in which they turn 75. A Chicago judge challenged the law.

The Supreme Court didn't entirely reject the idea of mandatory retirement, but it found that the law was written in a way that created constitutional problems.

For instance, a sitting judge couldn't run for re-election after age 75, but someone who had never been a judge before could run, no matter how old.

* 12:31 pm - There's a protest against the budget cuts at the Thompson Center today. Here's a pic and OneMan is live-Tweeting the event…
Clark now blocked with protesters…

Police clearing Clark
* 12:56 pm - Henry has posted a couple more pics from the protest here and here… and here and here. Sample…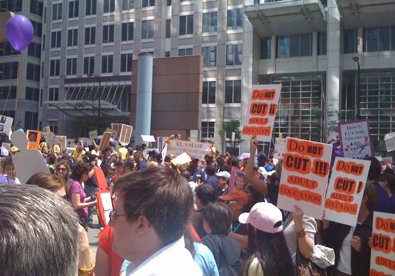 - Posted by Rich Miller 45 Comments


* As we discussed yesterday, the two Republican legislative leaders have issued a major demand for reform as part of the budget talks…
As we work toward a budget solution, putting an initiative on the November 2010 ballot to end gerrymandering must be a part of the discussions. Illinois needs an independent party to draw legislative district maps — not an antiquated coin-flip system — because it is clear nothing will change so long as politicians draw their own districts.
* The Question: Is this a legitimate demand and, more importantly, should the Democratic majority agree to redistricting reform as part of the budget negotiations? As always, explain fully.
- Posted by Rich Miller 53 Comments


* I called the U of I's public relations office the other day and left a message. They sent me a form letter e-mail response. So I responded to that with my question…
Has anyone from the Chicago Tribune or Tribune Co. contacted any U of I press office regarding admissions issues with a potential student in the past 7 years?
No response yet.
I figured I'd ask since the Tribune describes itself as a "landmark" Illinois institution. If they're a landmark, then they apparently gots lots o' power. So, I thought the question was reasonable.
* Meanwhile…
The U.S. attorney's office wants to know if former Gov. Rod Blagojevich or his power brokers sought a leg-up for applicants to at least two state universities.

Campus spokespeople confirmed today that Southern Illinois University and Northern Illinois University have received subpoenas seeking records of communications between campus officials and Blagojevich, William Cellini, Antoin "Tony" Rezko, Chris Kelly and Alonzo "Lon" Monk between 2002 and 2008. […]

"It sounds like sort of a sweep across the state to look at all the universities," said NIU spokeswoman Melanie Magara.

The DeKalb campus received its subpoena Tuesday, and has until July 2 to comply. SIU received its subpoena Monday, said spokesman Dave Gross.
More…
"We've got no reason to believe any such records exist, but the general counsel is going to have to conduct this search through both campuses. We'll wait and see what information is derived from that process," Gross said.

Requests for such information weren't unexpected in the wake of the U of I controversy, which is also under investigation by a commission appointed by Gov. Pat Quinn, [SIU spokesman and government relations officer David Gross] said.

Illinois State University spokesman Jay Groves said the Normal-based school had not received a subpoena as of Tuesday but that it was possible it might in the near future.

Neither Eastern Illinois University nor Western Illinois University had received a similar request either, officials on the campuses reported.
* Related…
* Illinois lawmakers can't investigate admission scandal: So Quinn awarded legislative oversight of this commission to a guy with a track record of giving taxpayer-funded scholarships to one of his top campaign contributors.

* 3 yards and a clout of dust: Then my utter disbelief turned to bemusement when I learned that this reported pressure was being applied by government officials and other well-connected individuals in the state. I had assumed all along that it was coming from coaches, the athletic director or ardent boosters of the institution's intercollegiate sports teams.

* Lights … cameras … Blago

* Rod Blagojevich poses with, signs satirical sculpture of himself at Lillstreet Art Center in Ravenswood

* Burris' Shock Discovery: the Pentagon Has Research Labs!

* U. of I., still hiding
- Posted by Rich Miller 15 Comments


*** UPDATE 1 - 10:07 am *** Keep this in mind when reading the rest of the post…
State income-tax revenue fell 26% in the first four months of 2009 compared to the same period last year, according to a survey of states by the nonprofit Nelson A. Rockefeller Institute of Government. […]

Personal-income-tax collections were down by $28.8 billion between January and April of 2009, compared to the some period last year, in the 37 states surveyed.
H/T: NA
*** UPDATE 2 - 11:04 am *** Progress Illinois drills down into the report and comes up with the Illinois-specific numbers…
[Illinois'] total personal income tax collections from January to April of this year fell 10.7 percent as compared to the same period in 2008.
[ *** End of Updates *** ]
* Foster parents threatened today to return children to the state's care. From a press release…
Nearly 50 Chicago-area foster parents gathered for a press conference at the James R. Thompson Center today to denounce Governor Pat Quinn's reduction of Illinois foster parent expense reimbursement by 50% and to implore that the legislature find the money to reverse the cuts.

"The Illinois 'doomsday' budget threatened by Governor Quinn have now become our reality," said Marge Berglind, President of the Child Care Association of Illinois, commenting on budget cuts to the Illinois Department of Children and Family Services (DCFS).

"Last week, Governor Quinn ordered DCFS to move forward and cut its budget by $461million," said Berglind. "Starting on July 1, DCFS is reducing by 50% the expense reimbursement money to the Illinois' 9,000 foster parents and eliminate support services." […]

Berglind estimates that within 90 days after the reduced reimbursements begin and support services are eliminated that many of the foster parents will begin to return kids to DCFS

"Many foster parents will be unable to continue to feed and clothe foster children and within 90 days or so many foster parents will, painfully, begin to return the kids," said Berglind. "Since there will be no available beds in residential facilities, the state will likely need to deploy cots in state buildings to house and monitor the kids."

Foster parent Gladys Boyd, 59, of Richton Park reluctantly agrees.

"It breaks my heart," said Boyd, president of Illinois Foster Parents Association. "I love my kids and I will keep them with me as long as possible, but without the full reimbursement and the support services after more than three months, I'll have no choice but return them to DCFS."

"These politicians should be ashamed of themselves," Boyd added. "Completely ashamed."
But…
House Republican Leader Tom Cross says talk of a doomsday scenario has been overblown.

CROSS: Can we make sure that those that are suffering right now that need help from the state, those in the social services spectrum — can we avoid those cuts in the next few weeks and months and even through January? Yes it can be done without a tax increase.
Notice that Cross said the tax hikes can be avoided "through January." After that it's a far different matter, and the tax hikes will probably have to be larger.
More on the GOP plan to go month to month…
Illinois Republicans leaders are suggesting a month-to-month budget to avert service cuts, while legislators try to reach an agreement on a permenant spending plan. Governor Pat Quinn and state legislative leaders met again Wednesday for another round of budget negotiations. The governor says the month-to-month plan wouldn't work.

QUINN: You can not begin the fiscal year and start spending money that may run out half way through. What do you do? That's not the way to run a government or run a business.
* The GOP is also being blamed for not making any specific counter-proposals…
Republicans have yet to spell out many specifics about budget cuts, instead pointing broadly to moving the poor into managed health care and revamping pension benefits for state workers.
"They are, at this date, still not taking our suggestions seriously," Radogno said of Democrats.
Rep. Jim Watson, R-Jacksonville, said he understands that a solution to the budget mess will involve both cuts and a tax increase. He isn't predicting if that compromise will be reached soon.

"The frustrating thing is to try to explain to people how we got in this situation and how limited an individual legislator is (to resolve it)," Watson said.
"Unfortunately, it appears at this point in time that the Republicans are not ready to vote for any revenue increases," Cullerton said. "And that's unfortunate." […]

House Speaker Michael Madigan said that not enough members of his caucus, which has 70 members, are willing to vote for an income tax increase without GOP support. "There were a certain number of House Democrats who said quite flatly, 'I'm not going to go on a roll call when it's Democrats-only,'" Madigan said.
More…
"I suspect that when Tom Cross says he's going to vote for a tax increase, you'll have more Democrats step up. But when a Republican says 'Oh, that's the Democratic tax increase, I'm not voting for it,' that's wrong. That's irresponsible."
* The Sun-Times says the governor shouldn't sign the capital bill until the budget is done…
Now, Quinn must use the only leverage he has left: his signature on a statewide construction bill. Legislators are lusting after the spoils in that $26 billion spending plan. Quinn's John Hancock is all that stands in their way. […]

In his short time as governor, Quinn has pushed hard for consensus. But to date, that hasn't gotten him very far. Soft persuasion and pleas on behalf of the poor and the needy haven't made much of a dent.

Gov. Quinn, it's time to bring out the big stick. The people of Illinois are counting on you.
* And the Tribune gives credit to the GOP for pushing pension reforms, which was in the governor's budget address months ago…
Better the Democrats start listening to what Radogno and Cross keep explaining: Illinoisans don't want to shovel more money to Springfield until the legislature and governor adopt spending reforms. That includes revising a too-generous pension calculation for new hires, moving Medicaid recipients to managed care, canceling all pork spending — the list of needed fixes goes on and on.
…Adding… Whoa! Did the Tribune really claim that the GOP wants this?
canceling all pork spending
The Tribune has finally gone off the deep end.
* Related…
* Drug Courts Have Nowhere to Send Addicts: The agency that provides drug treatment as an alternative to prison in Illinois is refusing to take clients — and they're cutting off the clients they already have.

* New Illinois prison chief: No closures for now

* Ill. prisons chief: no closings yet

* State budget impasse delays $9 billion road construction plan

* Stalled state budget idles jobs plan

* Midwest, Calif. front runners for $8B in rail cash

* Feds release details on high-speed rail funds

* State budget cuts add up to 'real pain for real people'


* 73-year-old asks, 'Who can I call?'


* Caring starfish-thrower comes face to face with Illinois deficit

* Service agencies worry while lawmakers lock in budget stalemate

* 'This state is sick': Social service providers face devastating cuts in Illinois budget battle


* Cuts would decimate human-service providers

* Proposed budget cuts threaten Illinois child advocacy centers

* School leaders try to save funding

* An obvious place to begin cutting
- Posted by Rich Miller 48 Comments


* We don't know yet who asked for this meeting, but this is a huge blow to Treasurer Alexi Giannoulias, whom Barack Obama backed in the last election…
Illinois Attorney General Lisa Madigan has met with President Barack Obama and his senior political aides to talk about running for the U.S. Senate seat he once held.

Ms. Madigan's spokeswoman says the meeting occurred in Washington at the White House late last week, with the Senate race the subject.

Ms. Madigan reportedly has not made up her mind, but the meeting came after weeks in which White House operatives reached out to Ms. Madigan and urged her to run for the seat now held by Roland Burris, and after Ms. Madigan said she would agree to think about it.

In the meeting besides Mr. Obama were senior advisor Valerie Jarrett and presidential Chief of Staff Rahm Emanuel. Ms. Madigan also talked with David Axelrod, who ran Mr. Obama's presidential campaign.
More…
So, who called the White House meeting? "I didn't ask that question," Ziegler said.

Hmmm. It's a safe bet that Madigan is rethinking a bid for the governor's job. "Well, she hasn't ruled out a Senate bid," Ziegler said.
And this Giannoulias press release is kinda weird…
Statement from State Treasurer Alexi Giannoulias regarding U.S. Senate race:

"Voters in Illinois are facing the most troubling economic times in decades and they want leaders who will solve problems and fight hard every day against the political insiders who have failed us. When Barack Obama ran for this seat in 2004, he was not the choice of the insiders. He became the choice of the people because of the strength of his ideas and his ideals.

"Illinois has been ill-served by state party leaders who think they know better than voters. Now more than ever, anyone who seeks this seat must convince voters they have the ideas that will get our economy on its feet and put our people back to work, not just prove that they have the political clout to demand a clear field and win appointment."
Madigan wants a presidential endorsement and a clear field. As Giannoulias' press release makes clear, that second part doesn't look likely…
The Chicago Sun-Times' Lynn Sweet reports that Illinois Attorney General Lisa Madigan is demanding an endorsement from President Obama and a clear Democratic primary field as the two conditions for her to run for the Senate.

The White House looks willing to play ball, in light of breaking news that President Obama met with Madigan last week to discuss a potential Senate candidacy.

But the second condition looks very difficult to achieve, with state Treasurer Alexi Giannoulias already in the race and raising big bucks for his exploratory committee with plans to make a formal announcement next month. And there's no love lost between the Madigan and Giannoulias camps, making any kind of backroom deal between the two highly unlikely.

Several sources close to the Giannoulias camp said there is "no way" the state Treasurer would bow out of the race, and that he's in it to win it. That would mean that if Madigan wanted to pursue a Senate race, she'd have to face a tough, expensive primary — without the benefit of the nearly $5 million in her state campaign account.
More…
At a commencement speech in Chicago Sunday, Sun-Times Political Reporter Abdon M. Pallasch asked Obama Axelrod Sunday about spin put out by some Giannoulias critics that the White House wanted Madigan as the nominee because if Obama's friend Giannoulias was the nominee, Obama's and Giannoulias' old friend, convicted influence peddler Tony Rezko, would become a campaign issue that caused spillover bad P.R. for Obama.

"The president has a lot of respect and affection for Alexi, for Lisa, but ultimately the party and voters here are going to have to decide who will be the strongest possible candidate right now," Axelrod said. "Our interest is in making sure the seat remains in Democratic hands. It's not up to the president to decide who the candidate should be, But that's the standard everyone should apply: Who would be the strongest candidate?"

Pallasch asked Axelrod: "Are you guys taking a 'hands off' approach or trying to recruit the best candidate?"

Axelrod responded: "We're talking to whoever wants to talk to us."
Thoughts?
- Posted by Rich Miller 73 Comments


* Chicago leads off presentations to Olympic committee members
* Daley ups the ante for 2016 Olympics
Faced with losing the 2016 Summer Games to competing cities offering full government guarantees, Mayor Richard Daley made an about-face Wednesday and said the City of Chicago would sign a contract agreeing to take full financial responsibility for the Games.

So far, the Chicago City Council has approved only a $500 million guarantee against operating losses, while the state has pledged an additional $250 million. These were augmented by a previous pledge to obtain a $500 million insurance policy. The only guarantees in place against construction costs are the insurance policies required of contractors who would build the facilities.

The bid team's confidence in the plan is partly predicated on its estimated costs rising only modestly because of inflation. But Olympic plans often don't play out as expected. London's plan for the 2012 Summer Games has run into serious financial problems, with the original estimate of $4.9 billion ballooning to $13.5 billion, and much of the corporate sponsorship money pledged has evaporated amid the global economic crisis.

Chicago's guarantee figures — which would rise to as much as $2.5 billion — are a far cry from the full tab projected for hosting the Games. The $4.8 billion projected operating budget for the Games includes a projected surplus of $500 million.
* Time for Daley to come clean on 2016 tab

Three years ago, Mr. Daley said taxpayers wouldn't spend a dime on luring and running the Olympics, that the private sector would pay for it all, with a big profit likely to boot.

Then, a while later, he said the city would have to guarantee $500 million and the state $250 million — but the money never, ever would be needed because of hordes of Olympic sponsors and an undisclosed insurer that would make up any shortfall.

Wednesday, the ante went up — way up, into the billions.

That means the city — we the taxpayers — will be on the hook for the finances of an event with a projected $3.3-billion operations budget. And on the hook for financing an Olympic Village that will cost another $1 billion or so to build.
* Daley to put taxpayers on hook for Olympic financial losses
* No Olympic-size gamble without full public debate

* Olympic Protestors Worry Taxpayer Money Will Go to Games
* Who pays?
* A way to curb Olympics corruption
* Prices here soar in May, but down 2.4% from a year ago: U.S.
Consumer prices in the Chicago metropolitan area rose 0.9 percent in May over April, three times the national increase, but prices were down 2.4 percent locally from a year ago, the Labor Department said Wednesday.

The month-over-month increase locally was largely because of higher transportation and medical care costs, which rose 3.7 percent and 4.6 percent, respectively.

The increase in transportation costs was because of a 14.7 percent increase in the cost of gasoline. Over the year, gasoline prices were down 36.9 percent, leaving overall transportation costs down 14.2 percent from May 2008, according to the report. Medical care costs were up 7.7 percent from a year earlier.
* Northern Trust repays TARP $1.58B
Chicago's largest bank announced today that it has repaid the federal government $1.58 billion, repurchasing the preferred shares it issued last fall as part of the Troubled Asset Relief Program, or TARP. Northern is one of 10 big U.S. banks exiting the TARP program today.
* 7 Chrysler plants reopen; not Belvidere
* Auto industry's problems hitting closer to home
* Illinois makes $47 million on Dillinger film
* No back taxes for permanent seat license buyers
Bears fans who bought permanent seat licenses for the right to buy season tickets at Soldier Field are off the hook for back taxes — at least for now.

At the request of a judge hearing a class-action lawsuit filed by Bears fans, City Hall has agreed to wait for a decision before retroactively collecting Chicago's nine percent amusement tax from 2,700 PSL holders who were not the original owners.
* City of Chicago suspends plan to tax Bears season ticket licenses
* Official Responds To Claims Of Squandering Money
When asked if he could give us any indication of his whereabouts, Flowers said by phone, "I can't. I'm out of the area. Not out of state but out of the area."

Flowers admitted putting almost $7,000 in travel expenses for relatives on his government credit card, but he said, "The money was returned. Those charges were returned to the card."

And, as for shoddy record-keeping in the office, he blames a former business manager.

"A more competent person should have been brought in a lot earlier," Flowers said.
* Parking meter contractor's 'Green Team' hits streets in bid to soothe angry drivers
Dozens of newly-hired employees — all wearing green T-shirts, many of them college students — are descending on Chicago neighborhoods where LAZ Parking has installed pay-and-display boxes.

They're talking to motorists and local merchants. They're passing out information on how to use the boxes that take credit cards and eliminate the need to carry around plastic bags full of quarters.
* No deal between city and unions on concessions
* No agreement on layoffs between union, city

* Glenview, ComEd argue over paying for lights
* Family of man fatally shot by Chicago cop files lawsuit
* Animal-rights activist settles libel suit with foie gras producer

* Danks Pitches White Sox Over Cubs
John Danks pitched seven shutout innings, Alexei Ramirez homered in the first and the White Sox played some NL-style baseball Wednesday to beat the Cubs 4-1.
* New revelation catches Sosa off base
- Posted by Mike Murray 6 Comments