* My pollster was resending a file to me this morning and wrote this in his email…
Sorry…lost power TWICE while trying to get this out. Building an ark…
Part of my back yard looks like a lake. Luckily, it's the part away from my house. Oscar the puppy stays in the basement laundry room (it's nicer than it may sound) when I'm not around, but I think I may move him upstairs in case we get a lengthy power outage and it floods. The power went out briefly yesterday, so I'm a little worried. Need to get a generator.
By popular demand, here's a couple more pics of the little guy…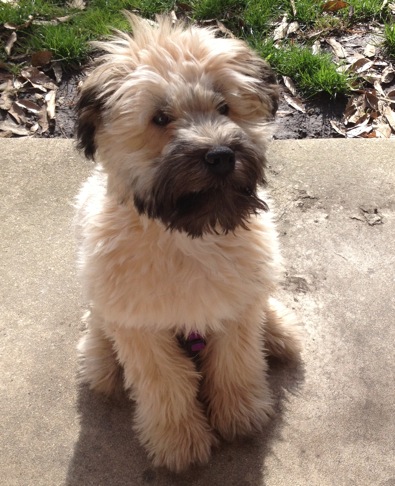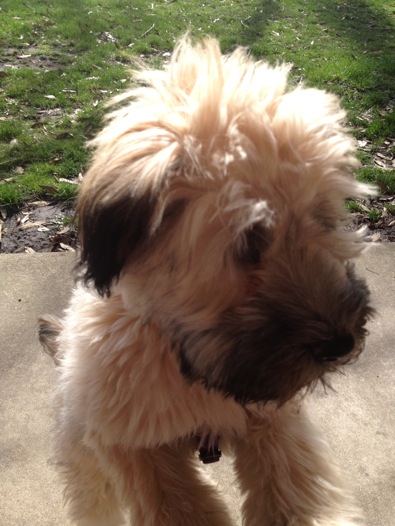 In answer to your questions, he's five months old and is a Soft-Coated Wheaten Terrier.
* Anyway, how is it by you?
*** UPDATE *** Gov. Pat Quinn has declared a state of emergency in response to the flooding…
Gov. Pat Quinn has issued an emergency declaration following the flooding and severe weather affecting areas across Illinois.

Quinn issued the declaration Thursday. The action will allow the state to access federal resources including generators, pump systems sandbags and additional funds. The declaration is a step below a disaster emergency declaration.

Quinn says the American Red Cross has opened two shelters in north central Illinois. One is in Oglesby and another in Roanoke.
Click here to check out a very, very long list of flooded state roads.
* DuPage County's courthouse has shut down…
Severe flooding has closed the DuPage County courthouse in Wheaton, delaying the start of a triple-murder trial that was set to begin today.

State's Attorney Bob Berlin said jurors slated to hear testimony in the high-profile Johnny Borizov case were notified of the delay early this morning. […]

Officials said flooded parking lots and roads on the county campus at Manchester and County Farm Roads made it nearly impossible for travelers to access the courthouse, as well as the health department and other government buildings there, which also were closed. […]

DuPage County has received 4 to 5 inches of rainfall since Wednesday, and 1 to 2 more inches were forecast for Thursday.
* Sinkholes…
A rainstorm pummeling the Chicago area ripped open a sinkhole Thursday that swallowed three cars, injuring one driver badly enough that he had to be hospitalized. Blasts of torrential rain and widespread flooding forced authorities to shut segments of major expressways, and hundreds of flights were scrapped.

Schools were closed, commuter trains slowed to a crawl and a local emergency agency to the north, in Lake County, drafted jail inmates to fill sandbags.

The gaping sinkhole opened up a residential street on Chicago's South Side just before 5:30 a.m. after a cast iron water main dating back to 1915 broke during the massive storm. The hole spanned the entire width of the road and chewed up grassy areas abutting the sidewalk. Two of the cars that disappeared inside had been parked, but a third was being driven when the road buckled and caved in. Only the front-end of one of the vehicles could be seen peeking up along the edge of the chasm.
52 Comments



























































































































































Sorry, comments for this post are now closed.