Republican gubernatorial candidate Bruce Rauner's "Shake Up Springfield" bus tour made a stop Tuesday at the Italian Village restaurant in Carbondale.

Rauner called Illinois the worst run state in America, citing high unemployment, deficits and deteriorating schools. […]

Rauner would not rule out minimum wage increases or decreases, but he said any change to the minimum wage should be a comprehensive approach that makes labor regulations and the tax burden more attractive to small businesses and improves the education system.
Hedging, eh?
* Here's what John Gregory at the Illinois Radio Network reported him saying at an earlier time…
Bruce Rauner believes Illinois should do the opposite, and lower it to $7.25. "I will advocate moving the Illinois minimum wage back to the national minimum wage. I think we've got to be competitive here in Illinois," Rauner said.
Sounds like a strong position, forcefully held.
* But that IRN quote was picked up by the mainstream media after I posted it here, so Rauner may have decided to run away from his "courageous" position. Here's Rauner's full Carbondale quote from yesterday, provided by SI reporter Chris Hottensen…
"What we should really do is be comprehensive in our approach. We need to become pro-business again. If we do raise the minimum wage, we should do it in the context of making our labor regulations and our tax burden much more attractive to small business so we have a growing economy so everybody's got jobs. The reality is if we only increase the minimum wage we could end up hurting the very folks we're trying to help. Unemployment could go up, small business owners could shut their doors, business owners could leave the state. We have to be competitive and if we don't have a booming economy with people getting hired we'll defeat the very purpose for raising the minimum wage.

"If we move it to a level where we are at the same level as the national wage that will allow us to be competitive and create more job opportunities.

"But to lower it would hurt some lower income folks and we should only do that in the context of dramatically improving our schools and creating a business environment where everybody's got jobs so we don't have such a brutally high unemployment rate."
Yep, that's a hedge, and not a very artful one, either.
* The national polling on this issue has been pretty clear. Click here to see several polls that show strong support for hiking the minimum wage.
* A December Washington Post-ABC poll asked "The minimum wage in this country is now seven dollars and 25 cents an hour. What do you think it should be?"
All respondents…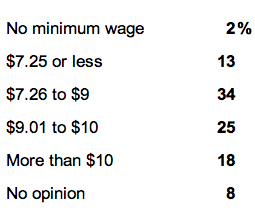 Republicans…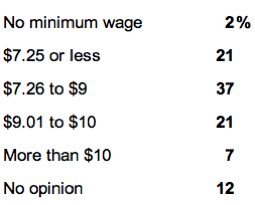 Conservatives…
Conservative Republicans…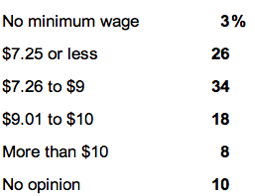 So, even a strong 60 percent majority of conservative Republicans would like to see an increase in the minimum wage. While a quarter or so would like it to remain the same or lowered, and a tiny handful says it needs to be eliminated.
No wonder he's hedging.
38 Comments

















































































































Sorry, comments for this post are now closed.