* From the Bruce Rauner campaign…
CHICAGO – Quinnocchio will highlight Pat Quinn's education funding cuts.

WHEN: 10:30 a.m.
WHERE: Hotel Allegro
171 W. Randolph St
Chicago, 60601

The Old Promise: "We have to invest in education. We have to be custodians of the future." (Quinn video statement to ABC 7 on December 30, 2009: http://www.youtube.com/watch?v=kisEvjk7Nt4)

The Reality: Pat Quinn has cut elementary and secondary education funding by more than $600 million. (CGFA 2014 Budget Summary p. 165)
* That COGFA budget summary is here. From a graph on page 165 of appropriations to the State Board of Education from FY06 to the current fiscal year…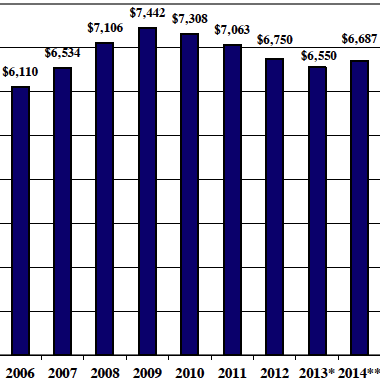 Keep in mind, however, that this graph excludes teacher pension funding, which has ramped up every year. The state, not local school boards, covers those payments.
* And here's another graph from the same COGFA document which represents the annual change in state revenues over the same time period…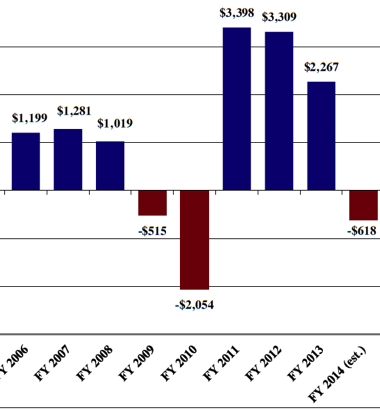 Anybody wanna guess what would've happened to education funding if the tax hike that Rauner despises and pledges to eliminate hadn't passed in 2011?
69 Comments














































































































































































































Sorry, comments for this post are now closed.