* A new poll of 1,085 likely voters conducted by We Ask America for the Chicago Sun-Times finds Bruce Rauner leading Gov. Pat Quinn 51-38. The most explicable difference between this poll and one leaked to Michael Sneed by the Quinn campaign (and which I also obtained and gave to subscribers) is that this WAA poll is of likely voters. The Quinn numbers, which had him down by one point, were registered voters - which is almost always a more Democratic universe in off-year elections.
* But check this out: "Which gubernatorial candidate do you consider to be a reformer?…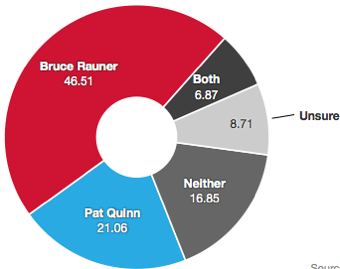 Oof. So much for "You know who I am."
And check out some of the crosstabs on this question…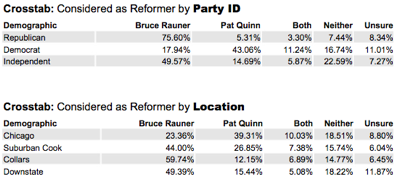 Look at how few Democrats and Chicagoans consider Quinn to be a reformer.
* Which candidate for governor do you think understands your every day concerns?…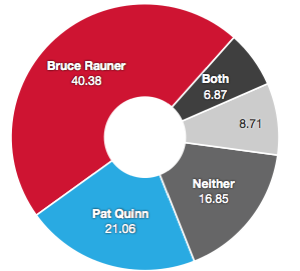 No success yet in painting Rauner as an out of touch billionaire. From the xtabs…

Quinn really has problems with his base, not to mention with independents. Ouch.
* Which candidate for governor is more likely to solve Illinois' budget problems?…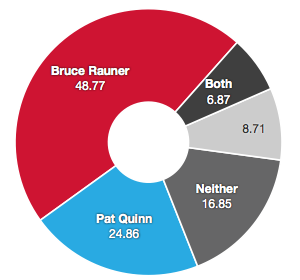 Despite the fact that Rauner's plan would blow a gigantic hole in the state budget, even Democrats aren't thrilled with Quinn's plan…

* Back to the Sun-Times story…
A deeper dive into the head-to-head data in the poll between Rauner and Quinn shows that the Republican is outscoring the incumbent among both men and women. Rauner also appears to be doing surprisingly well among those who identified themselves as Democrats, spelling potential trouble for the governor.

Nearly 17 percent of Democrats chose Rauner as their preferred option for governor, the poll showed. By contrast, Quinn got the nod from self-identified Republican voters 7 percent of the time.

The survey also has Rauner with a steep advantage among independents. The poll found that nearly 54 percent of those swing voters chose the Republican candidate, compared to nearly 32 percent for Quinn.
Most of those Democrats will "come home." And if you look at the xtabs, 12 percent of Democrats were undecided. So the race will obviously tighten up down the stretch.
55 Comments




































































































































































Sorry, comments for this post are now closed.