*** UPDATE *** As noted above, Marleen Suarez has now produced evidence which indicates that her ad is, indeed factual. Click here to read her response and see her evidence.
[ *** End Of Update *** ]
Remember that brutal campaign video I posted a month ago about the Madison County Treasurer's race? The ad, by Democrat Marleen Suarez, alleged that all sorts of bad things were discovered at Republican incumbent Kurt Prenzler's daycare center, including "rat droppings and roaches."
Well, Suarez's campaign is at it again, but this time they've missed the mark, to say the least. Watch…
Oof.
* But the allegations don't appear to be true.
A Google search for the phrase "Meanwhile, there is sex in the barracks and the U.S. Navy has transformed itself into a floating brothel" turned up a cached result of a deleted comment on the Madison County Treasurer's Facebook page.
That comment appears to have been written by somebody named Edward Hartmann, not Prenzler. Here's a screen capture…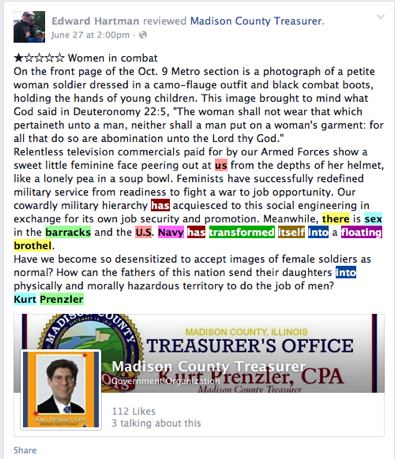 Oops.
Amazingly enough, Prenzler doesn't appear to have responded. Also, keep in mind that we're talking Madison County here, perhaps best known nationally for its lawsuits. Stay tuned.
14 Comments









































Sorry, comments for this post are now closed.