* Press release…
Late yesterday AFSCME Council 31 executive director Roberta Lynch received a letter also addressed to Governor Bruce Rauner from seven Republican state representatives (Avery Bourne, Adam Brown, Terri Bryant, CD Davidsmeyer, Norine Hammond, Don Moffitt and Sara Wojcicki Jimenez) urging both parties to resume negotiations for a new collective bargaining agreement for state employees.

In a response to the lawmakers sent this morning, AFSCME agrees with the legislators' call for renewed negotiations, reiterating the union's oft-stated willingness to return to the bargaining table ever since the Rauner Administration broke off talks on January 8.

In addition, Lynch points out that HB 580—the fair arbitration bill, which the legislators did not support—could actually serve to foster such a renewed bargaining process. If the governor refuses to heed the lawmakers' call to return to the bargaining table, she calls on the seven legislators to commit to vote for a new motion to override the governor's veto of the fair arbitration bill before the General Assembly's scheduled adjournment on Tuesday.
Interesting retort to those seven by AFSCME.
* The letter sent by the legislators…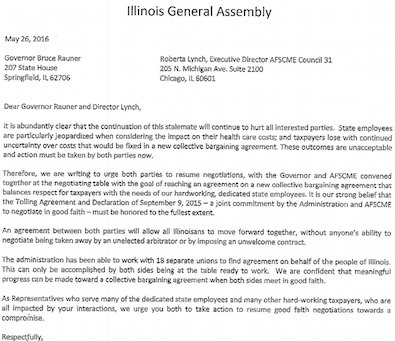 Both letters are here.
96 Comments































































































































































































































































































Sorry, comments for this post are now closed.