Capitol Fax.com - Your Illinois News Radar
---
Latest Post | Last 10 Posts | Archives
---
"Pay Now Illinois" lawsuit dismissed
Posted in:
* Press release…
The St. Clair County Circuit Court has dismissed the Pay Now Illinois coalition suit against Gov. Bruce Rauner and state agencies. Circuit Judge Robert P. LeChien cited the precedence established in the June 15 dismissal of a separate Pay Now Illinois suit by the Illinois Appellate Court. The St. Clair decision is attached.

A statement from Pay Now Illinois Chair Andrea Durbin…

"We obviously are disappointed by the decision in St. Clair County, and are considering our options. All along, we've sought to determine what legal options there are to enforce contracts under the law and to ensure that social and human service organizations get paid for the work they are doing on behalf of the people of Illinois. In our continuing efforts to ensure that everyone gets paid, we have requested an extension of the deadline to appeal the dismissal of our original suit to the Illinois Supreme Court."

"As we look ahead, we are reviewing our next steps, including legislation, to make sure this doesn't happen again – that anyone who enters into a contract has the right to get paid in a reasonable time period."
The decision is here.
* Check out this kinda tortured logic from the judge on why this case differs from paying state workers without an appropriation…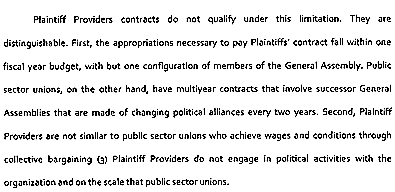 posted by Rich Miller
Thursday, Jul 20, 17 @ 4:08 pm
Comments
Add a comment
---
Last 10 posts:
WordPress Mobile Edition available at alexking.org.
powered by WordPress.