Capitol Fax.com - Your Illinois News Radar
---
Latest Post | Last 10 Posts | Archives
---
Previous Post: Question of the day
Next Post: Madigan disses Giannoulias, McPier
Poll: 44 percent of Illinoisans are loser-lovers
Posted in:
* Public Policy Polling has released more results from their recent statewide survey. Here's one that'll surely get some tongues wagging…
Would you say you are a Chicago Cubs fan, Chicago White Sox fan, or St. Louis Cardinals fan?

44% Cubs
19% White Sox
22% Cardinals
16% Not a fan of any
The Flubs always win popularity contests. Too bad they can't win actual ballgames.
Here's the breakout along partisan lines…

* In less important news, opinions aren't really set yet over whether the state should eliminate the office of lt. governor…
Do you think Illinois should eliminate the office of Lieutenant Governor?

39% Yes
37% No
24% Not Sure
* PPP also asked questions about corruption. One was whether Illinois has the most corrupt politicians in the country…
57% of Illinois voters express that sentiment to 24% who disagree and 19% who are unsure. Republicans are the most solid in that belief, holding it by an 82/9 margin. But a majority of independents (53/27) and a plurality of Democrats (43/32) do as well.
And then there's this…
Perhaps the greatest indicator that Illinois is unusually corrupt is that fewer than half of voters in the state think Rod Blagojevich is the most corrupt Governor of the last half century. 42% of voters say he is followed by 29% for George Ryan, a total of 6% for older Governors Otto Kerner and Daniel Walker, and 22% who aren't sure.

As you might expect opinions about who's been most corrupt see a division along party lines- Democrats say it's Ryan while Republicans say it's Blagojevich.
Here's the partisan breakdown…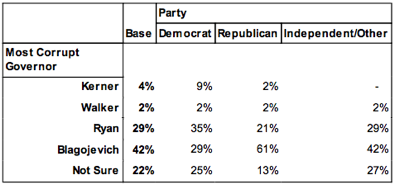 * It's no surprise that Attorney General Lisa Madigan is popular. It is a bit of a surprise that her favorables are under 50. However, as we've seen with other PPP polls, their favorable/approval ratings lag behind others…
Do you have a favorable or unfavorable opinion of Lisa Madigan?

49% Favorable
23% Unfavorable
28% Not Sure
64 percent of Democrats, 28 percent of Republicans and 49 percent of independents/others have a favorable opinion of the AG.
…Adding… Go Sox.
posted by Rich Miller
Thursday, Apr 8, 10 @ 12:23 pm
Comments
Add a comment
Sorry, comments are closed at this time.
Previous Post: Question of the day
Next Post: Madigan disses Giannoulias, McPier
---
Last 10 posts:
WordPress Mobile Edition available at alexking.org.
powered by WordPress.