Capitol Fax.com - Your Illinois News Radar
---
Latest Post | Last 10 Posts | Archives
---
Previous Post: Rose out as CYR prez
Next Post: Oh, the humanity!
Cross, Radogno host Breitbart, Beck - Aid to states faltering
Posted in:
* In a somewhat strange turn of events, a couple of historically moderate Republicans, House Republican Leader Tom Cross and Senate GOP Leader Christine Radogno, are co-hosting an ultra-conservative national event next month in Illinois. Andrew Breitbart and Glenn Beck are both speakers at the Right Nation 2010 extravaganza. From a press release…
Right Nation 2010 announced today that Andrew Breitbart will be joining fellow conservatives, Republicans and Tea Party Independents at the September 18 event. An outspoken conservative, Breitbart has built a reputation as a public figure unafraid to take on the liberal left or the controversial topics of the day.

The founder of Breitbart.com, Breitbart.tv, Big Hollywood, Big Government, Big Journalism, and Big Peace, Breitbart is also a commentator for the Washington Times and various news programs, as well as an author and publisher.

Breitbart joins conservative icon Glenn Beck, Former House Majority Leader Dick Armey, Congressman Aaron Schock and Tea Party leader Herman Cain, as well as journalists Stephen Moore, John Fund, and others.
House Republican Leader Tom Cross has long had a reputation as a moderate, but he's been pushing hard against that for the past year or so. The same goes for Senate GOP Leader Christine Radogno. Both leaders are listed as hosts of Right Nation 2010. Several local tea party groups are listed as partners. Cross' House Republican Organization is one of the sponsors.
* Meanwhile, on the other side of the spectrum, an Associated Press survey of economists produced nothing new as far as I'm concerned…
State budget shortfalls pose a "significant" or "severe" risk to the national economy. The loss of tax revenue has forced state and local governments to cut services and lay off workers. […]

At the same time, state budget shortfalls have emerged as a major threat in the economists' view. State and local governments cut their spending in the first three months of this year at a 3.8 percent pace. That was the biggest cutback since the second quarter of 1981, just before the economy entered a severe recession.

When states and localities tighten spending by trimming services and jobs, the cutbacks ripple through the broader economy, causing individuals to spend less, too. The drop in state and local government spending shaved about half a percentage point off the U.S. gross domestic product in the first three months of this year.

Nearly two-thirds of the economists view the states' budget crises as a significant or severe threat to the rebound. [Emphasis added]
I've been saying for well over a year that the administration and the Congress screwed up badly by not giving the state's a bigger helping hand. One of the reasons for the failure of the economic stimulus was that the states counteracted it with their spending cuts.
And, to be clear, I'm not necessarily saying that the stimulus should've been bigger, although many would. I am saying that more money sent the states' way and less spent on things that barely stimulated anything would've been the smart thing to do. But, no.
* Our chart of the day is from the Rockefeller Institute and looks at quarterly state tax revenues for all states since the beginning of 2007…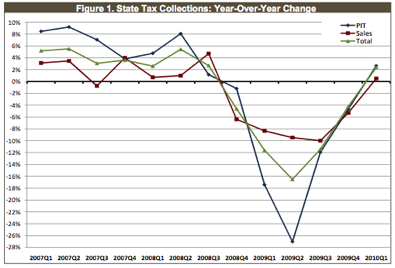 * But even a little federal aid is looking less likely…
Reid said he is now more confident of getting a small-business relief bill through the Senate this week, including significant tax breaks for companies and a $30 billion Treasury-backed loan facility. But new budget problems Monday cast fresh doubt on the Senate's ability to deliver on a White House-backed state and local aid package designed to avert tens of thousands of layoffs, including teachers, in the fall.

Just hours before a scheduled cloture vote Monday, the Congressional Budget Office informed Senate leadership that it was still about $5 billion short of offsetting the full $26.1 billion cost of the package. […]

Within the aid package, $10 billion is dedicated to protecting teaching jobs, and the remaining $16.1 billion is to help governors meet their state Medicaid payments for the first half of 2011. In both cases, the funds would essentially extend relief provided under the giant economic stimulus bill enacted soon after Obama took office last year. But Democrats have pledged to fully offset the costs through a combination of tax reforms and spending cuts, about $10 billion of which came from the recovery act.
* Related…
* ADDED: Democratic Surge In Polls Is Just Noise

* Economists Confirm: State Budget Cuts Threaten Economic Recovery: In fact, states' actions to close their estimated $140 billion in budget shortfalls without more federal aid could cost the economy up to 900,000 public- and private-sector jobs. You don't have to be a leading economist to realize that's the last thing our economy needs.

* More Balance: So, claims that our analysis systematically understates costs for public employers are invalid on this basis. Similarly, claims that our study should have added the value of the entire unfunded liability (of state and local government DB plans) onto a single year's compensation costs are completely off base. Any analysis that does so will reach conclusions that are equally inappropriate and flawed.

* Poll: Public Prefers Candidates Who Serve Pork, But Not Tea
posted by Rich Miller
Tuesday, Aug 3, 10 @ 1:04 pm
Comments
Add a comment
Sorry, comments are closed at this time.
Previous Post: Rose out as CYR prez
Next Post: Oh, the humanity!
---
Last 10 posts:
WordPress Mobile Edition available at alexking.org.
powered by WordPress.