Capitol Fax.com - Your Illinois News Radar
---
Latest Post | Last 10 Posts | Archives
---
Previous Post: Question of the day
Next Post: Braun apologizes for "crack" crack, and other crime and punishment news
This just in… Supreme Court grants stay in capital bill case
Posted in:
* 2:32 pm - I'll post the order in a minute granting a stay of the appellate ruling declaring the state's capital bill to be unconstitutional.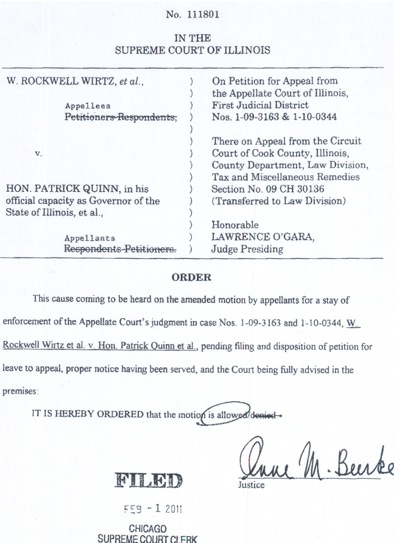 * Basically, what this means is that everything with the capital bill is now status quo ante. Drivers service fees don't have to be immediately refunded and projects apparently can carry on, at least until the Supremes rule otherwise (or not).
posted by Rich Miller
Tuesday, Feb 1, 11 @ 2:32 pm
Comments
Add a comment
Sorry, comments are closed at this time.
Previous Post: Question of the day
Next Post: Braun apologizes for "crack" crack, and other crime and punishment news
---
Last 10 posts:
WordPress Mobile Edition available at alexking.org.
powered by WordPress.