Capitol Fax.com - Your Illinois News Radar
---
Latest Post | Last 10 Posts | Archives
---
Previous Post: *** UPDATED x1 *** Jesse White to back Emanuel
Next Post: SUBSCRIBERS ONLY - Today's edition of Capitol Fax (use all CAPS in password)
Maps, quotes, pics and straw polls
Posted in:
* The Illinois Coalition for Immigrant and Refugee Rights has held 1,000 workshops that have helped 50,000 people become citizens in the past six years. The group has also kept track of who has taken the oath and where they live. Click the pic for a larger version…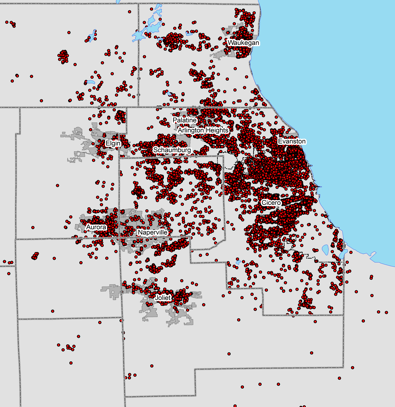 * Here's a great example of how people lobbying for (or against) something can twist logic to suit their ends…
Kevin Lyons, state's attorney for Peoria County, traveled to the state Capitol several times to testify against the [death penalty] abolition bill. He noted that if Quinn signs the legislation, he would also have to act in favor of the inmates now on death row.

"Fairness would demand that if the death penalty is abolished, those persons would surely have to have their sentences commuted by governor act to life without parole," Lyons said. "Fairness would require it."
The other way of looking at it would be a compromise. Keep the current convicts on death row while banning the penalty in the future. There's no hard "requirement" here.
* From the Paul Simon Institute…
Illinois has one of the three most restrictive eavesdropping laws in the country, along with Maryland the Massachusetts. And Illinois police and prosecutors are not shy about using the law to punish the taping of arrests and interrogations.

Chicago authorities recently have charged a street artist and a stripper for violating the law. Both face 15 years in prison.

The street artist, Charles Drew, actually intended to get arrested in an act of civil disobedience targeting a Chicago ordinance banning the sale of art on the street without a permit. That would have been a misdemeanor, but he ended up charged with a felony for arranging a tape of his arrest.

Tiwanda Moore, the 20-year-old stripper, went to police headquarters to complain about an officer she said had fondled her and left her his personal phone number. An officer receiving Moore's complaint tried to dissuade her from pursuing it. She began recording the conversation with her cell phone. When officers discovered what she was doing, they charged her under the eavesdropping statute.

Moore was scheduled to go trial this week and Drew in April. Moore is relying on a exception to the eavesdropping law that allows a conversation to be recorded surreptitiously if a crime is about to be committed. She maintains that the officer's effort to discourage her from filing a complaint was committing a crime.

The ACLU in Illinois went to court to challenge the state eavesdropping law as a violation of the First Amendment, but a Chicago judge threw out the suit last month. The ACLU is appealing.
From the National Press Photographers Association…
"Despite consistent court rulings protecting the First Amendment rights of both citizens and the media to take photographs in public places, and despite many law enforcement agencies spelling it out in their official policies, the officer on the street either doesn't get the word or decides to act on his own in the name of 'security' or 'terrorism laws,' often citing rules that don't exist and exerting authority that's non-existent. And recently in some states police have started citing old wiretapping laws that have been on the books for decades as their excuse for ordering photographers to cease videotaping officers as they're doing their jobs in public, either during traffic stops or street arrests or while interfering with photographers who are breaking no rules and who are posing no threats to safety."
* The Illinois GOP is holding another presidential straw poll…
The Illinois Republican Party plans a statewide pre-primary straw poll ahead of the 2012 presidential election.

The party made the announcement Sunday night at an event marking the 100th anniversary of the birth of President Ronald Reagan. The Illinois GOP says the straw poll will be Nov. 5 and measure the support of Republican presidential hopefuls.
The last time the party did this was at the 2007 State Fair. It wasn't exactly on target, nor was it influential…
"Congratulations to Mitt Romney, whose strong showing today indicates he has begun to put together a strong statewide organization," state GOP Chairman Andy McKenna said in a statement released by the Romney campaign. "There's no question that Illinois' demographics closely match those of the United States and this could be an indication as to whom Illinois voters are leaning toward this coming February."
John McCain won just 4.12 percent of that straw poll vote. Oops.
Then again, holding the vote in November rather than August might help.
posted by Rich Miller
Monday, Feb 7, 11 @ 1:47 pm
Comments
Add a comment
Sorry, comments are closed at this time.
Previous Post: *** UPDATED x1 *** Jesse White to back Emanuel
Next Post: SUBSCRIBERS ONLY - Today's edition of Capitol Fax (use all CAPS in password)
---
Last 10 posts:
WordPress Mobile Edition available at alexking.org.
powered by WordPress.