Capitol Fax.com - Your Illinois News Radar
---
Latest Post | Last 10 Posts | Archives
---
Previous Post: Rate hike bill blasted by CUB
Next Post: Today's must-watch video
Emanuel has big lead, but can't answer a simple question
Posted in:
Illinois
Polls
Blagojevich Trial
* ABC7's new poll has Rahm Emanuel above 50 percent and Carol Moseley Braun tanking badly and in single digits…
Emanuel 54
Chico 14
del Valle 8
Braun 6
Others 3
Undecided 15
A stunning 53 percent of black voters, 57 percent of whites and 47 percent of Hispanics backed Emanuel.
And if that's even close to being Braun's final number, then it shows what a joke that "consensus candidate" process was.
…Adding… From the "MayorEmanuel" Twitter feed…
We've carved out a sledding hill in the shape of Braun's poll trends, but we're all scared to try it: too [expletive deleted] steep.
Heh.
* OK, he's way ahead, but he also appears physically incapable of answering a simple question…
Mayoral hopeful Rahm Emanuel addressed the subject of the "missing" tape with some of the same language he has used for months to describe his conversations with Rod Blagojevich.

He hearkened back to a two-year-old report by then-President-elect Obama's transition team that concluded there were "about four" conversations between Emanuel and Blagojevich Chief-of-Staff John Harris, but "nothing inappropriate or any deal-making."

"It also noted that I was asked at the time by the President's transition (team) to provide a list of four names for the U.S. Senate: Tammy Duckworth, Jan Schakowsky, Dan Hynes and Congressman Jesse Jackson [Jr.]," Emanuel recalled, noting that there was a separate conversation about Attorney General Lisa Madigan.

Trial testimony indicated that Blagojevich and his team considered this list a "BS list."

"I provided that list. Then, there was a question — The governor's representative said, `What's in it for us.' And I responded, `You'll get thanks and appreciation' [but nothing more]. You also know how the [former] governor responded to the word, `appreciation.' That's been detailed over two years ago in the report."
Rod Blagojevich's lawyers say there may be a "missing tape" of Emanuel talking to a top Blagojevich aide the day before Blagojevich's arrest. How about just saying if he talked to the guy or not and what was said, if there was such a conversation? No. Instead, a long soliloquy about nothing.
* The same goes for Emanuel's budget plans…
Speaking at Threadless, the successful and popular West Side T-shirt company, Emanuel said he would initiate changes to Mayor Richard Daley's final budget to realize $75 million worth of savings.

"I will order a government-wide spending freeze and to ask every department head to review all operations and produce a plan for their dept within 60 days to cut city spending by at least $75 million," said Emanuel.

But the city's budget deficit is expected to range between $500 and $600 million. Emanuel offered few specific details, instead pointing to ideas illustrated on his website, on how he would manage that.
That's it? That's the big budget speech chock full of details that his aides have been promising for weeks? Seriously?
The Sun-Times tried to gently prod Emanuel today to offer up some specifics. I wouldn't bet on it ever happening…
Rahm Emanuel walked to the edge of a cliff on Tuesday but refused to jump.

That won't do.
…Adding… Emanuel's campaign points to his website, which includes this graph…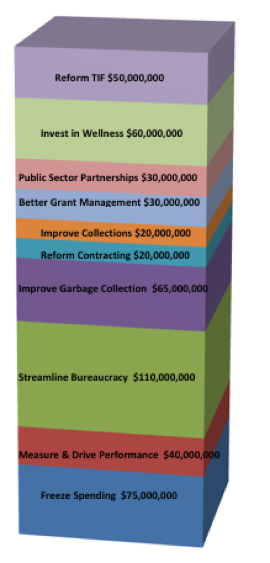 * I hate it when the Tribune does this…
A Tribune/WGN poll conducted Jan. 15-19 showed city taxpayers prefer service cuts to tax hikes. And in the wake of a despised parking-meter lease, they strongly oppose selling off more city assets that could raise billions in the short term.
No response percentages, not explanation of the questions asked, nothing. They provide a bit more detail later in the piece…
Nearly half of likely Chicago voters favor city service cuts over higher taxes and fees, according to the recent Tribune poll. Less than 1 in 3 want higher taxes and fees, the poll found.
So, less than half want service cuts and fewer than a third want tax hikes. Sounds like they want neither.
* Meanwhile, Mayor Daley wants no more live music at Taste of Chicago…
Taste of Chicago can reverse huge losses without charging an admission fee — and even turn a profit — by focusing exclusively on food, Mayor Daley said Tuesday.

"What we're trying to do is make the Taste of Chicago get back to … the Taste of Chicago — not all the other things around it. We're trying to get it back to what it was originally. It's a Taste of Chicago. That's what we're trying to rebuild without costing you or taxpayers more money," Daley said.

"Originally, we never had an admission fee. … The cost [escalated]. All the musicials got so costly that they put money into the musicals forgetting it's Taste of Chicago. It's not a music fest."

Pressed on whether the Taste would be food alone, without any music, Daley said, "Yes. That's what you do because it was always free. It will always be free."
* Jim DeRogatis offers up a blistering dissent…
1. Taste of Chicago is not, in fact, free; one must purchase not inexpensive tickets if one is going to do anything other than smell the food (or, in the past, listen to the music).

2. Taste of Chicago has not always been about food—in fact, with its start as Chicagofest, it primarily was a music festival, and the music has been at least as important a part of the festivities as the food for the last 25 years.
* Related…
* 'Chicago Code' is silent with debut ratings: "The Chicago Code" was beaten by "Two and a Half Men" (15.13 million viewers) and "The Bachelor" (9.97 million), although it bested "The Cape" (4.56 million) and "Gossip Girl" (1.63 million).

* Rumsfeld wanted Iraq to do things the 'Chicago way': "In parts of Chicago where officials threatened the mayor's authority, potholes were left untended and other services were neglected," the Winnetka native writes. "In areas where local officials cooperated with the mayor, Daley brought the services of the city government to bear and was generous in his patronage. "My point was that instead of giving Karzai the freedom to throw around the weight of the U.S. military, he should learn to use patronage … to get the local Afghan warlords, governors, and cabinet officials in line."

* How (and why) those Rogers Park high schoolers made their anti-Rahm/pro-Miguel video

* New jury rule in Blago trial: In the filing, Zagel cited "incidents occurring after jurors names were released" and so he has ordered in the next trial that the names of anonymous jurors will be "publicly released eight hours after the verdict is returned."

* City overstates furlough savings, inspector general says - Officials failed to account for shortfall in pension contributions from its employees: Under the agreement, city workers were not required to make more than $11 million in pension contributions for the furlough days even though they continued to accrue benefits. The city, meanwhile, gave itself a pass on another $13.5 million in payments for its share of pension contributions for the furlough days, according to the report. That means city pension funds were shortchanged more than $24 million over the three-year period, at a time when the pension funds had reached historic shortfalls that threaten the retirement security of thousands of police officers, firefighters, teachers and other municipal employees.
posted by Rich Miller
Wednesday, Feb 9, 11 @ 9:37 am
Comments
Add a comment
Sorry, comments are closed at this time.
Previous Post: Rate hike bill blasted by CUB
Next Post: Today's must-watch video
---
Last 10 posts:
WordPress Mobile Edition available at alexking.org.
powered by WordPress.