Capitol Fax.com - Your Illinois News Radar
---
Latest Post | Last 10 Posts | Archives
---
Previous Post: Question of the day
Next Post: *** UPDATED x1 - Track wants slots, not subsidy *** Quinn: Forget what I said about "sincere negotiations" last week
Small police presence at Occupy Springfield event
Posted in:
* Ellen Beth Gill was at Occupy Springfield over the weekend and filed a report…
I didn't see a single [police] officer or squad car and there was no need for them. The fire department was out, but they appeared to be just passing by to answer a call elsewhere.

The entire event was peaceful and orderly from start to finish. The organizers would not let a participant jaywalk or litter. I met a lot of nice people from all walks of life. There were young people from the universities at Champaign/Urbana and Bloomington/Normal. There were several women about my age from the Springfield area and there were senior men and women.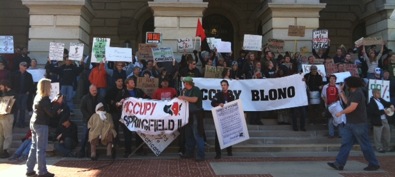 I checked with the Secretary of State's office, which is responsible for Statehouse security. They did have officers present and worked with the Springfield cops, but they apparently stayed back far enough so as not to be noticed. The SoS office said security was comparable to a similar event held by tea party organizers last year.
Compare this with last Thursday's overwhelming police presence at the Thompson Center…

* Gov. Pat Quinn was asked about the occupiers yesterday and tried to bring them into the ComEd issue, but they refused…
"Last week, we had the biggest consumer battle in a generation in Illinois," Quinn said. "It's important if you're doing an 'Occupy' movement, maybe to get down to the state capitol, help with the program y'know?" Quinn said to laughter. "We're trying to win for the 99 percent of consumers who aren't very happy about Commonwealth Edison's big increase. You've got to be an organizer, figure out where the people are. I know the people are on our side. Consumers did not get a fair shake. We've got to come back and win in the days ahead. Maybe the folks outside could beat the drums for that."

Micah Philbrook, one of the 20 protestors outside, said they would have liked the governor to come out and talk to them.

"The governor is using one [issue] to throw a red herring in the middle of the Occupy Chicago message," Philbrook said.

He wanted Quinn to explain why 40 armed state troopers cleared protestors away from the Thompson Center during a vigil [Thursday] night.
posted by Rich Miller
Tuesday, Nov 1, 11 @ 11:25 am
Comments
Add a comment
Sorry, comments are closed at this time.
Previous Post: Question of the day
Next Post: *** UPDATED x1 - Track wants slots, not subsidy *** Quinn: Forget what I said about "sincere negotiations" last week
---
Last 10 posts:
WordPress Mobile Edition available at alexking.org.
powered by WordPress.