Capitol Fax.com - Your Illinois News Radar
---
Latest Post | Last 10 Posts | Archives
---
Previous Post: A Catholic split over how to handle new state law
Next Post: Question of the day
*** UPDATED x1 *** Today's Videos: Karen Lewis, Occupy Springfield, Pat Quinn
Posted in:
* It's not quite safe for work, so don't watch if your office has strict rules, but here's the now infamous video of Chicago Teachers Union President Karen Lewis going off on Arne Duncan, Harvard, the Tribune editorial cartoonist and other stuff…
Lewis apologized for her rant in a call to Secretary Duncan. The edited video was distributed by an organization called the Education Action Group. From its website…
Breaking the power of Big Labor in America's schools would allow parents, administrators and teachers to be free to make decisions in the best interest of students. Onerous labor contracts and work rules, designed to defend adults' rights, hinder innovation and improvement.
The full Lewis video is here.
*** UPDATE *** Lewis complained about a Chicago Tribune editorial cartoon in her rant, claiming that the cartoonist darkened her face and made her look obese. Here's the cartoon in question…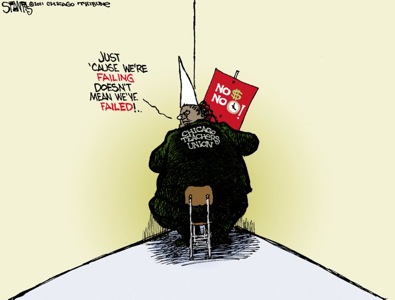 Frankly, I don't think that's out of line. Your thoughts?
[ *** End Of Update *** ]
* Occupy Springfield held a demonstration at the Statehouse the other day without a permit and posted a video…
From the video's caption…
Occupy Springfield, IL. visits the Illinois State Capitol Building. We had a "press conference" in the rotunda, without a permit because a permit had been given to Comcast for ALL THREE DAYS OF THE VETO SESSION! Not only was this action successful in and of itself, but it cought the attention of Illinois Lawmakers who have now asked Occupy Springfield, IL. to speak before a Senate Committee on the 15th of November regarding SB[397]. It is not a total victory unless that bill does not get passed into law, but an 8 minute action leading to a face to face meeting is inspiring, to say the least!
* And Gov. Pat Quinn was on MSNBC's Morning Joe today to talk about the Illinois economy. He also shared some Rick Perry stories…
Visit msnbc.com for breaking news, world news, and news about the economy
posted by Rich Miller
Tuesday, Nov 15, 11 @ 10:59 am
Comments
Add a comment
Sorry, comments are closed at this time.
Previous Post: A Catholic split over how to handle new state law
Next Post: Question of the day
---
Last 10 posts:
WordPress Mobile Edition available at alexking.org.
powered by WordPress.