Capitol Fax.com - Your Illinois News Radar
---
Latest Post | Last 10 Posts | Archives
---
Previous Post: Here come the cuts
Next Post: Madigan is going all out against an opponent who won't give up
*** UPDATED x1 - Poll Shows Big Kinzinger Lead *** Today's videos
Posted in:
Illinois
Polls
YouTube
Updated Posts
* Last fall, state Senate candidate Tom Pliura (R-Ellsworth) went a bit off track during a tea party forum…
Pliura said he was "disappointed" to see the passage of a civil-unions law in Illinois earlier this year, saying it "wasn't necessary" and "wasn't appropriate."

The LeRoy physician and attorney said he was "strongly opposed to gay marriage."

"I don't think society ought to be condoning that anymore than, quite frankly, if a guy wants to get married with a donkey," he said. "If you want to have relations with your donkey, that's fine. Just don't ask me to say, 'OK, now that we have a civil union here, my donkey can get health care benefits.'"
And now somebody has posted a mocking video of Pliura's moment…
Oy.
I called Dr. Pliura today and asked if he would do anything different if he had to do it over again. Pliura said he was talking in the forum about how his late brother was gay and how he was personally opposed to civil unions, but did admit "I probably should have just stopped right there."
No kidding.
"I'm learning very quickly," Pliura added. "I'm a newbie to this."
* This TV ad isn't so humorous. As subscribers already know, Rep. Randy Ramey was whacked for his DUI…
* Congressman Don Manzullo goes after Congressman Adam Kinzinger on government spending…
…Adding… Congressman Kinzinger also has a TV ad up…
*** UPDATE *** We Ask America's latest poll has Kinzinger up by 13 points…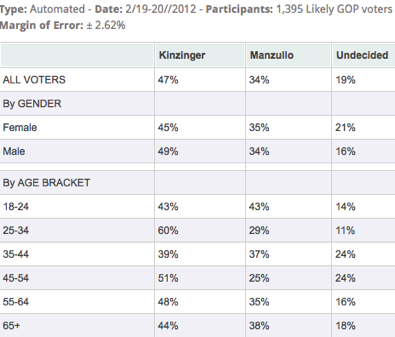 From the pollster…
A deeper look into where the responses to this poll came from reveals that Manzullo continues to lead comfortably in the areas he represented prior to the re-map, while young Adam Kinzinger is cleaning up in both his former area and the areas that are new to both candidates. As we always like to point out: a single poll in a given district should never be taken as a prediction of the inevitable. But the internal numbers–especially WHERE the responses came from–point to Kinzinger as the clear leader for now.
posted by Rich Miller
Tuesday, Feb 21, 12 @ 10:56 am
Comments
Add a comment
Sorry, comments are closed at this time.
Previous Post: Here come the cuts
Next Post: Madigan is going all out against an opponent who won't give up
---
Last 10 posts:
WordPress Mobile Edition available at alexking.org.
powered by WordPress.