Capitol Fax.com - Your Illinois News Radar
---
Latest Post | Last 10 Posts | Archives
---
Previous Post: Burying the lede
Next Post: Question of the day
Scott Walker caption contest!
Posted in:
* A Gov. Scott Walker roundup…
* Our Opinion: Walker's tactics not applicable to Illinois

* Our View: A stalking Walker

* Our View: Land of Lincoln has a lot going for it over Wisconsin

* IL Gov.: Don't follow Walker's 'prescriptions'

* Union members protest Walker appearance

* Scott Walker Visits Springfield, Compares Self to Lincoln

* Wisconsin Gov. Walker getting mixed reaction in visits here

* Walker talks unions, budgets in IL visit ahead of recall

*Hundreds of union workers protest Walker in IL

* Wisconsin governor uses Illinois as argument against recall

* ILGOP Chair: Wisconsin on right track

* Suburban business leaders impressed with Wisconsin governor

* Wisconsin Gov. Walker says Illinois should confront union issues
* And the caption contest photo…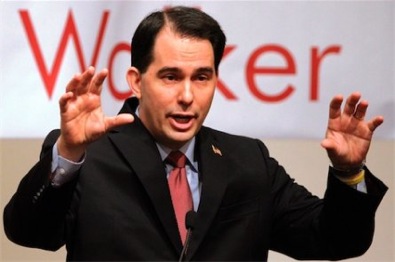 I'll purchase the winner a non-Wisconsin beer.
posted by Rich Miller
Wednesday, Apr 18, 12 @ 12:22 pm
Comments
Add a comment
Sorry, comments are closed at this time.
Previous Post: Burying the lede
Next Post: Question of the day
---
Last 10 posts:
WordPress Mobile Edition available at alexking.org.
powered by WordPress.