Capitol Fax.com - Your Illinois News Radar
---
Latest Post | Last 10 Posts | Archives
---
Previous Post: SUBSCRIBERS ONLY - Supplement to today's edition and a campaign and Statehouse roundup
Next Post: Gill claims polling lead over two possible rivals
*** UPDATED x1 *** Some Republican diversity emerges at county level
Posted in:
* DuPage County Republicans elected their first ever woman chair yesterday…
Darlene Ruscitti made DuPage County GOP history on Wednesday night by becoming its first female leader.

Nearly 300 Republican precinct committeemen broke out in applause after electing Ruscitti to the role of DuPage GOP chairman during their biennial county convention in Wheaton. Ruscitti was nominated by the only person expected to challenge her for the position — Naperville Township GOP chairman Rachel Ossyra.

"It's an honor to be your new chairman," Ruscitti told the crowd of party faithful. "I'm really humbled by this all, and I'm really proud to be a Republican." […]

She replaced state Rep. Randy Ramey, who last month announced that he wasn't going to try to keep the party chairman post because of a possible government appointment.
That's a long way from the days of Pate Philip.
Ruscitti, the DuPage County Superintendent of Education, has quickly moved up the party ranks ever since she dropped out of a congressional primary to make way for incumbent Joe Walsh.
* Champaign County Republicans elected Lebanese immigrant Habeeb Habeeb…
Habeeb, a partner in Benefit Planning Consultants Inc. in Champaign, arrived in the United States in 1973 at the age of 17 to attend Olivet Nazarene University in Kankakee.

"I wanted to be a doctor and go back. I didn't intend to stay here," he said. "And 16 months afterward a civil war started in Lebanon. I didn't know where my parents were. I didn't have a penny, and I was stuck here.

"I started working at Arby's for a buck-65 an hour. I'm like the great American success story. I didn't know any different. Failure was not an option. I had no choice. I cleaned bathrooms. I did dishes. And I was happy doing it because it was better than the alternative. They were fighting over there."

He met his future wife, Joy, at Olivet, and continued to work for Arby's. The couple moved to Champaign in 1985, he earned an MBA at Eastern Illinois University and they had two children, one of whom has graduated from the University of Illinois and the other is attending Illinois. Habeeb became a United States citizen around 1990, he said.
* And the Cook County Republicans elected Philippine-American Aaron Del Mar, who is the first ever minority to get that position. As usual with the Cook Republicans, there was also plenty of political intrigue…
Del Maar had the backing of Sig Vaznelis, the Cook County Republican chair who announced last month he wouldn't seek another term due to the demands of his civil engineering business.

A political turf war between Republicans from the north end of Cook County and those from the south helped drive this race, as well as the earlier primary battle for Cook County Board of Review commissioner between Wheeling resident Dan Patlak and South suburban resident Sean Morrison, a race Patlak ultimately won.

While Cook County Commissioner Liz Gorman of Orland Park fiercely plugged Morrison, New Trier Township Committeeman Bill Cadigan and other North suburban Cook County GOP committeemen supported Patlak. Cadigan was removed from his post by Vaznelis, who is aligned with Gorman, and therefore stripped of his voting powers in the election for chair.

New Trier township, because of its heavy number of Republicans, is one of the most influential townships. Cadigan said Wednesday he believed Vaznelis saw him as a threat as a potential chair.
Illinois Review has run this photo of Del Mar with Hillary Clinton more than once…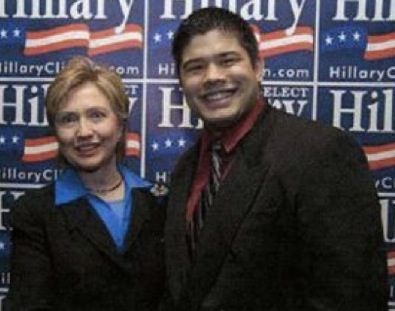 Del Mar's response…
The picture above was taken prior to 2003. When I was not politically involved at all and was just taking a picture with a US Senator, I was 25 at the time.
*** UPDATE *** Kane County also elected its first Republican chairperson, which resulted in some hurt feelings…
Members of the Kane GOP elected Barb Wojnicki of Campton Township as their new chairman Wednesday night — and the first woman to lead the county party.

Wojnicki's victory also marks a personal breakthrough for her: In her 14 years on the Kane County Board, she'd often been overlooked for leadership roles despite her knowledge and experience. Now she's the leader of the party that's been in charge of the county for the last century.

"I just think people were looking for new energy, new spirit," Wojnicki said. "I know no one can do this job alone. But I think the people of the party were just ready for something new."

[Chairman Mike Kenyon], of South Elgin, withdrew his candidacy just before the voting for chairman began. In doing so, he publicly called for party unity.

But after the speech and the applause, Kenyon called the outcome the result of a political coup. Wojnicki ran on a slate of candidates that swept the voting Wednesday night.
posted by Rich Miller
Thursday, Apr 19, 12 @ 9:20 am
Comments
Add a comment
Sorry, comments are closed at this time.
Previous Post: SUBSCRIBERS ONLY - Supplement to today's edition and a campaign and Statehouse roundup
Next Post: Gill claims polling lead over two possible rivals
---
Last 10 posts:
WordPress Mobile Edition available at alexking.org.
powered by WordPress.