Capitol Fax.com - Your Illinois News Radar
---
Latest Post | Last 10 Posts | Archives
---
Previous Post: This. Must. End.
Next Post: *** UPDATED x1 *** Unsolicited advice
Question of the day
Posted in:
* It's Friday, it's too hot in Springfield to go outside and my 1997 automobile's air conditioning system can't keep up with the heat so it appears I am trapped at home for now.
I need some entertainment.
Gov. Pat Quinn's button says "Cheer up." Umm…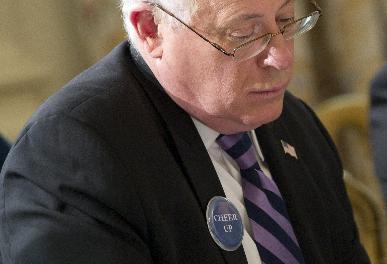 * The Question: Caption?
posted by Rich Miller
Friday, Jun 29, 12 @ 12:08 pm
Comments
Add a comment
Sorry, comments are closed at this time.
Previous Post: This. Must. End.
Next Post: *** UPDATED x1 *** Unsolicited advice
---
Last 10 posts:
WordPress Mobile Edition available at alexking.org.
powered by WordPress.