Capitol Fax.com - Your Illinois News Radar
---
Latest Post | Last 10 Posts | Archives
---
Previous Post: STOP THE SATELLITE TV TAX!
Next Post: Question of the day
Today's graph
Posted in:
* Illinois gubernatorial and presidential election results, excluding independent and third-party candidates. Click for a larger image…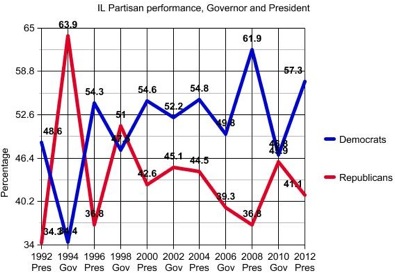 Discuss.
posted by Rich Miller
Friday, Nov 16, 12 @ 12:01 pm
Comments
Add a comment
Sorry, comments are closed at this time.
Previous Post: STOP THE SATELLITE TV TAX!
Next Post: Question of the day
---
Last 10 posts:
WordPress Mobile Edition available at alexking.org.
powered by WordPress.