Capitol Fax.com - Your Illinois News Radar
---
Latest Post | Last 10 Posts | Archives
---
Previous Post: *** UPDATED x2 - Cellini reported to Ryan's prison today *** George Ryan's grim transition to begin soon
Next Post: Question of the day
Today's graph
Posted in:
* President Obama's inaugural address has put this polling graph back into play on the Interwebtubes…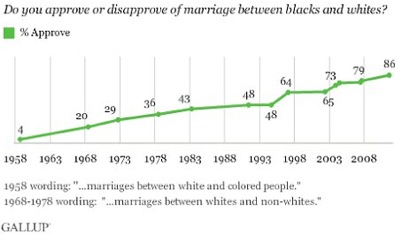 Notice that it wasn't until the 1990s that a majority of Amerians finally approved of interracial marriage.
Thoughts?
posted by Rich Miller
Tuesday, Jan 22, 13 @ 11:08 am
Comments
Add a comment
Sorry, comments are closed at this time.
Previous Post: *** UPDATED x2 - Cellini reported to Ryan's prison today *** George Ryan's grim transition to begin soon
Next Post: Question of the day
---
Last 10 posts:
WordPress Mobile Edition available at alexking.org.
powered by WordPress.