Capitol Fax.com - Your Illinois News Radar
---
Latest Post | Last 10 Posts | Archives
---
Previous Post: The ground game
Next Post: Candidate filing begins
Question of the day
Posted in:
* On election day, I posted this photo of Bruce Rauner casting his ballot…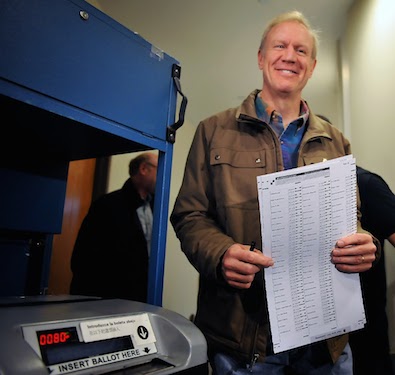 An eagle eyed commenter noted at the time that Rauner had voted against retaining all judges.
* The president of the Lesbian and Gay Bar Association of Chicago, John Litchfield, penned an open letter to Rauner about his votes and Jack Leyhane published it…
Dear Mr. Rauner,

A photo of you published on November 5, 2014 with your completed ballot indicates that you voted "No" on every judicial candidate for retention to the Cook County bench, according to Republican Judge James G. Riley's letter to the Chicago Daily Law Bulletin (published on November 10, 2014, and enclosed here for your reference). I, too, saw the photograph referenced by Judge Riley, and am disappointed to see that it confrrms his account.

This means you voted not to retain even the stars of the bench, the leaders and stand-outs, the innovators and those working to bring peace and resolution to families in our communities. Judges, perhaps more so than any of the elected officials in our state, have a direct and lasting impact on the lives of Illinoisans on a daily basis - whether it be petitioners in bankruptcy, divorce court, or child custody, or defendants in criminal cases or eviction proceedings. The issues our judiciary grapples with are deeply personal to the citizens of our state who deserve only the best on the bench.

Judge Riley's letter is correct: the 2014 class of retention candidates enjoyed better bar ratings than most previous classes; no 2014 candidate received less than 50% "Yes" recommendations from rating bar associations; and only eight of 73 had any "No" recommendations at all. Prior classes of retention candidates have usually featured at least one or two with 100% negative bar ratings.
* The Question: Do you agree with Bruce Rauner's decision to vote against retaining all Cook County judges? Take the poll and then explain your answer in comments, please.
survey solutions
posted by Rich Miller
Monday, Nov 17, 14 @ 12:23 pm
Comments
Add a comment
Sorry, comments are closed at this time.
Previous Post: The ground game
Next Post: Candidate filing begins
---
Last 10 posts:
WordPress Mobile Edition available at alexking.org.
powered by WordPress.