Capitol Fax.com - Your Illinois News Radar
---
Latest Post | Last 10 Posts | Archives
---
Previous Post: The Tier 2 difference
Next Post: Hey, Cardinal fans…
Rauner makes cheery visit to Illinois State Museum
Posted in:
* Whatever else you think of him, you gotta give the governor credit for chutzpah…
Kids at the Illinois State Museum summer camp last week got a lesson in irony after Gov. Bruce Rauner, who proposes to close the museum, stopped by for a photo op with them.

Next day the children wrote a letter thanking the governor for coming to camp, adding, "We hope to see you next year!"

The Rauner administration has set official wheels in motion to shutter the 138-year-old institution […]

Already there are a hundred pages of letters opposing closure, but none more eloquent than the note from Elsa, a summer camper who wrote on the group letter to Rauner: "Please don't close the museum. Please save my Mom's job."
Sheesh.
* The letter…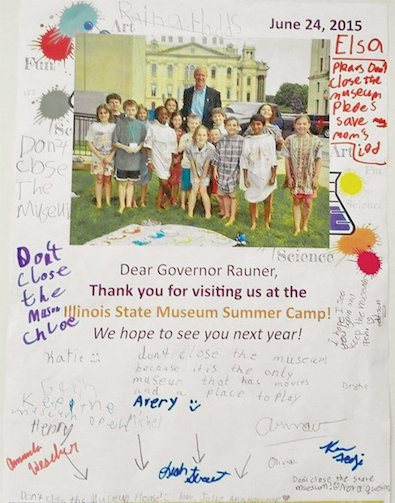 posted by Rich Miller
Thursday, Jul 2, 15 @ 11:18 am
Comments
Add a comment
Sorry, comments are closed at this time.
Previous Post: The Tier 2 difference
Next Post: Hey, Cardinal fans…
---
Last 10 posts:
WordPress Mobile Edition available at alexking.org.
powered by WordPress.