Capitol Fax.com - Your Illinois News Radar
---
Latest Post | Last 10 Posts | Archives
---
Previous Post: *** UPDATED x1 - Director Kelly responds *** Question of the day
Next Post: *** LIVE COVERAGE ***
Lipinski foe Darwish already in the boxes, will go up on cable tomorrow
Posted in:
* One of Congressman Dan Lipinski's lesser-known Democratic primary rivals, Rush Darwish, is already in the boxes with two mailers. Here's the front page of one…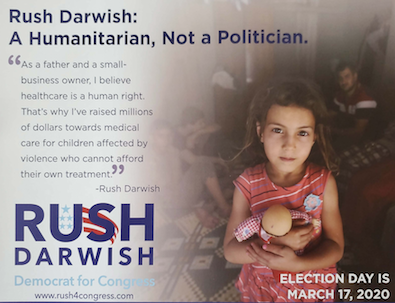 Here's the back page of the other…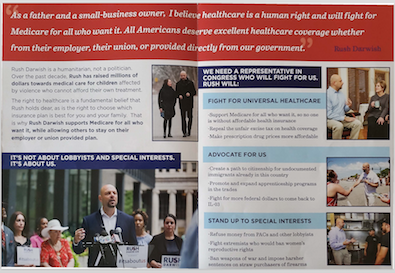 Click the pics for the full mailers. No other candidate in that race has sent out any mailers as far as I can tell. Marie Newman is considered the frontrunner of the challengers, but we'll see I suppose. Charles Hughes is also in the race.
According to the FEC, Darwish reported $318,113 cash on hand in his most recent filing.
And according to the Darwish campaign, he's going to use some of that money to go up on cable TV tomorrow "and will be up through the rest of the cycle." I suppose we can only wait and see how big the buy is.
But, whatever, it has begun.
Discuss.
posted by Rich Miller
Monday, Jan 13, 20 @ 4:11 pm
Comments
Add a comment
Sorry, comments are closed at this time.
Previous Post: *** UPDATED x1 - Director Kelly responds *** Question of the day
Next Post: *** LIVE COVERAGE ***
---
Last 10 posts:
WordPress Mobile Edition available at alexking.org.
powered by WordPress.