Capitol Fax.com - Your Illinois News Radar
---
Latest Post | Last 10 Posts | Archives
---
Previous Post: This just in… Guv appears to cave on Burris
Next Post: SUBSCRIBERS ONLY - Link; Guns; Lauzen; Cross; Beaubien; Crotty; Horses; Intertubes (use all caps in password)
5th CD roundup
Posted in:
* The past few days have not been kind to Rep. John Fritchey.
For instance, the United Food and Commercial Workers Union allegedly fired a worker for passing around an unflattering letter about Fritchey, whom the union has endorsed…
She passed the letter to her co-worker on Wednesday night and on Thursday morning, she said Union President Ron Powell called her into his office.

"He shoved this in my face and said, 'Explain this!'" she said. Sobczyk said she told Powell she was concerned about some stories she read about Fritchey and that she thought Forys was a better candidate.

"Then I just stopped talking and said, 'I'm fired, right?'" she said. "He said, 'Yes you're fired.' I couldn't believe it. I got nothing but good reviews there." Sobczyk came to the United States from Poland as a child herself like Forys but that is not why she is supporting him, she said.
Sobczyk is supporting Victor Forys in the campaign. But Fritchey puts on a clinic about how not to respond to this sort of story…
"This sounds like a different version of a candidate throwing a brick through their own window and then calling the press conference," Fritchey said. "I've spent my legislative career fighting for the rights of working men and women. Obviously, I would never condone anything that would hurt anyone's ability to exercise their free speech."
A little empathy would've been appropriate instead of the overt defensiveness.
* The Service Employees sent out a mailer over the weekend blasting Fritchey for being a "lobbyist" for the payday loan industry. Click the pics for a better view…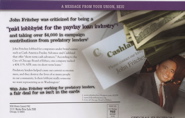 This flier is very loosely based on the fact that Fritchey represented a pawn shop in a zoning case.
* Carol Marin goes after Fritchey at the bottom of her latest column…
Fifth Congressional District candidate John Fritchey sent a note of apology.

Fritchey quoted me in a campaign mailer but misspelled my last name in the attribution.

No problem, John.

The problem was the selective use of my words regarding your opponent, Mike Quigley, about whom I have written a lot.

Yes, I did say in March of 2007 that Quigley was being viewed as "the Benedict Arnold of county politics, the turncoat who keeps turning, reform one day, un-reform the next."

But that's far from the whole story. The criticism of Quigley at the time was that despite his long history of reform as a commissioner on the Cook County Board, he had tried to find common ground with its hopeless president, Todd Stroger, exacting promises of more transparency in return. It didn't work out the couple of times Quigley tried, and he quickly went back to being the ferocious voice of opposition.

But make no mistake: Quigley is a reformer.
* The Tribune went after Fritchey for a couple of campaign contributions…
Milan Petrovic, who was listed as Gov. Rod Blagojevich's top campaign fundraiser at a political corruption trial last year, recently gave $2,400 to the congressional fund of state Rep. John Fritchey (D-Chicago), according to federal campaign finance reports filed today.

Fritchey also reported receiving another $2,400 from Petrovic's wife, Anne.
Rep. Sara Feigenholtz, who employs a former Blagojevich deputy chief of staff, fired off this press release today…
"In the final hours before voters go to the polls, John Fritchey has accepted the maximum contribution from Rod Blagojevich's top campaign donor – despite the fact that Mr. Fritchey has based his whole campaign on his supposed opposition to the former governor.
Fritchey responds….
"To the best I am aware of, Milan has not been accused of doing anything improper," Fritchey said today. "Had he been, I would not have taken the contributions."
* A Medill reporter recently penned a story which got absolutely no attention, but could've harmed Fritchey and Feigenholtz…
In trying to beef up their congressional campaign funds, the campaigns of state Reps. John Fritchey and Sara Feigenholtz violated federal campaign finance law when they transferred money from their state- to their federal-level campaigns.
* Rep. Feigenholtz was running robocalls late last week slamming Mike Quigley for supporting Todd Stroger. The calls tracked closely with Feigenholtz's TV ad which slams Quigley on the same Stroger issue. The Tribune editorial board stepped in over the weekend to defend their endorsed candidate against the Feigenholtz attacks…
Let's bring it down to this. If you're a Democrat and you want a candidate with solid Democratic values, you can almost throw a dart at the ballot. Almost all of them qualify.

If you're a Democrat and you want a candidate who fights every day against the corruption and ineptitude that plagues state and local government, you have one candidate: Cook County Commissioner Mike Quigley.
* Progress Illinois takes issue with the fact that the Democratic candidates have been defined as almost identical on the, um, issues…
Let's take the issue of taxes. Fritchey is in favor of preserving the estate tax; Feigenholtz, Fritchey, and Quigley all want to let the Bush tax cuts expire; Quigley adds that will not vote for any tax increase during a recession; Wheelan supports phasing out payroll, income, and corporate taxes in favor of a carbon tax; and Geoghegan wants marginal tax rates raised to 1950s levels. […]

What about Social Security? This is a crucial issue for all voters in the district—particularly the elderly—and deserves scrutiny. Wheelan has said he is open to reducing benefits for future retirees; Feigenholtz and Fritchey would consider lifting or adjusting the cap on payroll taxes; Quigley wants to leave it alone for the time being, noting that Medicare is in greater trouble; and Geoghegan wants to increase benefits and turn into a more robust public pension program.
* Democrat Cary Capparelli continues to pile up conservative endorsements. From a press release…
The Illinois Federation for Right to Life Political Action Committee has followed four other major organizations in singling out Cary Capparelli for endorsement. The Illinois Federation Right to Life PAC is endorsing Cary Capparelli in his quest to fill the Illinois 5th Congressional District seat, vacated by Rahm Emanuel.

Cary has added significant momentum to his campaign by uniting the Pro-Family movement – an initiative particularly noteworthy for a first-time candidate

A traditional Democrat, Cary's other endorsements are from:
• National Right to Life PAC;
• Illinois Citizens for Life Federal PAC, one of the largest pro-life PACs in Illinois;
• National Taxpayers United Illinois, the group that has saved Illinois citizens more than $74 billion in income, property, sales and other taxes – both at the state and local levels;
• Family-Pac Federal, a bi-partisan group that has endorsed Republicans and Democrats who are or have been committed to upholding family values.
* Related…
* Free-for-all: The problem is, there's no way for the media to effectively cover or for the voters to seriously consider the merits of 23 candidates

* 5th District race in final lap, will be close call

* Dems battle for Rahm's old seat

* Outsiders take a shot at 5th

* Candidates for 5th District ad it up

* Democrats press the flesh in race to succeed Emanuel in Congress

* Turnout in 5th the Big Question
posted by Rich Miller
Monday, Mar 2, 09 @ 1:37 pm
Comments
Add a comment
Sorry, comments are closed at this time.
Previous Post: This just in… Guv appears to cave on Burris
Next Post: SUBSCRIBERS ONLY - Link; Guns; Lauzen; Cross; Beaubien; Crotty; Horses; Intertubes (use all caps in password)
---
Last 10 posts:
WordPress Mobile Edition available at alexking.org.
powered by WordPress.