Capitol Fax.com - Your Illinois News Radar
---
Latest Post | Last 10 Posts | Archives
---
Previous Post: Collins throws down on Cullerton
Next Post: This just in…
Graphic of the day
Posted in:
* The Center on Budget and Policy Priorities reports: So far this year, at least 23 states have enacted tax increases, and (as of June 17) another 13 are considering such measures…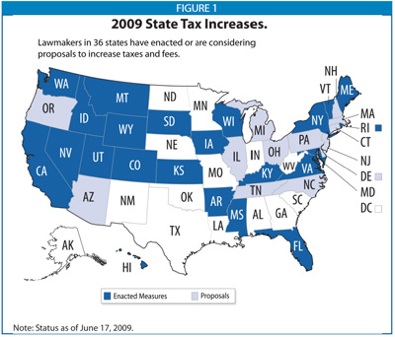 From the narrative…
These steps are in addition to revenue actions taken by 10 states in late 2007 and 2008 as the recession's effects began to be felt. Although some of these measures are relatively small in terms of the amount of revenue raised, others — such as packages enacted in California and New York and under consideration in Oregon — are very significant. […]

Historically, raising taxes in a recession is a common response by states. During the recession of the early 1990s, 44 states raised taxes by a significant margin (at least 1 percent). In the recession of 2001, 30 states did so. These actions increased annual revenue collections by tens of billions of dollars. (States often go in the opposite direction during periods of strong economic growth: 36 states cut taxes from 1994 to 2001.)
More…
Six states have enacted measures that will increase revenues from the personal income tax in fiscal year 2010. These changes include rate increases, the addition of new upper-income tax brackets, and reductions in various credits, exemptions, and deductions. […]

In 2009, 10 states have increased sales tax revenues by such means as raising rates, expanding the tax base to cover previously untaxed goods and services, and administrative changes. […]

At least seven states have enacted business tax increases […]

At least 10 states have increased excise taxes on tobacco and alcoholic beverages. […]

Nine states have increased various fees and taxes related to motor vehicles and fuels
Discuss.
posted by Rich Miller
Monday, Jun 22, 09 @ 11:16 am
Comments
Add a comment
Sorry, comments are closed at this time.
Previous Post: Collins throws down on Cullerton
Next Post: This just in…
---
Last 10 posts:
WordPress Mobile Edition available at alexking.org.
powered by WordPress.