[The following is a paid advertisement.]
"I never did give them hell. I just told the truth, and they thought it was hell."
- President Harry S. Truman
"A plan to financially reward Exelon Corp. for producing no-carbon energy and potentially save three Illinois nuclear plants from closure would cost ratepayers $1.6 billion over five years and strain budgets for financially strapped businesses and municipal governments, a study released Tuesday found." - Associated Press, 4/21/15
By applying legislative mandates in SB 1585 / HB 3293 to historical data on Illinois electric costs and consumption, the Kestler Energy Consulting study simply calculated how much of a rate hike Exelon's legislation would impose on families, businesses and local governments statewide.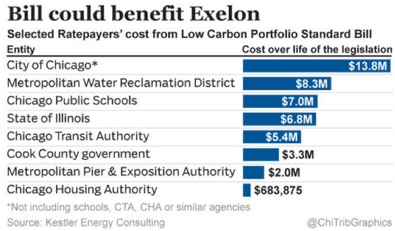 Chicago Tribune: "Exelon-backed legislation could cost ratepayers $1.6B, study says"
Businesses and governments can learn how much the bailout would cost them at www.noexelonbailout.com/calculator.
Just say no to the Exelon bailout. Vote no on SB1585/HB3293.
BEST Coalition is a 501C4 nonprofit group of dozens of business, consumer and government groups, as well as large and small businesses. Visit www.noexelonbailout.com.
- Posted by Advertising Department Comments Off


[The following is a paid advertisement.]
In these uncertain times, it's important to have a financial institution you can trust. Credit unions have been serving their members for more than a century, providing them with a member-owned, not-for-profit alternative to traditional banks.
Credit unions are different. They return profits back to their members in the form of lower rates and reduced fees. And because credit unions are member-owned and member directed, credit unions provide members with services they want, not products that will generate a tidy profit for a few investors.
Credit unions know their members. Loan decisions are made locally, not by bureaucrats and computer models from across the country. If you are a credit union member, you already know the credit union difference. If you are not a credit union member, go to www.asmarterchoice.org to see which credit union can show you the advantage of credit union membership.
- Posted by Advertising Department Comments Off