* From a press release…
Governor Bruce Rauner today issued writs of election as required by law to fill the vacancy caused by the resignation of former U.S. Representative Aaron Schock.

The writs include election dates compliant with the 115-day timeline required by Illinois law, but the dates will be modified after the state enters into a consent decree to comply with the federal Uniformed and Overseas Citizens Absentee Voting Act.

The Administration expects the actual dates for the Special Primary Election and Special Election each will be delayed several weeks from the dates indicated in the writs of election. Governor Rauner will issue amended writs of election with the revised election dates after the consent decree is entered.

As prescribed by Illinois law, the first day for candidates of established political parties to file original nomination papers with the State Board of Elections will be Wednesday, April 15, 2015. The last day to file nomination papers will be Monday, April 20, 2015. Those dates will not be modified by the consent decree.

The writs are attached to this release.

Additional Background

For years, the Illinois Election Code has prescribed a timeline for conducting special elections for U.S. Representative that is not compliant with federal law. The Uniformed and Overseas Citizens Absentee Voting Act (UOCAVA) is intended to protect the voting rights of citizens residing abroad, including in particular military men and women stationed overseas. Illinois law, however, does not provide sufficient time for ballots to be mailed abroad.

For that reason, the State of Illinois entered into a consent decree with the U.S. Department of Justice in 2013 to bring the State temporarily into compliance with UOCAVA for the last special election for U.S. Representative. Governor Rauner, Attorney General Madigan, and the Illinois State Board of Elections are now working cooperatively with the Department of Justice to enter into a similar consent decree for the special election caused by former Rep. Schock's resignation.

This problem has persisted without a permanent solution for too long. Governor Rauner is working with the General Assembly leadership to pass legislation to protect the voting rights of our military men and women serving overseas, while still providing that any vacancy is filled as expeditiously as possible to ensure full representation in Congress for the people of Illinois.

Current Writs

· Special Primary Election will be June 8 (expected to be delayed until late June or early July)

· Special Election will be July 24 (expected to be delayed until late August)
* The writs are here. Pretty cool old-time language in them.
* From a July, 2010 press release…
Tenth District Congressional candidate Robert Dold called on opponent Dan Seals today to return his $41,217 contribution from the Rangel Victory Fund. Yesterday it was disclosed and widely reported that the House Ethics Committee will charge New York Representative Charles Rangel with multiple ethics violations.

Rep. Rangel is among Seals's largest contributors. In March 2010, after the House began its initial probe into Rangel's alleged ethics violations, Seals gave $14,000 in contributions from Rangel to charity. Despite Dold's urging, Seals has thus far refused to return the full $55,217 he has received from Rangel during his six-year run for the 10th District Congressional seat.

On August 20, 2008, Seals received $41,217 from the Rangel Victory Fund.

"Dan Seals should know that the right thing to do is to return the tainted Rangel money," said Dold. "Illinois voters have had enough of unethical politicians."
You'll recall that Congressman Dold has refused to jettison the $10,000 he received from now disgraced almost former Congressman Aaron Schock. Dold's spokesperson said that the Schock money had all been spent, but that two-year-old Rangel contribution was also surely gone by July of 2010.
* Former EIU student president eventually becomes EIU's state legislative liaison. A true success story…
As the liaison between Eastern and state legislators, former student body president Katie Anselment works to gain support for Eastern, acting as the university's "eyes and ears" in Springfield.

Anselment, the director of constituent relations, graduated from Eastern with a bachelor's degree in political science and a concentration in public administration in 2002.

She has also worked previously as a contact lobbyist and as the education policy and budget analyst for the Speaker of the Illinois House of Representatives Michael Madigan. […]

Anselment became student body president during her junior year.
[The following is a paid advertisement.]
Illinois depends on reliable, clean-air energy from nuclear facilities to power Illinois and drive our economy. But some of Illinois' nuclear energy facilities are at risk of closing prematurely, which would be catastrophic for Illinois' economy. Don't take our word for – two of Illinois' leading economic minds agree that allowing these plants to close is a bad idea.
• George S. Tolley, emeritus professor of economics at the University of Chicago, said closing Illinois' nuclear energy plants would be a "bad idea." (George S. Tolley, Op-Ed, "Not Just A Power Struggle: Closing Illinois' Nukes Is A Bad Idea," Crain's Chicago Business)

• Stanford L. Levin, emeritus professor of economics at Southern Illinois University at Edwardsville and former ICC Commissioner, said the closure of the state's three economically challenges nuclear plants could hurt Illinois consumers. (Stanford Levin, Op-Ed, "Nuclear Power Plant Closures Could Hurt Illinois Consumers," State Journal-Register)
The fact is, three of Illinois' six nuclear plants are at risk of closing, and the consequences of these closures are catastrophic:
• $1.8 billion every year in lost economic activity
• Nearly 8,000 highly skilled jobs
• Up to $500 million annually in higher energy costs statewide, according to a PJM analysis
• $1.1 billion per year due to increases in carbon and other pollutants
• Hundreds of millions of dollars to construct new transmission lines
Only one legislative solution - the Illinois Low Carbon Portfolio Standard (LCPS) - would help prevent these closures. The LCPS is good for Illinois consumers, good for our economy and good for our environment.
Members of the Illinois General Assembly:
VOTE YES ON HB 3293 / SB 1585
Learn more at www.NuclearPowersIllinois.com
[The following is a paid advertisement.]
My name is Wendy Warmowski. My son, Jacob, was a perfectly healthy, happy toddler until several medical errors changed his life forever.
Jacob was diagnosed with an ear infection and given antibiotics. When his antibiotic was nearly finished he took a turn for the worse. We eventually ended up in the ER.
At the ER, Jacob should have had immediate attention and care, but instead we waited. Jacob was eventually diagnosed with strep pneumomeningitis. The doctors ordered antibiotics to be given immediately, but instead we waited again. Because of the delay in treating Jacob he had 6 strokes, fell into a coma and had to have a tube placed down his throat to help him breath. The doctors told me Jacob might not ever wake up from the coma or come off of the ventilator.
Today, Jacob continues to have physical and mental issues. He has vision problems, balance difficulties, attention issues and epilepsy. He has to have special schooling and goes to occupational, physical and speech therapy several times a week.
The civil justice system allowed our family to hold the doctors responsible for their errors and delays that resulted in Jacob's brain injury. Our settlement allows us to give Jacob the best care he could have so that he can live the best life he can. Trust me; I'd return it all to have that happy, perfectly healthy toddler back.
The Illinois Trial Lawyers Association fights to ensure all citizens get equal footing in the courtroom. To read more about Jacob's story, click here.
* Fox St. Louis' Elliott Davis is infamous for his ambushes. He once caught up with Rod Blagojevich on an airport tarmac, blasting him with rapid-fire hostile questions.
Gov. Bruce Rauner got the treatment yesterday…
At least he backed off a bit when asked to by other reporters, but then he ambushed Rauner again in the hallway.
Classic.
* More on the questioning from the Alton Telegraph…
Rauner was also asked about the incomes of his staff. Elizabeth Purvis, a former charter school owner, is currently being paid $250,000 in taxpayers' money by the governor. This is double what former Illinois Governor Pat Quinn offered his staff. Rauner admitted that she was paid a hefty amount, but added that his staff would not cost nearly as much as Quinn's.

"We had to find people of high caliber and talent," he said. "Illinois has lost its way. Governor Quinn did not have a good team of superstars."

According to Rauner, his staff is composed of less people than Quinn's and ultimately costs taxpayers less money, despite individually having high salaries.

"Beth could make a lot more in the private sector," Rauner said.

He said that any of his staffers could make more money working in the private sector but applauded them for choosing to be public servants. He said that Purvis took a pay cut in regards to her former areas of employment. He stated that employees of the state of Illinois make 30-50 percent more than state employees in other states. He said that most make 22 percent more than they would in the private sector. He said that he wanted to change that.
*** UPDATE *** The governor said yesterday that Elizabeth Purvis could make "a lot more in the private sector." But tax filings show that less than two years ago, her salary was $226,670 with another $22,566 in benefits, for a total package of $249,236, or right about what she's making now.
In other words, she's close to breaking even on this deal. No great hardship here.
[ *** End Of Update *** ]
…Adding… Oops, I forgot to include some budget-related linkies…
* AUDIO: How organizations brace for Illinois budget cuts: Hear WBEZ's Tony Arnold journey around Chicago as he sees the influence of potential cuts in state money in almost every corner of the city.

* Governor's cuts hit would-be citizens hard

* Children's Place Association announces fight against Rauner's budget
* Aaron Shock's resignation becomes official today. The AP covers the Central Illinois District's US Attorney probe of the soon to be former congressman…
Some of Illinois Rep. Aaron Schock's current and previous employees will appear before a federal grand jury next month to answer questions about their old boss. […]

The choice to investigate Schock in central Illinois — rather than in Washington, home to his Capitol Hill office — could signify the probe reaches beyond the potential misuse of his congressional office and into his congressional district activities or hometown financial contributors. […]

Federal investigators who questioned likely grand jury witnesses indicated during their questioning that the probe will go beyond his House office expenses. They're interested in how his money was spent and his business relationships with his donors, according to a person familiar with the probe but who was not authorized to speak publicly.
* And the prosecutor is not to be trifled with…
"Tim Bass will be very deliberate, very meticulous and very focused," defense attorney Jon Gray Noll said of the 51-year-old assistant U.S. attorney in Springfield, whom Noll says he and others call "Badass Tim Bass." Bass was behind the creation of the Illinois Central District's Public Corruption Task Force formed in 2007. […]

Since 2013, Bass' task force has resulted in the convictions of 13 people related to $16 million in grant and contract-fraud schemes, his office said. Bass, who declined an interview, is known for being incredibly prepared, said another defense attorney who has gone up against him.
Oof.
* Meanwhile, on to some relatively unimportant news…
What will happen to the pheasant feathers, golden sconces, picture frames and "drippy crystal chandelier" of the "Downton Abbey"-inspired office that led to greater scrutiny of Schock's spending? […]

After the special election, the Office of the Chief Administrative Officer of the House and the Office of the Architect of the Capitol will "make sure the office is ready for a new Representative," according to a spokesperson with the Office of the Clerk.

In this case, that work could include a new coat of paint (or many coats) to cover Schock's choice of red. Typically, when a member resigns, workers with the Architect's office give the member their office nameplate, remove pictures and repaint office walls at the incoming member's discretion, according to a spokesperson for the Architect's office.

In this case, anything beyond "some touch up work" on Schock's office is considered "unlikely," the spokesperson added.
* And speaking of the special election…
Asked about the upcoming special election to replace Schock, who is resigning in the wake of a scandal including travel and mileage reimbursements, Rauner said things will go according to procedure.

"We'll do it within that (five day) time frame," he said. "We'll announce the date, and then we have 120 days from that date to have it be effective. We're going to do that within that process, and we're working with the Board of Elections to work that out."
* And did Darin LaHood just say he might support a tax hike?…
With cash soon running out for federal highway projects, both a new plan and funding for it are critical, state Sen. Darin LaHood said Monday.

The Dunlap Republican laid out his views on the forthcoming debate after formally kicking off his campaign for Congress with a rally at the Lariat Steakhouse, promising to work on a bipartisan basis because "people want a solution to our transportation problems."

Among the solutions that have been proposed for a system funded by a declining amount of motor fuel taxes are a per-mile-driven tax on vehicles, taxing energy production at the source, and increasing the motor fuel tax itself.

LaHood was cool to the per-mile-driven tax, describing it as "experimental at this time" and saying he needed to learn more about it. He did say the idea of motor fuel tax was something he intended "to look very, very carefully at."
He must be feeling awfully confident about clearing the field.
*** UPDATE *** Rep. Dan Brady just sent out a press release announcing he wouldn't run for the seat. Click here to read it.
* KSDK…
During his stop in O'Fallon, Illinois Monday, Gov. Bruce Rauner was asked about the possibility of building a new NFL stadium in the Metro East.

"Metro East would be a terrific location for that sort of a facility. We've got the infrastructure, we've got the hard working people to build it. And we've got access into St. Louis without a lot of the congestion issues, and I'll see what I can do to encourage that," said Rauner.
It's doubtful, however, that Metro East is in the running.
* The governor also wants to snag a major federal installation for the region…
Rauner and his staff toured Scott Air Force Base, Boeing's St. Clair County operations and Mid-America Airport. He was asked about the possibility of bringing the new National Geospatial-Intelligence Agency to St. Clair County. He said that it would be the best location for it.

"It would be a huge opportunity for Illinois," he said. "It's a great location. It's a very strategic and safe location as well."
* But…
"We need to learn financial discipline," Rauner said. "Right now businesses don't want to come to Illinois. They don't have confidence in the state."

Rauner said the cuts he is making will drive more businesses into Illinois instead of Wisconsin, Michigan and Indiana. Once those businesses were in place, he said that more revenue would flow.
And that, I believe might be why Rauner isn't joining Mayor Emanuel's overt attempt to poach jobs from Indiana. It would undermine his meme that budget and labor reforms need to be in place before the state can hope to begin attracting businesses from Hoosierville. It also puts him in a somewhat tricky political box because it's about gay rights and Rauner professes not to have a "social agenda," even though he clearly does.
*** UPDATE *** Virginia lives up to its famous bumper sticker slogan…
Virginia Gov. Terry McAuliffe issued an open letter to Indiana corporations saying Virginia is a business-friendly state that does "not discriminate against our friends and neighbors."
[ *** End Of Update *** ]
* And speaking of Indiana, longtime commenter OneMan sent over this Facebook post by state Rep. Stephanie Kifowit…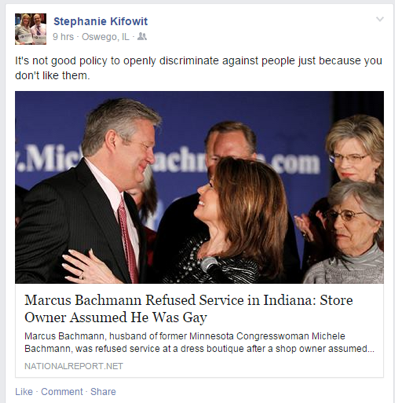 Um. OK. As OneMan suggests…
When you are trying to make a point about Indiana, you might not want to use a spoof web site
Oops.
* Other headlines from the National Report…
Starbucks Halts 'Race Together' Initiative After Burn Unit Overcrowdings

Sesame Street To Feature News Segment Sourced By Al Jazeera

Amazon Says They Will Be Removing All Bob Marley Music and Merchandise From Their Website
Heh.
* From the Progressive Fox…
The Illinois AFL-CIO received notice that the Oswego Village Board will consider a Bruce Rauner initiated resolution supporting the creation of a Right to Work Zone in Oswego. Besides being illegal under the National Labor Relations Act, right to work zones create a "race to the bottom" pitting community against community and further erode the gains made by the Illinois middle class.

Illinois Attorney General Lisa Madigan has issued an opinion explaining that Illinois law does not authorize or recognize right to work zones created by any unit of local government in Illinois.

Please contact the members of the Oswego Village Board today (phone and email below) and let them know that Right to Work in any form is wrong for Illinois.
* According to the agenda, however, there won't be a vote tonight…
Resolution Supporting Governor Rauner's Turnaround Agenda. (Review and Discussion)
Still, this appears to be the first (see update below) municipality to take up this issue before the election. Organized labor expects plenty more after the election.
And, yet, there's been an almost total local media blackout on the topic.
Odd.
*** UPDATE 1 *** East Dundee Trustee Allen Skillicorn reports in comments that his village board unanimously approved the Rauner resolution last night. No mention of it in the Tribune's coverage, however.

*** UPDATE 2 *** From Skillicorn…
Yes, [it was passed] unanimously and I made the motion. Very little debate and all in support of the resolution. Prevailing wage is not well liked by our village. Our biggest redevelopment agreement almost fell apart when the business owner discovered PW would double his construction costs. That project was great for the village, the retailer is one of our top revenue sources.

Personally, I dislike how the Kane County Prevailing Wage almost exactly mirrors Cook County. All the collars, including the ex-urban counties have PW at almost the same level as Cook. McHenry and Kendall have a significantly lower cost of living, but municipalities must still pay Cook County rates.
*** UPDATE 3 *** Skillicorn just sent out a press release…
During a village board meeting Monday East Dundee unanimously endorsed Governor Rauner's Turnaround Agenda, making it the first municipality in the state of Illinois to do so. Trustee Allen Skillicorn, originator of the motion to approve, commented "This is not a partisan issue. It is a Good Government and Efficient Government Issue. Springfield politicians need to empower local leaders to better serve their residents."

Municipal leaders all over the state of Illinois work tirelessly to provide high quality services to their residents at the lowest possible cost. One of the roadblocks these leaders face every day are unfunded mandates from Springfield.

Springfield imposes more than two-hundred eighty unfunded mandates on local municipalities: expensive mandates like the seventh highest worker's compensation costs in the nation and Illinois Prevailing Wage Law that forces Collar Counties and adjacent exurban counties like McHenry, Kane, Grundy, and Kendall to pay Cook County labor rates. These laws force local municipalities to make hard choices, like hiking already burdensome property taxes or cutting corners on providing important constituent services.

"East Dundee has done a great job balancing unfunded mandates, creating economic incentives to redevelop retail areas, and kept the tax burden reasonable for constituents." Skillicorn continued, "With Governor Rauner's help in Springfield, I envision even better municipal services without crushing tax hikes."
* Krishnamoorthi skips the exploratory committee and goes all in…
Raja (RAH-jah) Krishnamoorthi (krish-nah-MOOR-thee) today announced his intention to seek the 8th Congressional District seat, which includes the Northwest Suburbs of Chicago. Democratic U.S. Rep. Tammy Duckworth currently holds the seat, and she announced yesterday her plans to run for the U.S. Senate instead of re-election to the U.S House of Representatives.

"Tammy has been an excellent Representative for this district," said Krishnamoorthi, a Democrat. "I want to continue Tammy's advocacy for working families, with a focus on helping more people to succeed in the new economy. I will work hard to provide education and job opportunities so more families can achieve the economic security they need."

Krishnamoorthi, 41, of Schaumburg, has a unique understanding of the challenges facing the U.S. economy and their implications for families and future workers. With successful experience in both the public and private sectors, he will go to Congress with clear ideas to help more Americans find good jobs and economic security in a changing world.

Raja currently serves as President of Sivananthan Labs and Episolar, Inc., small businesses that sell products in the national security and renewable energy industries. He is a co-founder of InSPIRE, a non-profit organization that provides training to Illinois students and veterans in solar technology, and was formerly Vice-Chairman of the Illinois Innovation Council, whose mission is to promote innovative technologies that support economic growth and job creation in Illinois.

"In our rapidly changing global economy, the ability of working families to reach and hold onto economic security is under threat." Krishnamoorthi said. "We need people in Congress who understand the opportunities provided by the New Economy and how to make sure more Americans are prepared to seize them. That requires practical, pragmatic ideas and far less partisanship and politics. I want to help provide this leadership and ensure that the same opportunities that my family had to escape tough economic times exist for other working families today and into the future."

Raja previously served as Illinois's Deputy Treasurer, where he helped revamp the state's unclaimed property system by using technology to increase the amount of property returned to taxpayers while cutting the program's costs. He also helped run the state's technology venture capital fund, assisting in the creation of hundreds of good-paying jobs in Illinois. In 2006, Raja was appointed by Illinois Attorney General Lisa Madigan to serve as Special Assistant Attorney General in her Public Integrity Unit. He also served as a member of the Illinois Housing Development Authority, where he was Chairman of the Audit Committee.

Raja ran for the 8th District seat in 2012, losing to Duckworth in the Democratic primary. He subsequently worked on her general election victory over incumbent Republican Joe Walsh. He will form a federal election campaign committee later this week.

The son of Indian immigrants to the U.S., Raja was raised in Peoria, Illinois, where he attended public schools and graduated as a valedictorian of his high school class. Raja earned his bachelor's degree summa cum laude in mechanical engineering from Princeton University and graduated with honors from Harvard Law School. Following law school, Raja clerked for a federal judge in Chicago, served as issues director for Barack Obama's successful United States Senate campaign in 2004, and became a partner at an Illinois law firm.

Raja is married to Priya, a doctor at a local hospital. They live in Schaumburg with their sons Vijay, 9, and Vikram, 5, who attend public schools in District 54.
* Noland is up in 2016, so that could keep him sidelined…
Today Illinois State Senator Michael Noland announced that he is exploring a campaign for Congress in Illinois' 8th district.

"I am seriously exploring this opportunity because I know that I can offer voters a bold and progressive vision for our nation's future," said Noland. "Over the coming weeks I plan on meeting with community leaders, organized labor, and all of the stakeholders who seek a progressive voice in this race."

Noland, a Navy veteran, was first elected to the Illinois Senate in 2006. While serving in the Senate he has been one of its most progressive members and has been a strong advocate for universal health care, a progressive income tax, and stronger ethics in government.

"We've been lucky to have Mike be our voice in the State Senate," said Elgin Township Democratic Chairman Carl Strathmann. "I know that when he heads to Washington he will be a strong voice for working families and policies that will restore our faith in Congress."

Noland was re-elected to the Illinois State Senate in 2010, and 2012. He is a 38-year resident of Elgin, where he lives with his wife Veronica and their two children.
* Lou Reed's "New York" album was a topic at dinner last night. Here's one harsh cut…
Does anybody need to be told over and over
spitting in the wind comes back at you twice as hard?