* Audio from an obscure YouTube video is playing on African-American radio stations in Chicago as part of a new and destined to be highly controversial ad.
I've heard tons of buzz since late this afternoon, but I don't yet have the ad. I asked the Quinn campaign earlier today and received no response, so I spent the last three hours listening to WVON trying to record it, but it never came on. I gave up. And then John V. Moore tweeted out the video.
* Transcript…
"Four African-American TSA guards, big guys, came and they rushed up to me. They looked like they played for the Bears.

"They said 'Hey!' I said [hands raised] "Wow, I'm not carrying my gun, what's going on? Hold, what?' [Laughter] They said 'Hey! You're running for governor.' I said 'Yes, I am, you scared me, don't do that.'"
That video was posted last month. It's unclear who's behind the YouTube account.
* I asked Moore if he recalled anything about the rest of the radio ad…
"Yeah, it's an African American male voice over. He said the audio was captured at a Republican or conservative event. After the audio the voice over mentions that Rauner has funded organizations that are trying to impeach President Obama."
And, he said, it's a Taxpayers for Quinn spot. That was finally confirmed by the Quinn campaign tonight.
* I asked the Rauner campaign for comment a couple of hours ago, and recently sent them the YouTube link. I'll let you know what they say.
*** UPDATE 1 *** The Quinn campaign sent over the script…
Here's Republican Billionaire Bruce Rauner, telling a story, at a recent conservative Republican fundraiser.

"Four African-American TSA Security Guards, big guys, they rushed up to me, they looked like they played for the Bears. I was like, they said "HEY!" I thought Wow, I'm not carrying my gun, what's going on? They said "HEY you're running for Governor." I said, "Yes I am, you scared me, don't do that."

If that's the kind of story Bruce Rauner tells behind closed-doors at a Republican fundraiser, what's it going to be like if he's in the Governor's mansion?

Rauner poured money into right-wing groups that are campaigning to impeach President Obama. And Rauner wants to legalize deadly assault weapons and cut the minimum wage.

We need a Governor like Pat Quinn who's stood up for us – fighting for people's rights and dignity – with courage and respect.

Gov. Quinn: "Taxpayers for Quinn paid for this message because there's so much at stake."
*** UPDATE 2 *** Updated with comment from the governor's campaign…
Our ad includes Bruce Rauner in his own words.

This is just another example of Mr. Rauner saying one thing privately in front of an all-Republican audience and another thing publicly in the city of Chicago. People can judge for themselves whether his comments are appropriate or not.
Also, remember this guy?…
How will black voters react to new Quinn ad on @capitolfax? In speaking to white audience, why would Rauner allude to TSA agents' race?

— Dave McKinney (@davemckinney123) November 1, 2014
*** UPDATE 3 *** Not that it really matters, because there was no real reason for him to mention their race (and he usually doesn't when he tells this story), but here's the full video…
.@KarenLewisCTU stop lying about Bruce - that's an edited out of context video; here's the unedited version https://t.co/xhVfKetKf7

— Illinois CR's (@ICRF) September 24, 2014
* Tribune…
Chicago Teachers Union President Karen Lewis released a video Friday night throwing her support behind Cook County Commissioner Jesus "Chuy" Garcia as he prepares to challenge Mayor Rahm Emanuel in late February.

Lewis had been preparing her own run for mayor before being diagnosed with a cancerous brain tumor a few weeks ago. The video features Lewis wearing a fashionable head covering and offering her endorsement of Garcia in a series of jump cuts.
* The video…
* Sun-Times…
Garcia is the keynote speaker at the CTU's 2014 Legislators and Educators Appreciation Dinner Friday night.

Also running for Chicago mayor against Emanuel is Ald. Bob Fioretti (2nd).
* It's my tradition to keep the blog open on the last weekend before a general election. I can't promise many posts. I have to be in Chicago for the pre-election party I host every couple of years, so we'll see what happens. And, for sure don't expect anything early Sunday morning.
I used to keep comments open every weekend, but some of y'all would have a few adult beverage on a Friday or Saturday night and then would come home and comment away, sometimes angrily.
Please, refrain from doing that. Thanks.
* OK, on to the story from David Ormsby…
Downstate Illinois is getting a big chunk of time from gubernatorial candidates in the 2014 campaign's final weekend.

With polls showing that Republican Downstate dominance somewhat slipping in the race for Illinois governor, both Governor Pat Quinn and GOP challenger Bruce Rauner are or will be in the region this weekend, starting on Friday.
The governor started his day in Chicago, but then headed to UIUC to award some education and agriculture grants, then traveled to Mount Vernon and Edwardsville to hand out even more money. He's in the Quad Cities this weekend for a rally with FLOTUS.
Rauner's schedule has him in 14 cities over the next three days, with 11 of those towns outside the collar counties. He'll be in southern Illinois, Quincy, Lawrenceville, Carmi, Harrisburg, and Marion on Saturday. On Sunday, he will be in Chicago and a suburban town, but then travels to East Alton and Peoria. On Monday, Jim Edgar and Rauner swing through Bloomington, Springfield, Moline, Rockford, and Lincolnshire.
* Back to Ormsby…
Recent polling has shown that Rauner has been underperforming the 2010 GOP gubernatorial nominee, Bill Brady, who captured 59% of the Downstate vote. Rauner is drawing as little as 45% up to 53% in surveys.

Rauner's poorer showing Downstate is partly reflected by the presence of Libertarian Party gubernatorial candidate Chad Grimm on the November 4 ballot. According to a recent Illinois Observer poll, Grimm is drawing 8.5% of the Downstate vote, a fact that is hurting the GOP nominee.

Rauner's weekend schedule of stops in Southern, Central, Western and Northern Illinois is the starkest signal yet of the concerns by his campaign about the GOP base. The wealthy venture capitalist had intended to pry a higher than average share of votes out of Chicago from disenchanted Democrats to build a winning coalition. That strategy depended on support from a robust GOP base in Southern and Central Illinois in order to free him to focus his energy on poaching votes in Chicago.
…Adding… Keep in mind, however, that Rauner could just be making one last pass to fire up the base. While most of the vote is around Chicago, and he does need to be there (and will be, and will get his face on TV), it's not a guaranteed sign of weakness.
* Simon Edelman's closer is pretty darned good…
* In other news, Gov. Pat Quinn held a press conference today at a Chicago training center for new school "Safe Passage" workers. Some reporters surmised that it had more to do with politics than with an official governmental event…
CPS Safe Passage Worker apparently reading from script as she praises "Ram" Emanuel. pic.twitter.com/t7WvGKeCPt

— Charles Thomas (@CThomasABC7) October 31, 2014
* So, they played a little hardball…
While Mayor Rahm Emanuel let politics trump friendship in backing Democratic Gov. Pat Quinn over Republican challenger Bruce Rauner, Quinn didn't return the favor Friday when asked if Emanuel deserves another term in office.

"I am going to deal with my election on Tuesday, there will be plenty of time to talk about that," Quinn told reporters after appearing with Emanuel at a training session that turned into a political rally for hundreds of new Safe Passage workers hired by Chicago Public Schools.
* Listen…
* Meanwhile, Rauner is hitting the road. AP…
Former Gov. Jim Edgar will campaign with fellow Republican Bruce Rauner as Rauner makes his final push to become Illinois' next governor.

Edgar is scheduled to join Rauner Monday in Bloomington, Springfield, Moline, Rockford and the Chicago suburbs. […]

Edgar supported then-state Sen. Kirk Dillard in the GOP primary. He says in a statement Friday that after 12 years of Democratic governors "voters are eager for change" and Rauner is "exactly what Illinois needs."
* Sun-Times…
In the closing days of toss-up campaigns, Sen. Mark Kirk R-Ill., is stumping with GOP governor nominee Bruce Rauner and former Rep. Bob Dold, R-Ill., at events in his old north suburban House district, turf where Kirk has the strongest coattails.

On Saturday morning, Kirk— a Highland Park resident, in the 10th district — and Rep. Peter Roskam R-Ill. are featured at a Dold get-out-the-vote rally at the Lincolnshire Marriott, in the heart of the 10th congressional district where Dold is in a tight battle with Rep. Brad Schneider D-Ill.

On Monday night, Kirk will be the featured guest at Rauner's final GOTV rally of the campaign Monday night in the 10th District, which could also provide a boost to Dold. Rauner's race with Gov. Pat Quinn is winding up in a dead heat.

Kirk is also doing a recorded call targeting suburban voters, urging a vote for Bruce.
* Other stuff from my in-box or keeping my browser tabs open…
* For Rauner and GOP, magic number in Illinois House is 1

* NYT: Voters in Illinois Governor's Race to Choose 'Failure' or the 'Billionaire'

* Pipefitters union puts up billboard supporting Emanuel

* Chicago dominates top of state list with elite schools, with a catch

* Schilling distributes tabloid mailer as race against Bustos nears finish line
[The following is a paid advertisement]
Based on a recent poll of registered voters in Illinois, there is overwhelming support for increasing the use of renewable energy and energy efficiency in Illinois:
- 95% of voters support energy efficiency
- More than 80% of voters support development of wind and solar energy
Nearly 100,000 workers in Illinois are employed in clean energy jobs. They are manufacturing wind and solar equipment; they are building and operating clean energy projects; and they are installing and upgrading energy efficiency systems that cut energy use and reduce electricity bills for Illinois families and businesses. That's why:
• More than 65% of Illinoisans believe renewable energy and energy efficiency will create jobs in Illinois.
• More than 68% believe renewable energy and energy efficiency stabilize or reduce energy costs.
Voters prioritize a clean energy future.
- 84% of voters want to move towards cleaner sources of energy.
- 92% of voters support diverse energy sources rather than relying on just a few.

The message from Illinoisans is clear: Legislators should prioritize voter-supported renewable energy and energy efficiency and support policies that maximize job creation in Illinois' clean energy economy.
The survey was completed by a bipartisan research team of Fairbank, Maslin, Maullin, Metz & Associates (FM3) and Public Opinion Strategies. More info on this poll is available at ilenviro.org/cleanenergypoll.
* As we've discussed before, state law is pretty clear about offering inducements to register or vote…
Sec. 29-1. Vote buying.

Any person who knowingly gives, lends or promises to give or lend any money or other valuable consideration to any other person to influence such other person to vote or to register to vote or to influence such other person to vote for or against any candidate or public question to be voted upon at any election shall be guilty of a Class 4 felony.
* So, was this rally illegal?…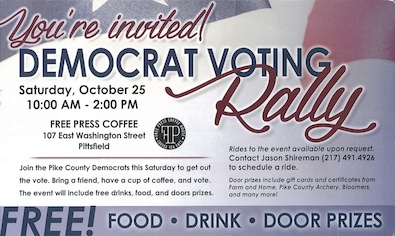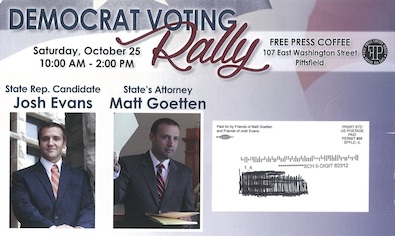 * Before you answer, the rally was held just 89 feet from the county building, the only early voting location in Pike County. It's almost right next door. The flier was sent to me by a Republican, by the way.
I called the number on the flier and the guy on the other end didn't say much. I called and e-mailed the state's attorney and left a message, but he hasn't responded.
* I reached out to noted election law attorney Burt Odelson, and his response, in a nutshell, was yes, it's illegal because it clicked all the legal switches.
* This is the only response I've received from the Pittsfield area…
Please find the Pike County Democrats response to your inquiry. On October 25th the Pike County Democrats held a Democrat rally. We were pleased with the turn out and we're happy with the event. We had people at the event who had already voted, people who who planned to vote later, and people who were voting on election day. Everyone was welcome at the event. Thank you for your interest in the pike County Democrats.

Rick Toumbs
* But as usual with these things, another election law attorney I consulted, a Democrat, said it could go either way…
It can be argued that it is a rally and that people are eligible for a prize for going to the rally and not for voting. Or one could argue that it is for voting.

But the mailer says door prizes which would appear to make them attendance prizes.
He also hinted that he doubted the state's attorney would do anything, since he's on the flier.
Your thoughts?
* The ILGOP is running a TV ad touting Bruce Rauner's support for "employer-provided birth control," which is in response to a Personal PAC ad saying Rauner opposes it.
While airing those ads, the ILGOP is sending out mailers and doing robocalls blasting Libertarian Chad Grimm for being for gay marriage and belonging to a party that's pro-choice.
* Meanwhile, Gov. Quinn's running mate and other Democrats are holding a press conference blasting Rauner for essentially paying for those ILGOP pro-life, anti gay marriage mailers.
But the ILGOP is sending those mailers and doing those robocalls because some labor unions, which are also huge Quinn supporters, are spending big bucks to bolster the Libertarian Grimm by hammering Rauner in mail and robocalls for being pro-choice and anti-gun.
Got all that?
Good…
* The Question: Have you lost your mind yet? Take the poll and then explain your answer in comments, please.
survey software
[The following is a paid advertisement.]
"Chicago-based Exelon's profit rose 26 percent in the third quarter…The country's largest owner of nuclear power plants, Exelon reported net income of $993 million…"[Chicago Tribune, October 29, 2014 – emphasis added]
Just this past week, a Crain's analysis revealed that contrary to their claims, Exelon may not be in dire straits after all:
"The analysis…raises questions about whether the state effectively will be asked to compel ratepayers to subsidize a profitable enterprise." [Crain's, October 27, 2014 – emphasis added]
Illinois' businesses and citizens are still struggling. The last thing we need is a massive rate increase to bail out Exelon nuclear plants built during the Nixon administration and already paid for several times by ratepayers.
Even ComEd, Exelon's own sister company, doesn't agree with subsidized generation at above-market prices:
"ComEd has long believed that competitive markets will work in the best interests of our customers…so we are concerned about the negative impact on our customers from a requirement that would force utilities to buy subsidized generation at above-market prices." [Crain's Chicago Business, November 20, 2013]
Just Say No To Exelon's $580 Million Rate Hike!!
* Likely too late to make any difference and maybe not even enough to get picked up by any other media outlets. Click here and here.
* As noted below, the IL GOP is paying for a new TV ad touting Bruce Rauner's support of employer birth control coverage. As we've already discussed, the IL GOP is also spending big bucks attacking the Libertarian Party candidate Chad Grimm on social issues. Greg Hinz has more…
GOP gubernatorial nominee Bruce Rauner frequently has said he "has no social agenda" on hot button issues such as gay marriage and abortion, even emphasizing through his wife, Diana Rauner, that he in fact is pro-choice. But in the final days of his campaign, his money is saying something else.

In the past 24 hours, Rauner-funded flyers and robocalls have surfaced that savage another candidate for governor, Libertarian Chad Grimm, for backing same-sex marriage and legal abortion. Republican insiders fear that Mr. Grimm's small-government message is playing well in conservative sections of the state and could take away votes that otherwise would go to Mr. Rauner.

"Libertarian Chad Grimm's party supports gay marriage," says the flyer, which was passed on to me by a Burr Ridge resident who got it in the mail yesterday. A similar phone message that also was also passed on to me says, "His party's 100 percent pro-choice."

Both the flyer and the calls were paid for by the Illinois Republican Party.

Mr. Rauner's campaign, in a statement, denied any responsibility.

"This is not a Bruce Rauner mail piece," said a spokesman, later extending his comment to cover the robocall after I emailed him a copy. "Bruce doesn't have a social agenda — he's pro-choice, comfortable with the existing marriage law and doesn't seek to change it."

But it's impossible to believe that the state party would have send out either communication without the approval from Mr. Rauner. He's contributed at least $4.5 million to the state party since summer — comprising 80 percent of the party's total receiptss in the quarter ended Sept. 30. And he largely was responsible for the selection of Tim Schneider as the party's chairman earlier this year. The previous chairman, Pat Brady, was forced out in part because of a flap over his support for same-sex marriage.
* From the Quinn campaign…
Directly disproving his claim that he "has no social agenda," Republican billionaire Bruce Rauner is spending millions of dollars attacking reproductive freedom and marriage equality. Crain's Chicago is reporting that Rauner is bankrolling anti-choice, anti-marriage equality efforts and advertisements. Rauner has sought to hide his beliefs from voters throughout the campaign. Quinn for Illinois communications director Brooke Anderson responded:

"Just days before the election, Republican billionaire Bruce Rauner's true colors are showing - he really does oppose a woman's right to choose and equal marriage rights.

"Mr. Rauner cannot be trusted to look out for women's reproductive freedom and equal marriage rights when in fact he's spending millions of dollars attacking those freedoms.

"Under Governor Quinn's leadership, our state has made real progress from enacting marriage equality to one of the strongest pay equity laws in the nation.

"Mr. Rauner's out-of-touch social agenda would be a setback for women and families in Illinois."
*** UPDATE 1 *** More from the Quinn campaign…
Quinn for Illinois Media Advisory

**Friday, October 31, 2014**

CHICAGO – Democratic nominee for Lt. Governor Paul Vallas will be joined by women leaders and legislators to discuss Republican billionaire Bruce Rauner's real position opposing a woman's right to choose and marriage equality. Crain's Chicago is reporting that Rauner is bankrolling anti-choice, anti-marriage equality advertisements in the closing days of the campaign.

WHEN: 2 p.m.

WHERE: Personal PAC - 7th Floor

134 N. LaSalle St.

Chicago, 60602
*** UPDATE 2 *** From a press release…
Equality Illinois today condemns Republican nominee for governor Bruce Rauner and the Illinois Republican Party for attacking a rival candidate for supporting marriage equality and women's rights.

The campaign tactic was funded by Rauner despite his protestations that he has no social agenda, Crain's Chicago Business reports today.

A flyer and robocalls put out by the Rauner-funded Illinois Republican Party attack Libertarian nominee for governor, Chad Grimm, who Republicans fear will siphon votes from Rauner and help Gov. Pat Quinn win re-election. The article and a copy of the flyer can be seen here: http://tinyurl.com/Rauner-Anti-Gay.

"This is just the latest evidence of Bruce Rauner showing his true conservative social agenda and his opposition to marriage equality for same-sex couples. It is condemnable and unsurprising at the same time," said Bernard Cherkasov, CEO of Equality Illinois.

"We've exposed his repeated statements against marriage equality when he thought he was only speaking to conservative audiences. Now, there is one more direct evidence of Bruce Rauner money funding an anti-marriage equality mailer," Cherkasov said. "It is clear for all that Bruce Rauner has no moral compass, and will say anything to win, and that makes him unqualified to be Governor of the Land of Abraham Lincoln."
* Related…
* Associated Press: Gay marriage, abortion issues take back seat in governor's race
* As I told subscribers a few days ago, Personal PAC is running a new TV ad…
The spot begins with television news coverage of the "Hobby Lobby" decision, which allowed most businesses to opt out of providing birth control coverage in their employee health insurance. "Is it right for your boss to decide if your birth control is covered?" the ad continues. "Now you get to decide by voting 'Yes' to require Illinois health insurers to cover birth control."

The ad then moves on to the Republican nominee. "Where does Bruce Rauner stand? He donated millions to right-wing groups and politicians who oppose birth control coverage. Vote 'Yes' for birth control coverage and vote 'No' on Bruce Rauner."
* The ad…
* Well, the Illinois Republican Party has a new TV ad which calls the Personal PAC spot "Totally false"…
The truth? Bruce Rauner supports employer-provided birth control. Always has.
* Watch…
Notice, however, that the ad doesn't say Rauner supports the actual ballot measure.
Even so, that could make some conservative heads explode.
This is a substantial buy, I'm told.
* Meanwhile, some unknown somebodies have produced a slick new online video attacking Personal PAC's Terry Cosgrove…
* Cosgrove sent me an e-mail yesterday in which he says he isn't the one endorsing candidates…
The Personal PAC Board of Directors votes on all endorsements (I am not a board member) after agreeing on the attached candidate questionnaire language, reviewing all other pertinent information, bringing all new candidates in for a personal interview, or conducts phone interviews for those living far from Chicago. Usually, upward of 20 board members participate in the candidates interviews and take that responsibility very seriously.

After the board officially votes to endorse candidates and sets priorities based on financial projections, it asks that the staff, of which I am one, to implement our program to get our endorsed candidates elected. We in no way attempt to hide or "distort" our process or intentions. […]

The problem for the right-wing is that there are two kinds of anti-choice candidates: those who want to hide their views from everyone except the right-wing and those who think they are clever enough to get away with it. At least they should be honest about that point.
Candidates are, indeed, warned that a non-response is considered to be 100 percent anti pro-choice. Check out the group's questionnaire by clicking here. The warning about non-response isn't in the "fine print," it's right at the top. A sample letter is here. And this stuff is sent by registered mail several times.
And the group has also spent a fortune protecting pro-choice Republicans and has often attacked Democrats. It's not as partisan as the video above makes it appear.
* Despite all this, and despite the fact that Cosgrove raises millions of dollars every cycle and has a pretty strong win-loss record, candidates still evade the questionnaire and then scream when they're attacked. For instance, from House candidate Leslie Munger…
Bolstered by an infusion of campaign cash with only four days until the November 4th election, State Representative Carol Sente (D-Vernon Hills) has moved her negative attacks into high gear, accusing first-time candidate Leslie Munger (R-Lincolnshire) of allowing sexual assaults on women, not protecting women from rape and incest and saying Munger will "stick it to our families."

In their endorsement of Leslie Munger, the Chicago Tribune called Sente's campaign, "one of the most disgusting campaigns in the state." Sente appears to be living up to her reputation.

In the past two weeks, Rep. Sente has received $173,523 from Mike Madigan and the Illinois Democratic Party and an additional $13,873 from Personal PAC, a Springfield lobbying group headed by Terry Cosgrove. In a two-day period, Personal PAC sent four direct mail pieces and directed robo-calls into the 59th district telling people that Leslie Munger would vote for a law that would hurt women who had been sexually assaulted.

The Democratic Party of Illinois also sent three direct mail pieces on behalf of Sente with pictures of young women with captions including "What if I am raped?" and "Leslie Munger will stick it to our families," claiming Munger would take away a women's right to choose "even in the case of rape, incest and when the life or health of the mother is at risk."

Munger has vehemently denied all of the allegations as intentional and malicious lies intended to smear her integrity, misrepresent her views and distract voters from issues Munger has focused on throughout her campaign.

"I believe in freedom and that it is not the role of government to interfere with a woman's personal health choice," Munger stated, "I corrected Rep. Sente when she misstated my views on this topic during our Daily Herald endorsement interview which was videotaped. It's clear she believes it is ok to misrepresent my view on women's reproductive rights and perpetuate falsehoods to her constituents."
Notice how she never describes herself as "pro-choice"? She dances close, but can't quite commit.
* The Tribune editorial board commented today on a DCEO spokesman's admission this week that the agency is trying to get new project announcements out the door before election day. You remember that one, right?…
"We have a good story to tell — and do I want to tell it before Nov. 4? Yes. Is that a crime?"
* From the Trib…
As Crain's pointed out: Quinn committed $22 million to four companies this month alone.

Did taxpayers get snookered in the rush to roll out these projects before Nov. 4? Did the companies slyly extort especially sweet packages, knowing that Team Quinn faced a pre-election deadline to get the deals done?

Those are good questions for Gov. Quinn. Inquiring Illinois taxpayers surely want to know.
Yes, those are good questions.
* But back to the DCEO spokesman for a minute. Longtime commenter "Soccermom" made this valid point the other day…
Being an effective government spokesperson is not actually intuitive — you need to learn (preferably not the hard way) that whenever somebody mentions an election, you refer them to the campaign office. Boom. End of story.

It's not an issue of "telling the truth." It's an issue of knowing where your paycheck comes from. And when you work for the State, your paycheck comes from the residents of Illinois — no matter who they vote for, or even if they vote.

Are the people of Illinois paying you to comment on the election? No, they are not. They are paying you to let them know what the State is doing with their money. That's your job. Period.
Yep.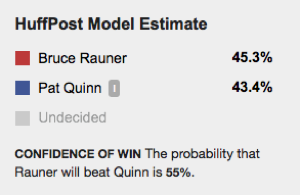 * Bing.com…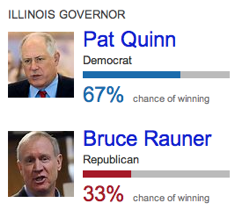 * USA Today…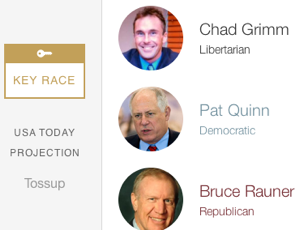 * 270toWin.com…
* More from Sabato…
That brings us to the seven Toss-ups. Because we now expect overtime in Georgia, we are calling that race a Toss-up, but at the end of the day it would be surprising if the Democrats ultimately won that seat. Also, and while we are keeping these races as Toss-ups in our ratings, it appears that Govs. John Hickenlooper (D-CO) and Pat Quinn (D-IL) have stabilized their positions, and they seem to have better than even odds to win second, full terms. So that's three of the seven Toss-ups where we think the incumbent party is positioned to hold on, though we have not made picks yet and we reserve the right to change our minds before the end. Sen. Mark Udall's (D-CO) seeming decline, in particular, could really hurt Hickenlooper.
Gut feeling?
* I told subscribers about this earlier in the week…
A race for a seat in the Illinois Senate representing the Quad-Cities has become the most expensive legislative election in state history.

According to state campaign finance reports, the 36th Senate District battle between Democratic state Sen. Mike Jacobs of East Moline and Republican challenger Neil Anderson of Rock Island has topped the $3.5 million mark as the two hurtle toward the Nov. 4 election.

That figure, according to political scientist Kent Redfield, professor emeritus at the University of Illinois-Springfield, beats a record-breaking 2010 Senate race in which $2.7 million was raised in the contest in which Republican challenger Sam McCann of Carlinville beat then-state Sen. Deanna Demuzio.

The Jacobs-Anderson tilt comes just two years after Jacobs was involved in another expensive race, when more than $2 million was raised in his contest against Republican Bill Albrecht.
…Adding… But that's a relative pittance compared to the governor's race…
All in!! $1,450,000.00 from Rauner, Bruce to Citizens for Rauner, Inc. http://t.co/u3Evgtb1yw

— Trib IL CampaignCash (@ILCampaignCash) October 31, 2014
All in!! $350,000.00 from Griffin, Kenneth to Citizens for Rauner, Inc. http://t.co/u3Evgtb1yw

— Trib IL CampaignCash (@ILCampaignCash) October 31, 2014
* From the New York Times…
NoMoRobo, a free service, allows VOIP customers to sign up to block political robocalls, which get around the national "Do Not Call List" because they fall under the nonprofit clarification.

The service's founder, Aaron Foss, put together a list for First Draft of the top 10 offenders:
* The list…
No. 1: Presidential Coalition (an affiliate of the nonprofit conservative group Citizens United).
No. 2: N.R.A.
No. 3: Crossroads GPS (founded by Karl Rove).
No. 4: Democrats for Senator Mark Warner and John Foust (a House candidate in Virginia).
No. 5: Newt Gingrich Tax Policy Center.
No. 6: National Committee for Family, Faith and Prayer (a Citizens United affiliate).
No. 7: Citizens United.
No. 8: Gov. Scott Walker of Wisconsin.
No. 9: Larry Hogan, Republican nominee for governor in Maryland.
No. 10: Bruce Rauner, Republican nominee for governor in Illinois.